Suspected shooter at a Palmdale high school is a former student who recently transferred
One student was shot and wounded and another student was taken into custody at Highland High School in Palmdale on Friday morning, authorities said.
The 911 calls poured in Friday morning, during zero period at Highland High School in Palmdale. Nearly 100 callers reported an incident on campus: There was a person with a gun, possibly holding hostages in the school library.
Eventually, it was determined that a 14-year-old former student who had recently transferred out had brought a rifle to the campus and fired about 10 rounds, at least some from a bathroom, authorities said.
One student was wounded. The 15-year-old is expected to fully recover, authorities said, and no one was held hostage in the library.
But the shooting sparked widespread panic and drew a massive law enforcement response to the school, where students were advised to shelter in place as the campus went on lockdown. Several students texted and tweeted that they could hear gunfire, urging others to stay away. The closest trauma center cleared its operating room schedule in case staff needed to treat mass casualties.
"When you think about what we went through today and the fact that it worked out as well as it did, a lot of training goes into this," Los Angeles County Sheriff Jim McDonnell told reporters Friday afternoon. "The outcome was much better than anybody could have anticipated."
The suspect, who was not identified, was detained at a nearby shopping center parking lot on suspicion of one count of attempted murder, McDonnell said. It is unclear if he and the injured student knew each other, but authorities are investigating a motive and have searched the suspect's home.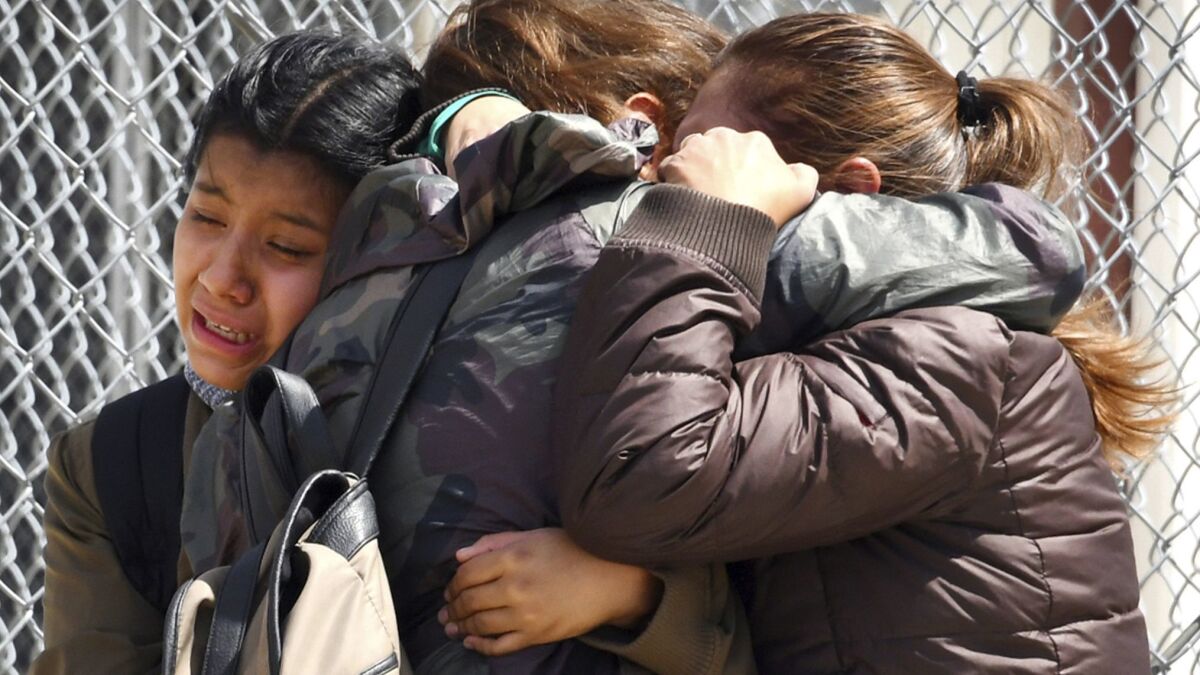 "The potential was for anybody ... to take a stray round there, whether they were aimed at or not," McDonnell said. "A very dangerous situation, but as far as trying to estimate what he was aiming for — too early to do that."
Early Friday, the suspect's mother had called an LAPD officer, a family friend, telling him she was having trouble with her son, who had run away from the house.
Shortly after the shooting, about 7:40 a.m., the suspect's father called the same LAPD officer. The boy had just called, the father said, and said he had shot his gun in the air and was headed toward Vons, McDonnell said. The off-duty officer found the boy in the supermarket parking lot.
An SKS rifle was recovered from an open field west of the school shortly after 8:30 a.m., McDonnell said. The student allegedly brought the gun to school in a bag, but McDonnell would not say how or where the boy got it.
Deputies cleared the school and deemed it safe by 9 a.m. and lifted the lockdown shortly before 10:30 a.m., officials said.
In a strange twist, about 20 minutes after the high school shooting, authorities said they fielded calls reporting a second shooting at Manzanita Elementary School, seven miles away.
But they found no evidence there of shots fired. It's unclear if the reports were a coincidence or meant to be a distraction.
"We're still looking into that," McDonnell said. "That's something we're going to look very closely at."
Students and staff members who were on their way to Highland High School described a frantic scene Friday morning.
Matthew Polovina, an interpreter for deaf students at the school, said he was coming in early to help a student study for a history test. But the student sent Polovina an alarming text message at 7:03 a.m.
"Don't come!!! Gunner is here!" the text read.
"Why huh?" Polovina responded.
"Shooter is here," the student said.
Later Friday morning, parents, students and staff gathered around the school, waiting for students to be released. Johnny Lewis Sr., whose 17-year-old son is a student at the school, raced over with his wife Friday morning after hearing reports about the shooting.
"We didn't know at that time if our son was in danger, injured or shot or what," he said. "It's just ridiculous with all the guns in schools. I never knew it would happen to us here."
Ana Salazar received a Snapchat message from her son saying he had locked himself in a room because there was a shooter at school. The 17-year-old had arrived early to print out some homework. Salazar left her job in Encino and drove to the school, where she waited to see whether her son — who is safe — would be released.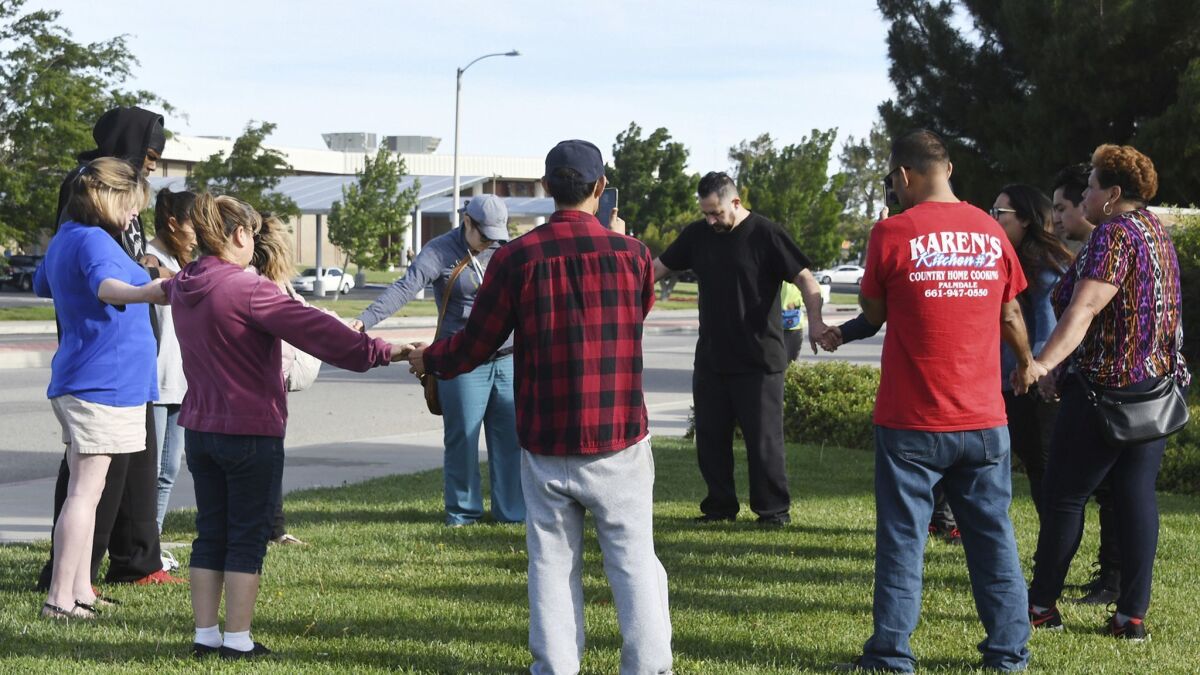 "How does somebody that young get a gun?" she asked. "What goes into them to say, 'Yeah, I can shoot a person,' at that age? It's unimaginable."
Terrance McAllister, 17, said he was walking up to the school with friends when someone ordered them to turn back and warned them about the shooting.
"I was just hoping everyone was all right," he said. "I hoped everyone was safe."
School district officials have met with the injured student and his family to offer their support. Antelope Valley Union High School District is prepared for students to return to campus Monday and will have additional counselors, psychologists and staff available at all campuses.
"We are incredibly grateful for the actions of Highland High School teachers and staff and our first responders who courageously protected the lives of our students today," said Assistant Supt. of Personnel Brett Neal. "We know that every second is important in a situation like this and we couldn't be more thankful."
When the lockdown was lifted, some students and parents had emotional reunions.
"Mom!" shouted Angel Mathews, 15, as she ran into her mother's arms, tears streaming down her face.
Angel said she heard a total of four gunshots as students began to run for safety. She hid in a classroom with friends.
"I've read about a school shooting in a book," she said. "I didn't know this was actually going to happen."
Parents and students around the country have been on high alert since February, when a gunman killed 17 people inside a high school in Parkland, Fla. In the week after that incident, police across Southern California were inundated with threats against schools.
The Los Angeles Unified School District's police department reported at least 160 such threats in the nine days after the Parkland massacre, and a tip from a school resource officer led Los Angeles County sheriff's deputies to arrest a 17-year-old student at El Camino High School in Whittier that month who is accused of threatening to "shoot up" the school after a teacher took away his earphones.
The student said he was only joking, but deputies later found two semiautomatic rifles, two handguns and 90 high-capacity magazines at the student's home. His older brother, a U.S. Army veteran, claimed the firearms belonged to him.
Times staff writer Joseph Serna contributed to this report.
brittny.mejia@latimes.com | Twitter: @brittny_mejia
alene.tchekmedyian@latimes.com | Twitter: @AleneTchek
james.queally@latimes.com | Twitter: @JamesQueallyLAT
---
UPDATES:
8:45 p.m.: This article was written through with new details about the shooter and law enforcement response.
11:45 a.m.: This article was updated with additional comments from students and parents.
9:50 a.m.: This article was updated with comments from students at the scene and additional information from the sheriff's department.
9:15 a.m.: This article was updated with additional information about what led to the shooting.
9:05 a.m.: This article was updated with comments from the Palmdale School District.
8:45 a.m.: This article was updated with additional details about where the person was detained.
8:30 a.m.: This article was updated with details about an ATF response.
8:10 a.m.: This article was updated with information about injuries and a reported shooting at a nearby elementary school.
This article was originally published at 7:50 a.m.
---
The stories shaping California
Get up to speed with our Essential California newsletter, sent six days a week.
You may occasionally receive promotional content from the Los Angeles Times.