Air quality agency aims to stop metal plants accused of polluting Paramount with cancer-causing emissions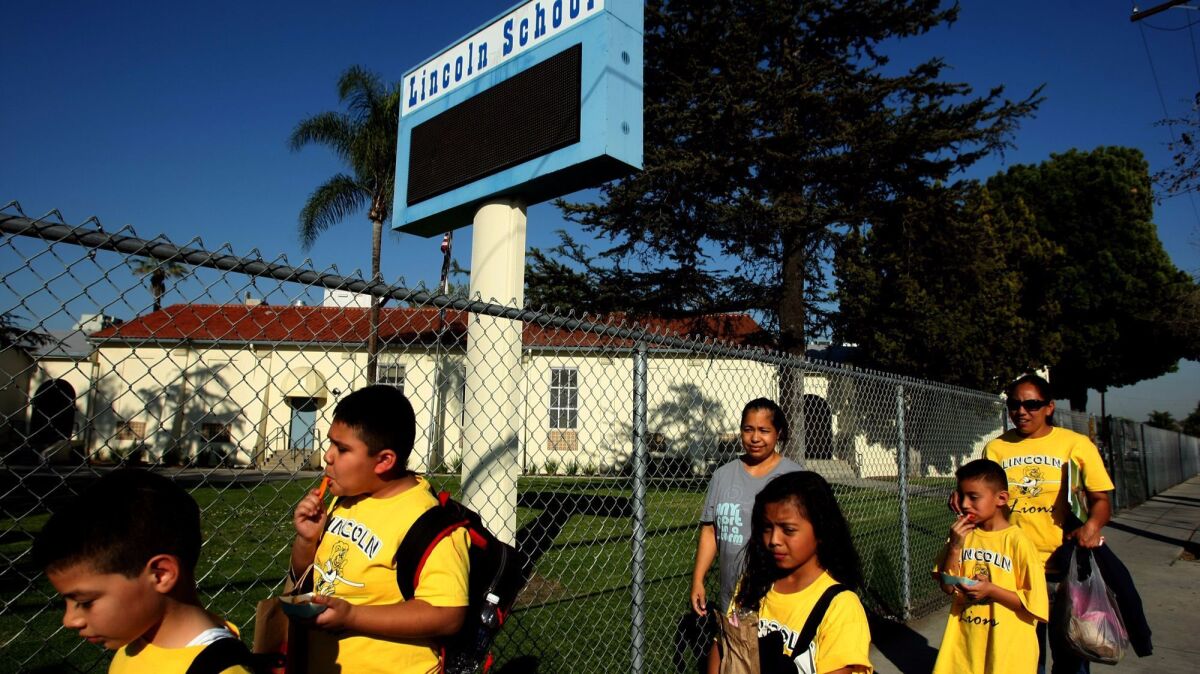 Air quality officials are taking enforcement action against two metal-processing plants they believe are contributing to alarming levels of cancer-causing hexavalent chromium discovered recently in Paramount.
The South Coast Air Quality Management District filed for an administrative order Tuesday against Aerocraft Heat Treating Co. and Anaplex Corp. to force them to cease operations or take steps to stop violating pollution and public nuisance rules.

For the record:
5:05 p.m. June 1, 2023A previous version of this story incorrectly stated that air quality officials found discrepancies between permit conditions and operations at Aerocraft Heat Treating Co. The discrepancies were found only at Anaplex Corp.
The filing accuses the two facilities of "conducting operations resulting in the emissions of hexavalent chromium that significantly contribute to the high levels of cancer risk that persons in the city of Paramount are exposed to." The agency did not rule out naming other, unspecified businesses that may be identified during the course of its investigation.
In a separate violation notice Tuesday, the air quality agency also cited Anaplex, a metal-processing and finishing facility, for endangering public health by discharging hexavalent chromium and for altering, installing and operating equipment without permission.
The violations were uncovered during a recent investigation of more than 20 facilities in the city southeast of Los Angeles. The agency expects to have results from its investigation of Aerocraft in the next few days.
The facilities operate in an area where air monitoring last month detected a hot spot of hexavalent chromium at more than 350 times normal levels — among the highest concentrations in the region.
Those findings have alarmed residents and sparked criticism of regulators' past response to health concerns over an array of metal-related industries operating in the city. Paramount residents and environmental groups for years have complained of burning, metallic odors and say authorities have failed to take sufficient action to protect nearby homes and schools.
As part of their investigation of Aerocraft and Anaplex in recent weeks, AQMD officials said they compared each facility's permit conditions with its actual operations and found discrepancies at Anaplex. Source testing of the facilities' emissions also found problems, including processes officials believe are releasing excessive amounts of hexavalent chromium.
In its legal filing, the AQMD said it determined Tuesday that levels of hexavalent chromium at heated tanks at Anaplex "were in the order of 682,000 nanograms per cubic meter."
The typical background level for the pollutant is 0.06, according to the agency.
Carmen Campbell of Anaplex said Tuesday evening that the company will examine the AQMD documents once it receives them and prepare a response.
Emissions testing at Aerocraft, meanwhile, found hexavalent chromium-laden dust and mist and a combustion process generating visible emissions containing the compound, according to the AQMD petition.
An Aerocraft spokeswoman said Tuesday that the facility had not received notice from the AQMD but was reviewing its processes, cooperating with the investigation and "will take necessary actions to resolve any issues that may be identified."
Hexavalent chromium has rarely been detected at such high levels in Southern California. But the South Coast district has in recent years targeted emissions of the toxic metal, which is known to cause lung cancer, from at least one other facility — Hixson Metal Finishing in Newport Beach — where it issued similar orders and citations.
Air district officials said other regulatory agencies are participating in the ongoing investigation of metal facilities in Paramount and may take additional actions.
Also Tuesday, the air quality agency said it has drafted a plan to expand its monitoring for toxic metals to other parts of the city where residents have complained of headache-causing metallic fumes.
Twitter: @tonybarboza
---
UPDATES:
7 p.m. This article was updated with additional details from a legal filing and a violation notice from air quality regulators.
This article was originally published at 2:40 p.m.
The stories shaping California
Get up to speed with our Essential California newsletter, sent six days a week.
You may occasionally receive promotional content from the Los Angeles Times.