California Supreme Court considers major pension dispute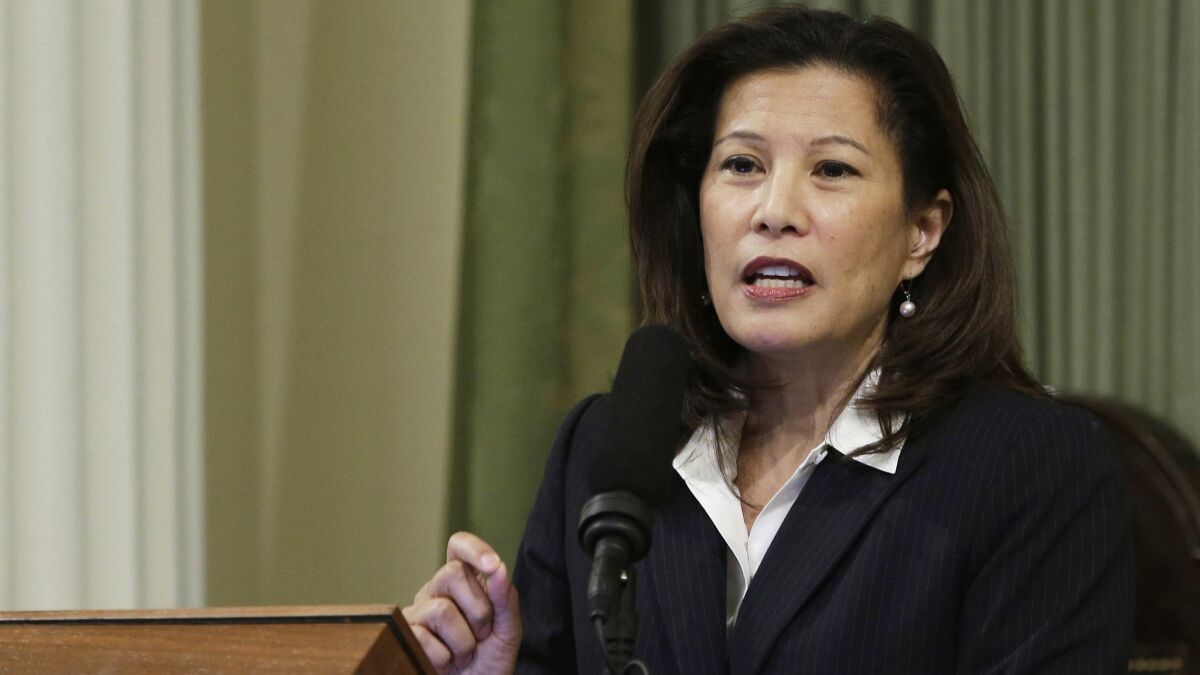 California's top court wrangled Wednesday over whether the state may eliminate a pension benefit for state workers without running afoul of decades of protective pension precedents.
Hearing arguments in the first of five pension disputes under review, the California Supreme Court indicated it might reach a narrow decision that would leave broader questions to be answered in future cases.
The case argued Wednesday involved a challenge to a 2012 law that took away an opportunity for state employees to pay a fee to tack an extra five years onto their work history.
Legislators created the opportunity for "air time" — so called because the employee does not actually work — for pension calculations in 2003. Workers had to have at least five years of state service to take advantage of it.
The law was particularly advantageous to workers who took a break from their government jobs to take care of family or work on political campaigns.
More than a decade later, legislators rescinded the offer — and allowed other pension cuts — in bills intended to forestall a looming financial crisis stemming from a shortfall of hundreds of billions of dollars in state and local government pension systems.
Public employee unions sued in cases that are now awaiting decisions by the state high court.
No one disputes that pension benefits may be reduced for new hires.
But for decades, California court rulings have said that public employers were largely barred from reducing pension benefits that were promised at the time a worker was hired.
During Wednesday's argument, it appeared the court might dispense with the dispute issue by concluding the air time benefit did not amount to a vested pension right.
Chief Justice Tani Cantil-Sakauye said past court rulings protecting public employee pensions were based on concepts of deferred compensation. She suggested the air time law was different.
Gregg McLean Adam, representing state employees, said the state had made a promise to its workers.
"Do we keep our promises?" Adam asked.
Adam said some employees may have turned down other job offers because they wanted to take advantage of the air time law.
Justice Goodwin Liu noted that the state can change other kinds of benefits. For example, he said, there was "no question" the state could discontinue offering workers an insurance plan at discounted rates.
Adam disagreed, saying employees took or stayed on jobs because of promised benefits. A skeptical Liu retorted that labor's position would prevent the government from altering all sorts of benefits, including vacation.
"It seems everything is an inducement to employment," he said.
Rei Onishi, representing Gov. Jerry Brown, said the Legislature did not intend to create a lifelong right when it passed the air time law.
"It turns on the specific intent of the Legislature," he said.
Justice Ming W. Chin asked Adam to respond to the state's contention that the Legislature had not intended to create a vested benefit.
Then why, Adam responded, did the Legislature say in the bill that air time could be purchased up until retirement?
The court will hand down a decision within 90 days.
---
UPDATES:
1:55 p.m.: This article was updated with additional background.
12:45 p.m.: This article was updated with details of the argument.
This article was originally published at 8:30 a.m.
The stories shaping California
Get up to speed with our Essential California newsletter, sent six days a week.
You may occasionally receive promotional content from the Los Angeles Times.