Pentagon gives California police grenade launchers, snowshoes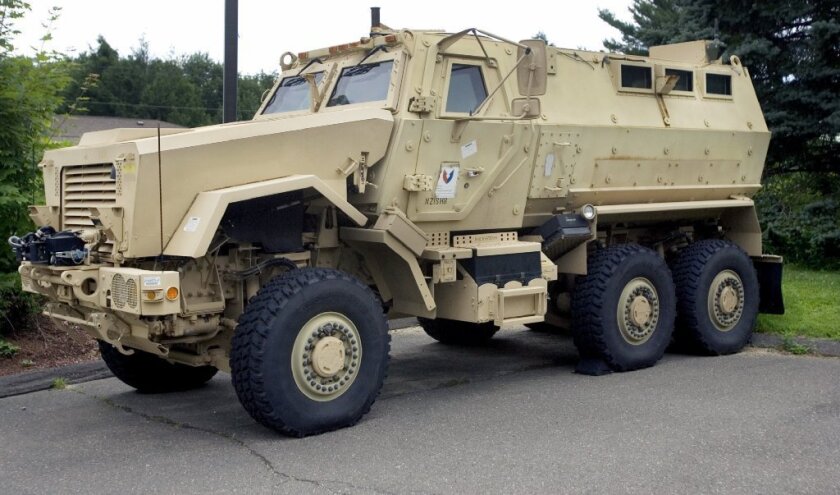 Southern California is mired in more than three years of drought, but the Los Angeles County Sheriff's Department is prepared for snowy conditions after it received 1,600 parkas for camouflage, 500 snowshoes and 132 snow trousers in March from the U.S. Department of Defense.
The gear was listed in data recently released by the department detailing the transfer of surplus military equipment to federal, state and local law enforcement agencies across the country. More than $160 million in equipment has gone to agencies in California, with some small towns like Santa Maria receiving grenade launchers, the data show. The vast majority of the equipment was given since 2006.
California agencies have also received meals, office supplies, night vision goggles, high-powered military rifles, x-ray machines and a boat.
The Pentagon released the data with little fanfare last month on its Defense Logistics Agency e-reading room for Freedom of Information Act requests after being inundated with requests from journalists, MuckRock and The Marshall Project reported Thursday.
The federal surplus program has become controversial, with critics saying it adds to the militarization of police departments.
The debate became increasingly pitched after protests broke out in Ferguson, Mo., over the fatal shooting of Michael Brown, an unarmed black man, by a white police officer, Darren Wilson. Law enforcement in the area used heavily armored vehicles and other military gear while dealing with protests that erupted after the Aug. 9 killing.
In September, the Los Angeles school police returned three grenade launchers it received through the federal program. But the department held on to its rifles and a Mine Resistant Ambush Protected vehicle, which is designed to withstand rocket-propelled grenades and improvised explosive devices.
City officials in Davis, Calif., directed their police department in August to return a Mine Resistant Ambush Protected armored vehicle, which is worth $689,000, after residents protested the acquisition, saying it would make people more fearful of the police.
The data show that other surplus equipment was sent to law enforcement and fire agencies in California, but not whether any was returned:
In 2005, the Alameda County Sheriff's Department received a $4.4-million, 85-foot fast patrol craft.
The Los Angeles Police Department received 1,678 high-powered military rifles, and the California Department of Fish and Wildlife got 86 M14 rifles.
The Alpine County Sheriff's Department, located in the Sierra Nevada, received a grenade launcher. Police in Clovis, northeast of downtown Fresno, were given two launchers. The East Bay Regional Park District, which oversees parks in Alameda and Contra Costa counties, got a grenade launcher. And Sacramento police received eight grenade launchers in 2006.
Mine Resistant Vehicles were given to sheriff's departments in the following counties: Amador, Butte, Los Angeles, Kern, Merced, Nevada, Orange, Santa Barbara and Merced. The vehicles also went to police agencies in more than 30 cities, from Antioch to Yuba City.
District attorney's investigators in Merced, Humboldt, Calaveras, Riverside and Los Angeles counties received equipment ranging from medical supplies to high-powered military rifles.
State prisons in Avenal and Corcoran, as well as High Desert State Prison in Susanville, got night vision equipment.
For breaking California news, follow @VeronicaRochaLA.
---
The stories shaping California
Get up to speed with our Essential California newsletter, sent six days a week.
You may occasionally receive promotional content from the Los Angeles Times.