Plaintiffs in Prop. 8 case renew vows a year later in Beverly Hills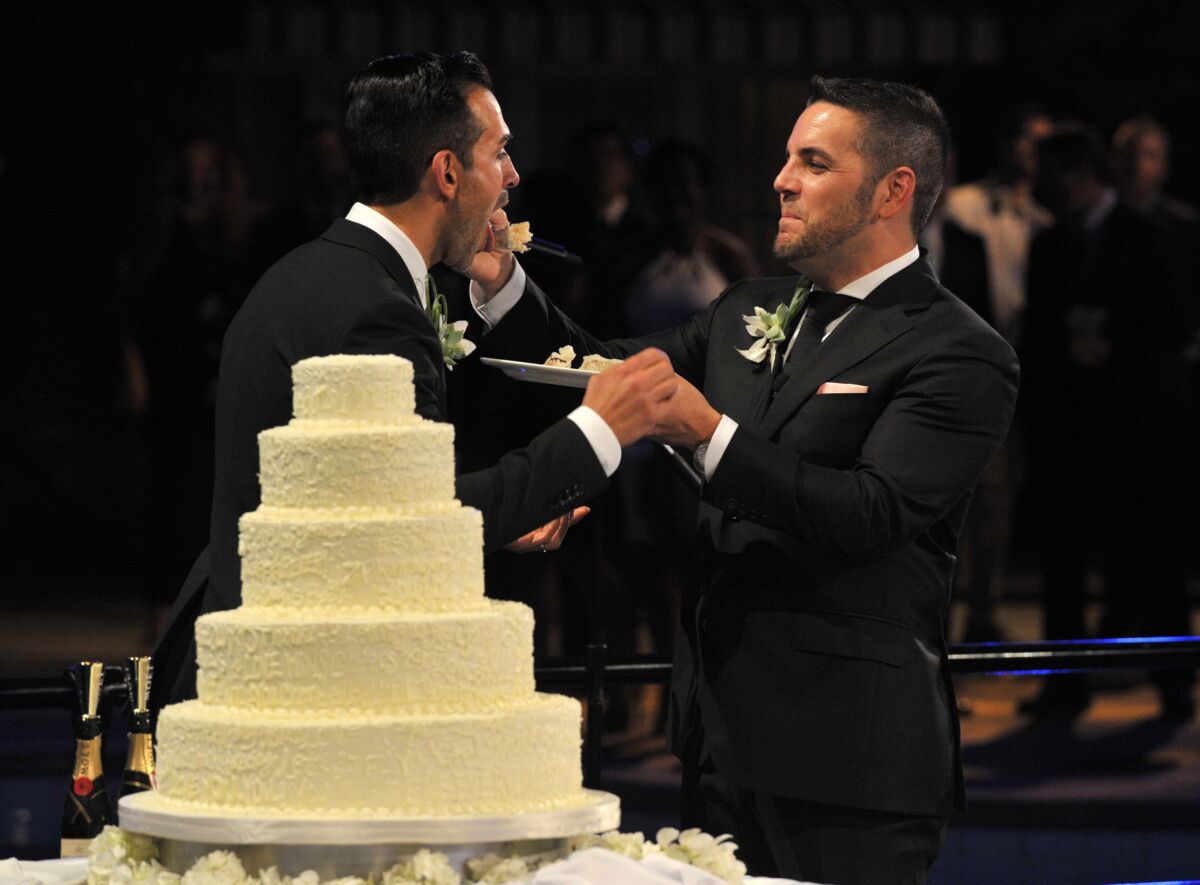 The second time around, the grooms wore matching sleek, black suits.
In a star-studded Beverly Hills party Saturday, Paul Katami and Jeff Zarrillo, two of the plaintiffs in the landmark case that struck down Proposition 8's ban on same-sex marriage in California, were able to celebrate their marriage with all the trappings of a well-planned wedding day. The ceremony came exactly one year after their actual marriage.
Katami and Zarrillo were the first couple to be married in Los Angeles, just hours after a federal appeals court cleared the way for gay marriages to begin again.
On a Friday afternoon last June, the Burbank couple raced from the county office in Norwalk to Los Angeles City Hall, where outgoing Mayor Antonio Villaraigosa was scheduled to marry them on his last day in office.
They frantically texted friends and family, hoping some might make it to downtown Los Angeles to see them wed, but as L.A. traffic would have it, even the grooms were more than an hour late.
The mayor waited, and they exchanged vows before a handful of friends — and many more cameras.
On Saturday, a year to the day, Katami and Zarrillo celebrated with a five-tier wedding cake, a celebrity guest list, and dances with both their mothers.
Neither Katami's mother, who lives in Northern California, and Zarrillo's parents, who are from New Jersey, were able to see their sons get married last year.
"It's a strange thing to have to make a phone call to your mom on your wedding day and say, 'I'm going to get married in an hour, and you can't be there,'" Katami told The Times by phone.
"Yesterday was a celebration for our friends and family … including the extended family of people who helped us get to this point and make this day possible. They waited for this day as much as we did."
Held at the Beverly Hilton Hotel, the ceremony was officiated by David Boies and Ted Olson, the two attorneys who represented the couple in the historic Proposition 8 challenge.
Katami said he and his husband valued being able to celebrate away from the media spotlight, exchanging vows they had written for each other for the private ceremony.
A stage was built over the hotel pool, with flowers and candles all around, and guests in attendance included Kris Perry and Sandy Stier, the other couple who were plaintiffs in the case, actress Jamie Lee Curtis and director Rob Reiner, who helped found an organization to fight the same-sex marriage ban.
"It was more than anything we've ever imagined," Katami said.
For more breaking news, follow me @cmaiduc
The stories shaping California
Get up to speed with our Essential California newsletter, sent six days a week.
You may occasionally receive promotional content from the Los Angeles Times.