Pilot and his family, including 9-year-old granddaughter, killed when small plane crashes near Agua Dulce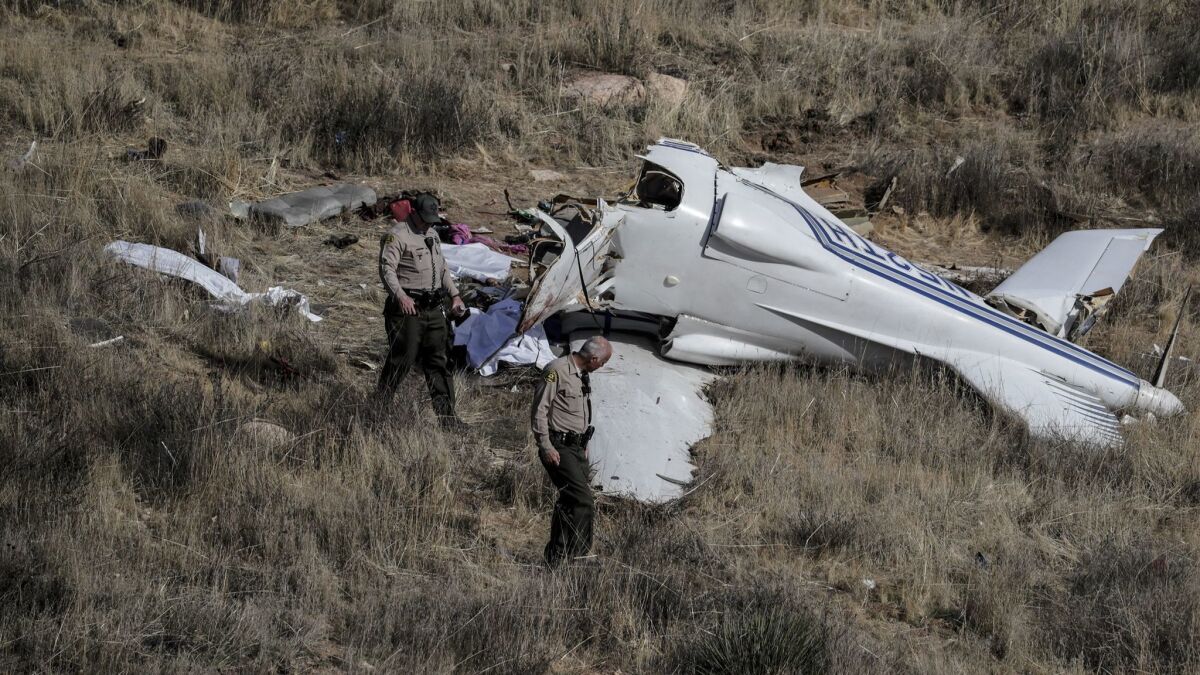 A small plane crashed in the rugged hills near Agua Dulce and the 14 Freeway in northern Los Angeles County on Sunday morning, killing all four on board, authorities said.
The Cirrus VK-30 plane crashed near the intersection of Mesa Grande and Briggs roads on a hillside between the highway and Soledad Canyon Road, said Art Marrujo, Los Angeles County fire dispatch supervisor. The reports of the crash came in around 10:55 a.m., he said.
The pilot was identified by a family member as Thomas Hastings, 65, who was returning to his Winnetka home after a weekend trip to Las Vegas with his daughter Amber Hill, 27; her husband, Jacob Hill, 25; and her daughter, Madison Hastings Saxelby, 9.
"They do this trip every couple months," said the pilot's son Jake Hastings, 30. "A routine, normal thing."
It should have been an hourlong flight. Hastings began to worry when he didn't hear from his family an hour after they were due to arrive. He called his father and sister several times, but no one answered.
"I had an eerie feeling about it," he said.
Soon after, Hastings saw photographs of the crash on the news, and he knew right away: it was his father's plane. He recognized the Cirrus VK-30 — one of nine registered with the Federal Aviation Administration — as the one his father spent nearly a decade building in their garage.
He said the plane hit power lines before crashing about four miles from Agua Dulce Air Park.
Thomas Hastings was an avid and experienced flier who obtained his pilot license before he could drive, at 15, with dreams of becoming a fighter pilot, his son said. He ended up working instead as a mechanical engineer and was about a year away from retiring from his job at Haas Automation.
Since he finished building the plane in 1999, Thomas Hastings "traveled all around the world," his son said. The elder Hastings frequently volunteered for the Young Eagles program, which introduces youth to aviation with a free ride on an airplane.
"He's given thousands and thousands of rides," Jake Hastings said. "He just wants people to enjoy and love flying."
He said his sister, Amber Hill, was a successful eyelash-extension artist who enjoyed family vacations with her husband and daughter. At school, his niece, Madison, was known as the "mad scientist," a nickname she earned after making clay objects and edible slime concoctions.
"They love each other so much and had a great life," Jake Hastings said.
Recently, the family took the plane to Big Bear to celebrate Christmas. Most Fridays for the last couple of years, the whole family gathered for dinner.
"I got a chance to have so many experiences with them," he said.
The crash scene is being turned over to investigators with the National Transportation Safety Board.
The NTSB said in a tweet that the plane was a VK-30, a fixed-wing, single-engine aircraft sold by Cirrus Aircraft in the late 1980s and early 1990s as a kit plane when the company was known as Cirrus Design.
The VK-30 plane is classified as an amateur-built aircraft by the Federal Aviation Administration, meaning that a "major portion" of the plan was fabricated and assembled by the owner for his or her own education or recreation.
The plane had undergone its annual inspection a month or so ago, the pilot's son said.
Former U.S. astronaut Robert Overmyer was killed in a VK-30 kit plane in 1996, according to news reports from the time.
---
UPDATES:
9 p.m.: This article was updated with comments from the pilot's son.
6:35 p.m.: This article was updated with the names of the four people who died in the crash.
3:55 p.m.: This article was updated with the make and model of the plane.
This article was originally posted at 12:40 p.m.
---
The stories shaping California
Get up to speed with our Essential California newsletter, sent six days a week.
You may occasionally receive promotional content from the Los Angeles Times.