Two men reportedly robbed and carjacked while playing 'Pokemon Go' at Northern California park
It's only been released for a week, but the augmented reality smartphone game "Pokemon Go" is already causing concerns among law enforcement agencies that report seeing an uptick in calls and crimes.
In the latest "Pokemon Go" attack, two men focused on the scavenger hunt-like smartphone game were robbed and carjacked this week in Northern California.
David Wallace and his friend went to Lone Oak Park in Antelope, Calif., after work late Sunday looking to capture a Pokemon, KCRA-TV reported. The friends were playing for about 20 minutes when they were approached by a gunman.
The gunman told the friends, "'If you don't want to get hurt, give me your phones.'"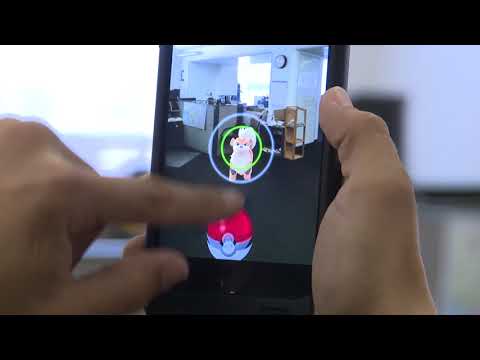 With the success of "Pokemon Go," we set out to discover if any of the little monsters were hiding within the walls of our own L.A. Times newsroom.
The gunman took the men's cellphones and cash and then drove off in Wallace's Suzuki Grand Vitara, the TV station reported.
If he hadn't been playing the game, Wallace said he wouldn't have been at the park.
"I'd be at home," he told the station.
The robbery wasn't the first theft connected to the game.
Using real locations, the GPS-focused mobile game app allows users to take trips around their neighborhoods and cities to collect Pokemons, which appear within the game. Developed by Niantic Inc, the new game leads players to Pokestops, where users can grab virtual loot.
The game could leave players vulnerable to criminals if they are not paying attention to their surroundings, law enforcement agencies warned.
See the most-read stories this hour »
In Missouri, four teens were arrested and accused of using the app to lure users and rob them. Police said at least 10 robberies were committed.
Sheriff's officials in Virginia issued a stern warning to "Go" players after experiencing an increase in "trespassing and suspicious activity" calls because strangers were entering businesses, churches and government facilities at all hours.
"These actions are considered trespassing and put the individual and deputies in a position of unnecessary risk. Please refrain from going onto property without proper permission or after appropriate times. Parents should encourage their children to avoid these actions for their own safety and enjoy the game responsibly," the Goochland County Sheriff's Office said.
In Wyoming, a woman searching for a virtual creature found a dead body floating in a river.
On Sunday in San Francisco, a brother and sister were robbed of their smartphones while playing "Pokemon Go."
And on Tuesday in Fullerton, two former Marines helped nab a man who was wanted in connection with attempted murder in Sonoma County. They notified police after they noticed the man was bothering children at a playground.
The increase of "Pokemon Go"-related incidents prompted the Los Angeles County Sheriff's Department to issue a lighthearted but pointed list of dos and don'ts for app users.
Here are some of the department's tips:
Don't play while driving. The last thing we need is a dead Pokemon.
Stay vigilant as you play. Distraction can cause injuries, especially when you walk into traffic.
Play in well-lit areas. As far as we know, there are no glow-in-the-dark Pokemon. If you suspect you are being followed, yell for help and use your phone to call 911.
Gamers are strangers, too. Just because they like Pokemon does not mean they will be nice to you. Be cautious of being lured into a bad situation.
Pokemon have homes too … just not yours. So if you are not invited, stay out of private property. We can guarantee you won't find Pokemon in a jail.
Although you may not be able to battle your real-life BFF, you can definitely teach him some things. So have him walk with you.
ALSO
'Pokemon Go': Craze sweeps the nation and is poised to surpass Twitter
2 former Marines playing 'Pokemon Go' help nab attempted murder suspect
'Pokemon Go' ends abruptly for teen siblings in San Francisco after robber snatches their smartphone
Sign up for Essential California for news, features and recommendations from the L.A. Times and beyond in your inbox six days a week.
You may occasionally receive promotional content from the Los Angeles Times.