Undercover LAPD officers shoot and wound man near MacArthur Park; 2 arrested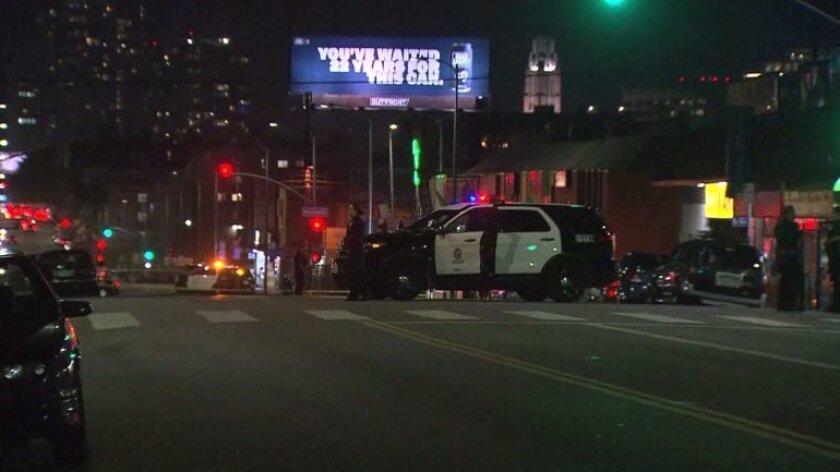 A confrontation on Monday between undercover Los Angeles police officers and two men led to police opening fire and wounding one of the men in the arm, authorities said.
The shooting occurred just before 5 p.m. near 8th and Alvarado streets in the Westlake neighborhood, LAPD Officer Mike Lopez said.
The undercover officers in the LAPD's Vice Division had been in an unmarked car when they got out and spoke to the two men, Lopez said.
It's unclear what led to the shooting, but at least one of the officers opened fire.
Police found a handgun at the scene, but authorities did not say whether the gun belonged to either man.
After the shooting, both men ran and LAPD officers from the Rampart Division canvassed the neighborhood to help track them down.
Both men were found, and police learned one of them was hit in the arm. He was taken to a hospital for treatment and was expected to survive.
The other man was not injured and was arrested. Neither man's identity was released.
No officers were injured during the incident, Lopez said.
Footage from KCAL-TV Channel 9 showed officers clustering near 8th and Alvarado streets, blocking traffic in the neighborhood just south of MacArthur Park.
This year, on-duty LAPD officers have shot 22 people, according to a Times analysis. Sixteen were killed.
On Friday, a woman riding a bicycle along the Venice boardwalk was wounded by police gunfire when an officer shot a dog nearby.
LAPD officials said the officer fired at the dog after the animal bit his arm and would not let go. The woman was wounded in the leg; the dog was killed.
Times staff writer Kate Mather contributed to this report.
Twitter: @MattHjourno.
---
UPDATES:
10 p.m.: This article was updated throughout with additional details on the shooting and confirmation that a man was wounded in the shooting.
This article was originally published at 6:20 p.m.
---
The perils of parenting through a pandemic
What's going on with school? What do kids need? Get 8 to 3, a newsletter dedicated to the questions that keep California families up at night.
You may occasionally receive promotional content from the Los Angeles Times.