African Americans are less trusting of law enforcement in Los Angeles County, poll finds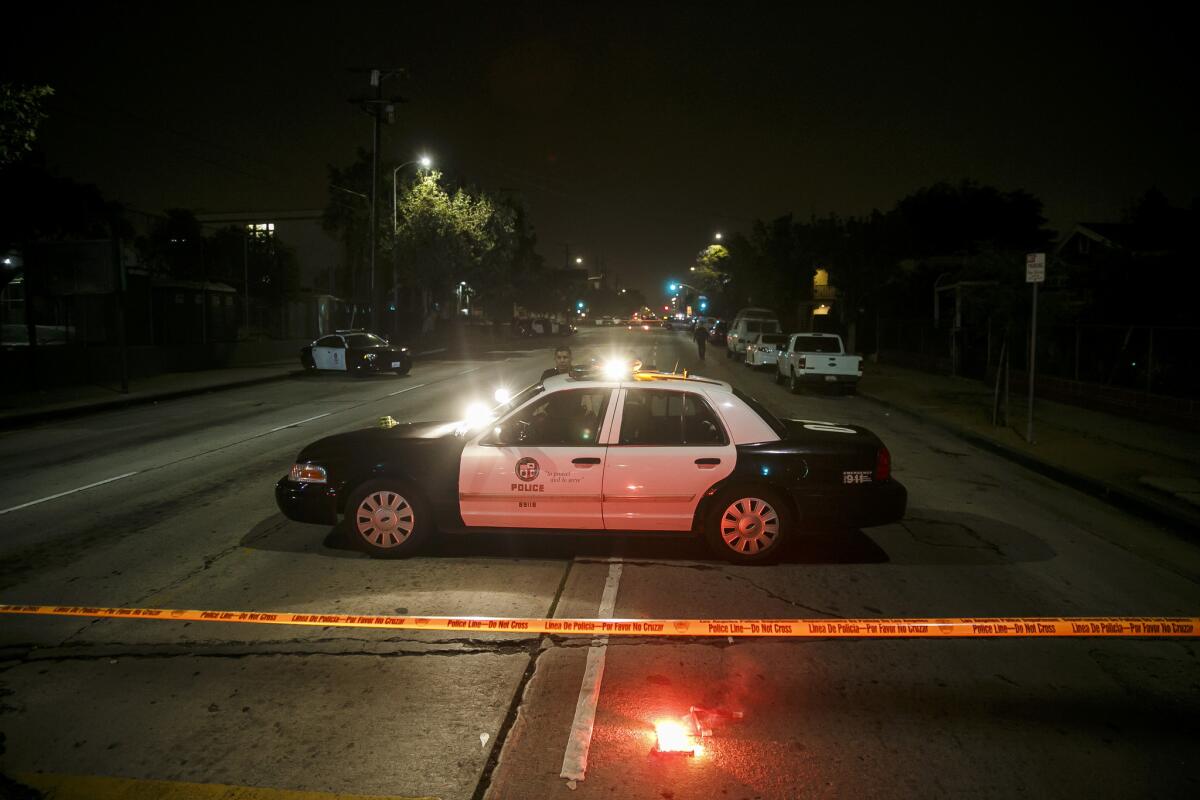 Despite two decades of efforts to improve relations, Los Angeles County law enforcement is still struggling to build trust among African American residents, according to a new poll.
Leaders at the Los Angeles Police Department and other agencies have diversified their ranks, changed tactics and launched community programs in hopes of shedding a longstanding image among some black residents that authorities treat them unfairly – efforts that have drawn praise from others.
But the new survey, published Tuesday by the Center for the Study of Los Angeles at Loyola Marymount University, revealed mixed reviews of law enforcement in Los Angeles County, with the greatest skepticism coming from African Americans.
About half of the 2,425 L.A. County residents polled rated the quality of their police services, along with the conduct and professionalism of officers, as "good," according to the survey's results.
But when African Americans were asked to rate police, the percentages dropped. About a quarter of African Americans polled considered the conduct and professionalism of officers "good." About a third — 31.5% — described officers' behavior as "poor." The rest said it was "fair."
When asked how confident they were that police in their communities treated all races equally, just over 42% of the black residents surveyed said they were "not confident," compared with 30% of Latinos polled, 25% of whites and nearly 20% of Asian Americans.
See the most-read stories this hour >>
The phone poll, conducted over a six-week span in January and February, took place amid a heated national conversation about how and when police officers use force, particularly against African Americans. The residents surveyed were asked a range of questions about public safety in their communities, the results of which were compiled in a report published Tuesday.
Two-thirds of respondents said they believed most officers only used the amount of force "necessary to accomplish their tasks." The report did not break down those results by race or ethnicity.
Fernando Guerra, the director of the Center for the Study of Los Angeles, said the survey offered a real reaction from L.A. County residents on public safety issues that often generate fierce debate.
"Everybody has an opinion – from police commissioners to the police themselves, advocates, etc.," Guerra said. "But this is what the residents think."
The majority of residents polled indicated that they believed their neighborhoods were safe, despite an uptick in crime that continues to plague local police. Though Los Angeles police officials said last week that they were making progress in driving down some crimes across the city, violent crime remains nearly 16% higher than this time last year.
Still, almost 78% of L.A. residents polled said they considered their neighborhoods a safe place to live. Nearly 88% of L.A. County residents said the same.
"This is really giving voice to the community.
— Fernando Guerra, director of the Center for the Study of Los Angeles
The findings also indicated widespread support of body cameras for law enforcement officers. Agencies including the LAPD and Los Angeles County Sheriff's Department have begun using the devices.
More than 92% of residents living in the city of Los Angeles said they thought the new technology was a good idea, according to the poll. Almost 91% of county residents agreed.
The LAPD is poised to become the largest law enforcement agency in the nation to use body cameras on a widespread scale, with plans to roll out 7,000 cameras in the coming years. But lingering questions from city lawmakers over the program's implementation and funding have delayed the initiative.
Interested in the stories shaping California? Sign up for the free Essential California newsletter >>
The Sheriff's Department has tested the cameras in a pilot program and is now evaluating the logistics involved in using the devices, said Cmdr. Eddie Rivero, a department spokesman. He anticipated the department would start rolling out cameras in phases "in a year or two."
Guerra said he was initially surprised by the high percentage of residents who backed the use of the new technology.
"We hardly ever see that level of support on anything," Guerra said. "The bottom line is residents believe this needs to be done."
When asked about the survey's results and public attitudes about local policing, Rivero pointed to several initiatives the Sheriff's Department recently launched within the community, including a pen pal program with elementary school students and youth sports teams.
Sheriff's officials also work with the local chapter of a national group, "Concerned Black Men," to engage with African American residents and address any concerns they may have about law enforcement, Rivero said.
But, Rivero said, Sheriff Jim McDonnell has a "very clear" message for his deputies: day-to-day interactions are key to earning the public's trust in law enforcement.
"Regardless of what the call for service is, we are there to be the protectors, the guardians of the community," Rivero said. "We need to leave that contact where the person who calls us feels that we were there to help them. Every single day, that has to occur."
ALSO
San Fernando Valley special education assistant charged with child molestation
A wrong turn in Mexico leads to arrest of suspect in pregnant girlfriend's shooting death
Jury finds 'Shield' actor Michael Jace guilty of second-degree murder of his wife
Follow me on Twitter: @katemather
---
UPDATES:
8:43 p.m.: This post has been updated to include comments from the Sheriff's Department.
This post was originally published at 1:27 p.m.
Sign up for Essential California for news, features and recommendations from the L.A. Times and beyond in your inbox six days a week.
You may occasionally receive promotional content from the Los Angeles Times.