'Greatest living pool cue maker' sentenced after pleading guilty to helping smuggle elephant ivory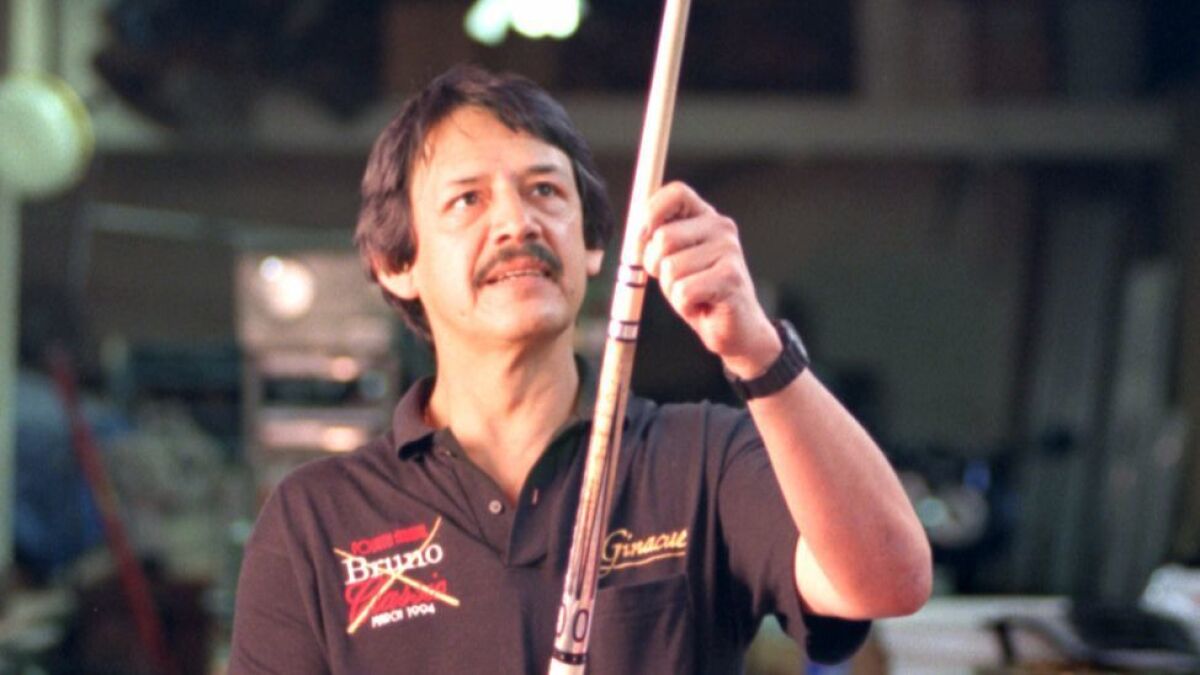 For decades, Ernie Gutierrez has been at the vanguard of the high-priced market of bespoke pool cues.
Rivals have emulated his ornate, ivory-laden designs. Customers from around the world have flocked to his North Hollywood shop, Ginacue.
But on Monday, Gutierrez found himself before a federal judge in downtown Los Angeles, facing his fate for involvement in what prosecutors described as the illegal ivory trade.
For unlawfully helping two customers export ivory to Taiwan, U.S. District Judge John F. Walter imposed a two-year probation term on Gutierrez, 75, including four months of home confinement.
The case against Gutierrez apparently began in April, when U.S. Customs and Border Protection and U.S. Fish and Wildlife Service agents found luggage with dozens of pool cues at Los Angeles International Airport, according to court papers.
Prosecutors said Gutierrez made 41 parts of pool cues with elephant ivory inlay and sold them to two Taiwanese customers for about $75,000 to $85,000.
The two Taiwanese customers, Huang Ching Liu and Wen Shou Wei Chen, were arrested April 22 at LAX and indicted, according to court papers.
During an interview, Liu told investigators that Gutierrez was the "greatest 'living' pool cue maker" and that he purchased pool cues to sell in China, pocketing a 5-10% profit, according to an affidavit filed in federal court.
Liu also claimed that Gutierrez told him his ivory was "legal." Prosecutors ultimately charged Gutierrez with aiding the attempted exportation of African elephant ivory without proper documentation under federal law, including the Endangered Species Act.
Liu and Chen have each pleaded guilty to attempted smuggling charges and their sentencing is pending in federal court.
In addition to probation, the judge ordered Gutierrez to pay a fine of $10,000. His defense attorney could not be reached for comment.
After the sentencing, U.S. Atty. Eileen M. Decker noted the "devastating impact" on African elephants from the illegal ivory trade.
"Illegal trafficking of any part of a protected species creates a demand that can lead to the extinction of these vulnerable populations," Decker said in a statement.
The case is a blemish on a distinguished career for Gutierrez, who trained in woodworking while growing up in Colombia.
He moved to the San Fernando Valley in 1957, and previously told The Times that he liked to hang out in pool halls. His hobby of making pool cues earned him some money and his reputation spread.
Soon, he gained a loyal customer base, and word-of-mouth attracted an elite clientele. In 1968, he fashioned an 8-karat-gold cue for Dean Martin, which included four diamonds, an emerald, a sapphire and a ruby. He also made cues for Frank Sinatra and Sammy Davis, Jr.
In 1994, the American Cuemakers Assn. inducted Gutierrez into their hall of fame. He was the first living person to receive the honor.
"Almost every cue maker in the world has at least one thing in their designs that originated with Ernie," James Buss, then-president of the American Cuemakers Assn., told The Times that year.
"There's a joke in the pool industry that Ernie invented ivory and he invented silver."
Twitter: @MattHjourno.
ALSO
Woman runs over husband, two others outside court, then jumps to her death
Undercover LAPD officers shoot and wound man near MacArthur Park; 2 arrested
---
The stories shaping California
Get up to speed with our Essential California newsletter, sent six days a week.
You may occasionally receive promotional content from the Los Angeles Times.