Downtown's 'Pope of Broadway' mural featuring actor Anthony Quinn fully restored by original artist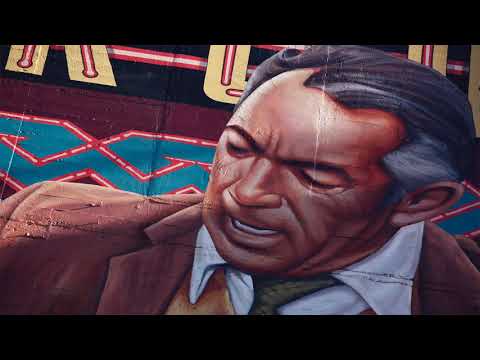 Artist Eloy Torrez's newly restored downtown mural of Anthony Quinn, the "Pope of Broadway," on 3rd Street between Broadway and Spring in Los Angeles. (Brian van der Brug / Los Angeles Times)
For muralist Eloy Torrez, it was the face that really got to him.
His beloved downtown Los Angeles mural, the "Pope of Broadway," featuring actor Anthony Quinn, had been chipping and fading in the sun for years. But when Quinn's painted face began to peel off the wall, that's when the sight of his 1985 painting became truly painful for Torrez.
On Tuesday, Torrez joined art conservationists and city officials beneath the 70-foot-tall artwork on the side of the former Victor Clothing Co. building to celebrate its full restoration, which was completed this month by Torrez himself.
"To me, Anthony Quinn represents Los Angeles and its diversity," Torrez said.
The unveiling of the restored mural occurred in a downtown L.A. — and on a Broadway — much different from the one that existed when the artwork was commissioned three decades ago. Back then, Broadway was the bustling Latino commercial center of Los Angeles, with businesses catering to the region's booming immigrant population.
Years of gentrification have radically changed Broadway. Today, it's become a center of the new hip downtown, with many of the old Latino businesses — and Spanish-language movie theaters — replaced by upscale eateries and restored theaters. The venerable Grand Central Market nearby was re-created as a foodie haven.
In some ways, the mural is a link between the new and the old.
The mural came about after Torrez met Ramiro Salcedo, then-owner of the Victor Clothing Co. at 242 S. Broadway.
In 1983, Torrez painted a mural called "Legends of Hollywood" on Hudson Avenue depicting Marilyn Monroe, Humphrey Bogart, Fred Astaire, Bette Davis, James Dean and Clark Gable.
Salcedo told Torrez he wanted a mural that would show "a Latino actor who would represent that era of Hollywood." The artist immediately thought of Quinn.
The "Legends of Hollywood" mural was destroyed in the 1994 Northridge earthquake, according to the Mural Conservancy of Los Angeles.
Quinn, who was born in Chihuahua, Mexico, and grew up in East L.A., did a stint as a professional boxer before going on to win two Academy Awards. He won the Oscar for supporting actor in 1953 for his role in the film "Viva Zapata!" and again in 1957 for his part in the movie "Lust for Life."
Torrez painted the actor dancing much the way he did in his 1964 film "Zorba the Greek" — arms outstretched in a Christ-like pose. Behind the dancing figure, Torrez painted crosses in windows similar to the nearby Bradbury Building.
The mural, which looms over a parking lot, grew cracked and faded over the years. It was defaced with graffiti, and it suffered from moisture damage.
L.A. City Councilman Jose Huizar helped secure a donation for $150,000 to refurbish the mural from Greenland USA, the company behind the downtown hotel and condo complex Metropolis. The restoration was overseen by the Mural Conservancy of Los Angeles.
The mural now has an anti-graffiti coating to protect it against vandalism.
"This mural harkens back to … an important part of Broadway's history when many Latino immigrant families used to come to Broadway in large numbers, particularly in the '70s and '80s," Huizar said. "They kept this street alive."
Huizar, who was born in Mexico, said that as a young person, he often came to the Broadway corridor for back-to-school shopping and to see shows at the nearby Million Dollar Theater, where Quinn performed.
"There are many words said about this mural and the man it depicts," Huizar said. "It's iconic. It's legendary. It's classic. They all fit the brilliant work that Eloy first painted in 1985, and Anthony Quinn represents what is most majestic about being an Angeleno."
Valentina Castellani — the wife of Quinn's late son, Francesco — called Anthony Quinn a "role model for the Latino community" who "brought Mexico to the world."
"Never like nowadays in this fragile time, our Latino youth are in need of such role models," Castellani said. "This mural became the Hollywood sign of the Latino community."
Twitter: @haileybranson
ALSO
No charges against LAPD officers who shot and killed Ezell Ford, DA says
Trump won a Scientology neighborhood in L.A., analysis shows. It was a rare GOP victory in blue L.A.
In six months, L.A. went from high and dry to wet and wild. Here's how it happened
Sign up for Essential California for news, features and recommendations from the L.A. Times and beyond in your inbox six days a week.
You may occasionally receive promotional content from the Los Angeles Times.