After prodding from city, SoCal Gas commits to faster and broader plan to relocate Porter Ranch residents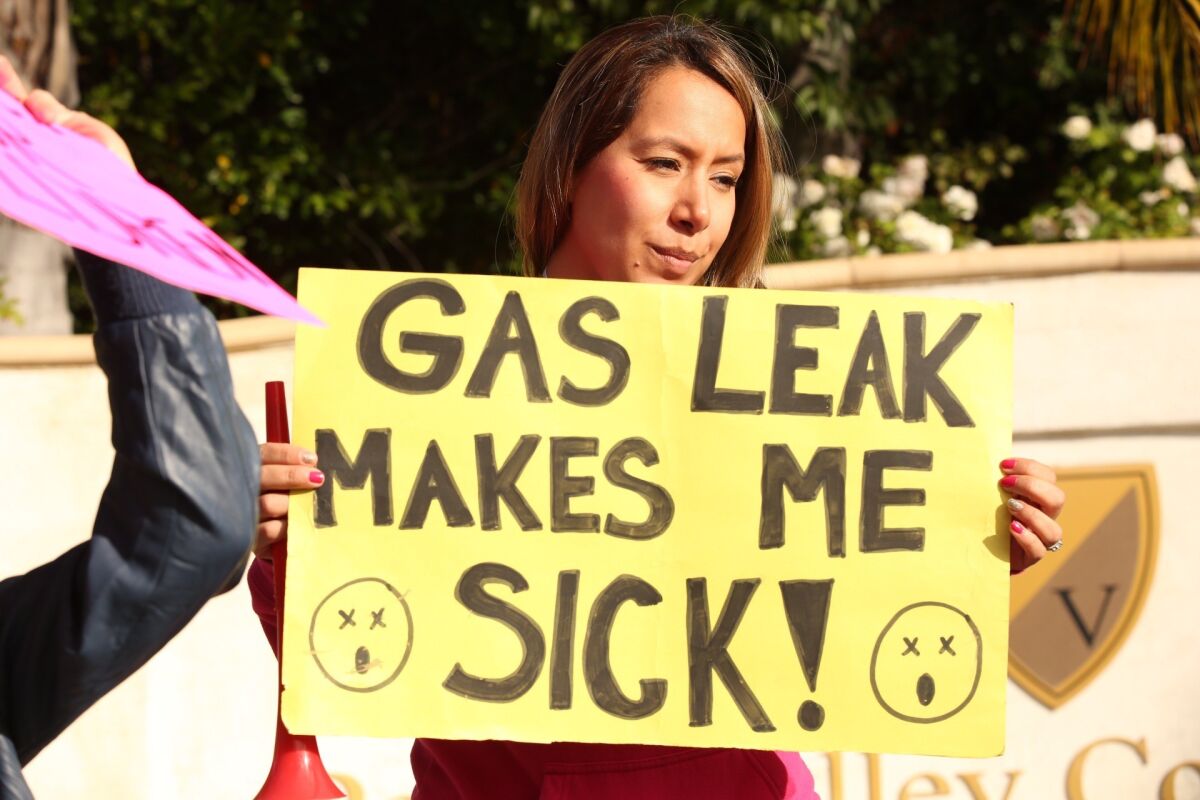 Southern California Gas Co., under pressure from Los Angeles, agreed Wednesday to speed up and broaden its relocation program for residents suffering ailments from a massive natural gas leak in the hills above Porter Ranch.
Under terms agreed to in negotiations between the gas company and the Los Angeles city attorney's office, SoCal Gas must find temporary housing within 72 hours for residents who ask for relocation to escape the fumes while it tries to plug its damaged natural gas well. The company said that process will take three to four months.
The gas company also agreed to pay to house pets, provide police services as a deterrent to possible burglaries of vacated homes and submit any relocation disputes to a third-party arbitrator.
SoCal Gas and city attorneys negotiated the agreement at the direction of Los Angeles Superior Court. The city attorney's office had asked the court to order an even shorter timetable of 48 hours, but Judge Emilie H. Elias instead directed the two parties to negotiate a solution.
The task of meeting the 72-hour deadline is enormous. More than 2,600 families in the northwest San Fernando Valley community were awaiting relocation as of Wednesday, according to SoCal Gas.
The company has already moved about 2,100 families into temporary housing, exhausting much of the supply of nearby motel and hotel rooms and short-term rental houses.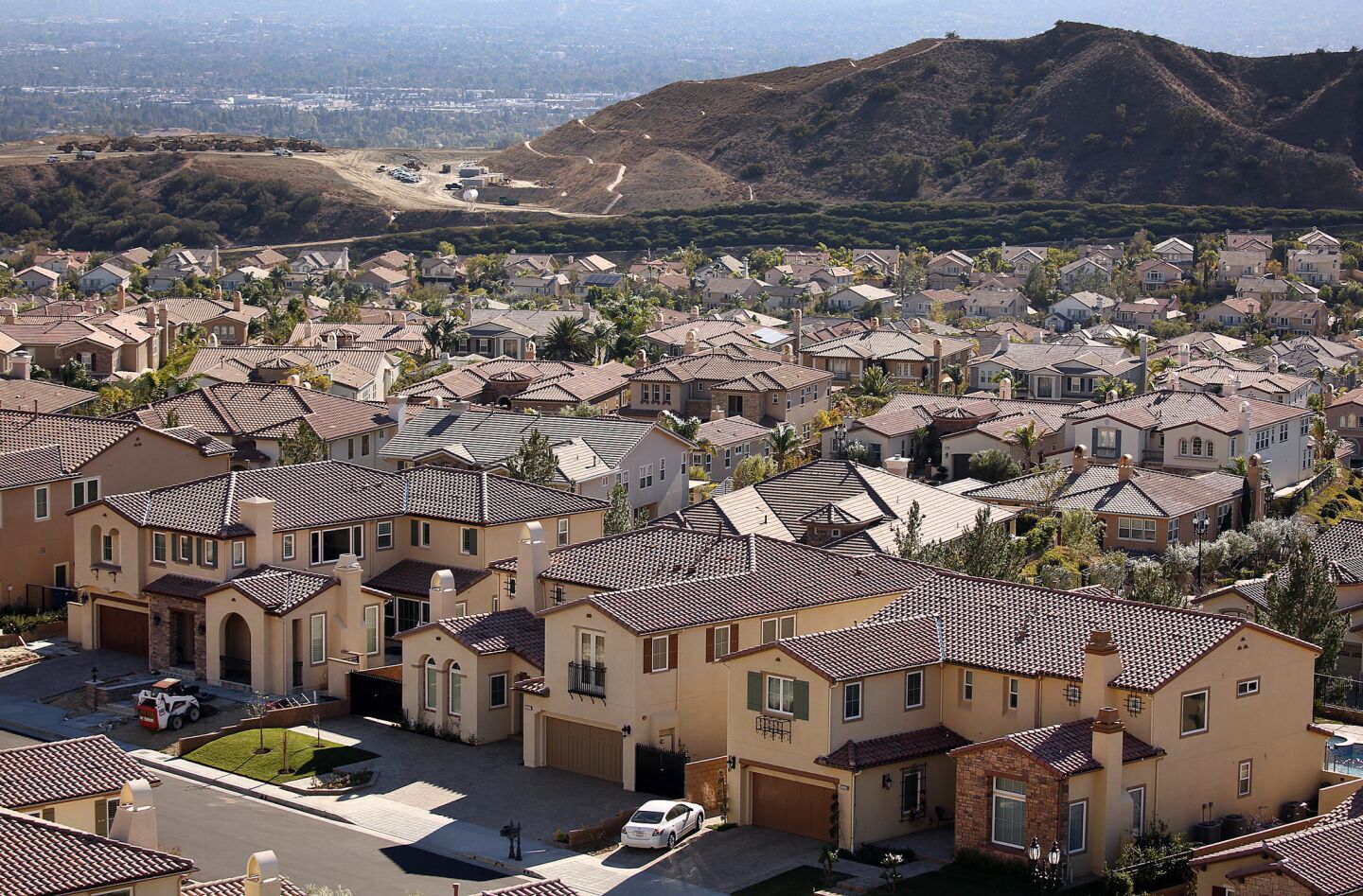 The Southern California Gas Co. leaking well forced thousands of residents in and near Porter Ranch to temporarily relocate.
(Al Seib / Los Angeles Times)
Signs and gates on the Porter Ranch hillsides indicate the boundary of Southern California Gas Co., where an ongoing gas leak has prompted hundreds of complaints.
(Al Seib / Los Angeles Times)
Porter Ranch resident Jaimee Choi prepares for her first day at work as a manager at a restaurant while her father, Francis Choi, hugs the family dog in a Burbank hotel after they were displaced by a gas leak near their Porter Ranch home.
(Marcus Yam / Los Angeles Times)
Lori Choi, right, and her daughter, Jaimee Choi, walk their dogs outside the Burbank hotel where they are staying after they were displaced by a gas leak near their Porter Ranch home. "We've come to Burbank for the clean air," Jaimee joked.
(Marcus Yam / Los Angeles Times)
Jaimee Choi prepares for her first day at a new job by studying work material in a Burbank hotel where she is staying with her family.
(Marcus Yam / Los Angeles Times)
Parents pick up their children at Porter Ranch Community School in the North San Fernando Valley just south of the Southern California Gas Co. Aliso Canyon Storage Facility. Filters are being installed in the school's ventilation system to help with the smell caused by a nearby gas leak.
(Al Seib / Los Angeles Times)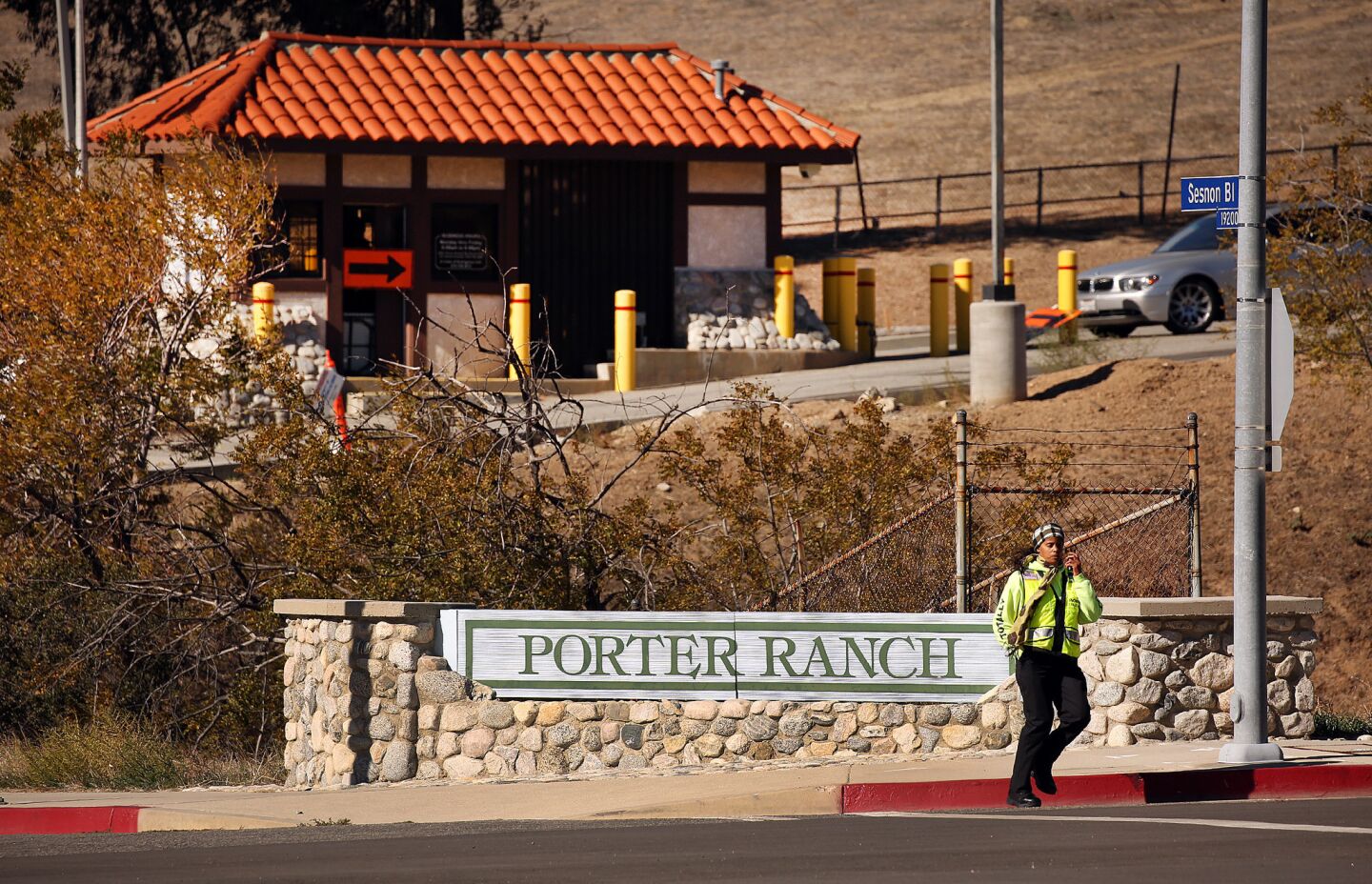 The entrance to the Southern California Gas Co. Aliso Canyon Storage Facility sits at the intersection of Tampa Avenue and Sesnon Boulevard in Porter Ranch.
(Al Seib / Los Angeles Times)
Asked if it was reasonable to expect that thousands of people be relocated by Saturday, James P. Clark, chief deputy to City Atty. Mike Feuer, said: "We certainly believe that, yes."
"On the eve of Christmas, people who are struggling with the relocation are going to get some sense that they have recourse," said attorney Matthew S. McNicholas, who represents about 30 households in Porter Ranch.
SoCal Gas said in a statement after the agreement that it will continue to try to relocate families as swiftly as possible, offering to place residents in hotels as efforts continue to find more suitable accommodations.
The company said it has retained 17 relocation agencies to help manage the process. Families who seek their own temporary housing outside of the program will be reimbursed, provided that the costs are consistent with the company's guidelines, the statement said.
SoCal Gas "has been and will continue to work with LAPD on increased patrol for vacant homes," the statement said. "We are paying the additional LAPD costs."
In documents opposing the court order, the company argued that its efforts — including its relocation plan — already provided the remedies the city attorney's office sought.
For example, the plan already contained a provision "for a response to residents within 24 to 72 hours, and temporary relocation to a hotel … as longer term housing is arranged," the documents said.
Officials from the city attorney's office and the Los Angeles County Department of Public Health said they only recently received the gas company's written relocation plan containing those details.
"We don't know, because of a lack of transparency, whether they've been operating in good faith," Clark said. "But we're not here to talk about their good faith in the past, we're here to talk about their good faith in the future. We believe this mechanism is going to light a fire under them, if you will."
Dr. Cyrus Rangan, a director with the county's public health department, said officials there had asked the gas company to relocate affected customers in a "reasonable amount of time."
"We have been saying all along that it should be a response time of between
24 and 72 hours," Rangan said. "What we are finding is that they are responding to people in that period of time, but for many people, it's
taking a really long time for the actual relocation to
happen."
The gas company said it had not calculated the costs of its massive relocation and housing program. The state Public Utilities Commission will determine whether ratepayers will ultimately bear those costs, said SoCal Gas spokeswoman Trisha Muse.
In court documents, attorneys said the company would accommodate "alternative housing arrangements" at a cost of up to $250 a day or about $7,500 per month.
Christopher Dalbey, an attorney who represents more than 100 families, said he was pleased that the gas company will provide a mediator — likely to be a retired judge — to resolve disputes over the size or speed of a
relocation.
He said his clients are "going to be happy that when the gas company says 'no,' they're not stuck with either suing or yelling louder."
"Right now, they feel like those are their options," Dalbey said.
Porter Ranch residents have experienced headaches, nausea, nosebleeds and other short-term ailments, but health officials have said the fumes pose no serious long-term health risks.
Symptoms that residents experience probably are not the result of the gas itself but of tertiary butyl mercaptan and tetrahydrothiophene, two odorants that are added to the natural gas so that a leak can be
detected by smell, according to officials with the county public health department and independent experts.
The leaking well is about a mile from the nearest residential area, but wind frequently carries the fumes into neighborhoods.
Repeated attempts to cap the leak at the wellhead failed, and the company is now drilling relief wells to intercept and plug the damaged well.
matt.stevens@latimes.com
Twitter: @bymattstevens
Times staff writer Alice Walton contributed to this report.
---
The stories shaping California
Get up to speed with our Essential California newsletter, sent six days a week.
You may occasionally receive promotional content from the Los Angeles Times.