Probe underway into possible case tampering in Orange County Superior Court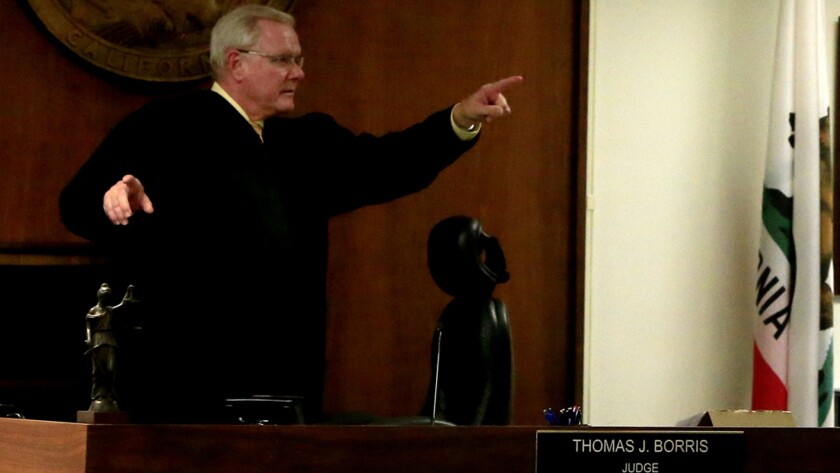 Attorney Charmaine Druyor said she was puzzled when she received a notice, two weeks ago, ordering her to appear Friday in the Westminster courtroom of Judge Thomas Borris. It concerned a man whose charge of driving on a suspended license had been dismissed in 2012.
Druyor, a criminal defense attorney in Orange, was listed in court files as the attorney of record. But she didn't remember the supposed client's name and couldn't find in her computer any sign that she had represented him.
The man, who was also summoned to court Friday, seemed confused. "When he saw me he knew for sure I wasn't his attorney," Druyor said.
It is one of scores of cases Borris examined Friday as part of a probe into apparent fraud involving court records. The cases seem to involve supposedly resolved charges of traffic infractions and drunk-driving charges.
Borris told defendants – who believed their cases had been settled – to show why their resolutions shouldn't be vacated. FBI agents were at the courthouse interviewing defendants. Neither the FBI, the Orange County district attorney's office, nor court officials would discuss the case.
"I've never seen anything like this," Druyor said. "Someone falsified records. We don't know how many [defendants] were victims and how many were part of the fraud."
She said her supposed client's dismissal was vacated, and he was allowed to plead guilty and pay a fine. In some cases, the judge ordered warrants for the defendants' arrest.
Lolita Kirk, a Santa Ana criminal defense attorney, received a notice to appear before Borris concerning three different defendants. Court records indicated they had been her clients, but she told the judge she had never represented them.
In one case, she said, court records indicated a defendant had served time in jail, but on Friday the court called the jail and found the defendant had not. So the judge had the defendant taken into custody.
Kirk speculated that someone had been paid to fix court records. "I don't know whether there's a fraud being perpetrated against defendants," she said. "It's all speculative."
For the next two Fridays, she said, Judge Borris' docket is dominated by similarly recalled cases.
Twitter: @emfoxhall
Twitter: @LATChrisGoffard
---
For reporting and exclusive analysis from bureau chief John Myers, get our California Politics newsletter.
You may occasionally receive promotional content from the Los Angeles Times.