6,000 DWP customers still don't have up-to-date bills, executive says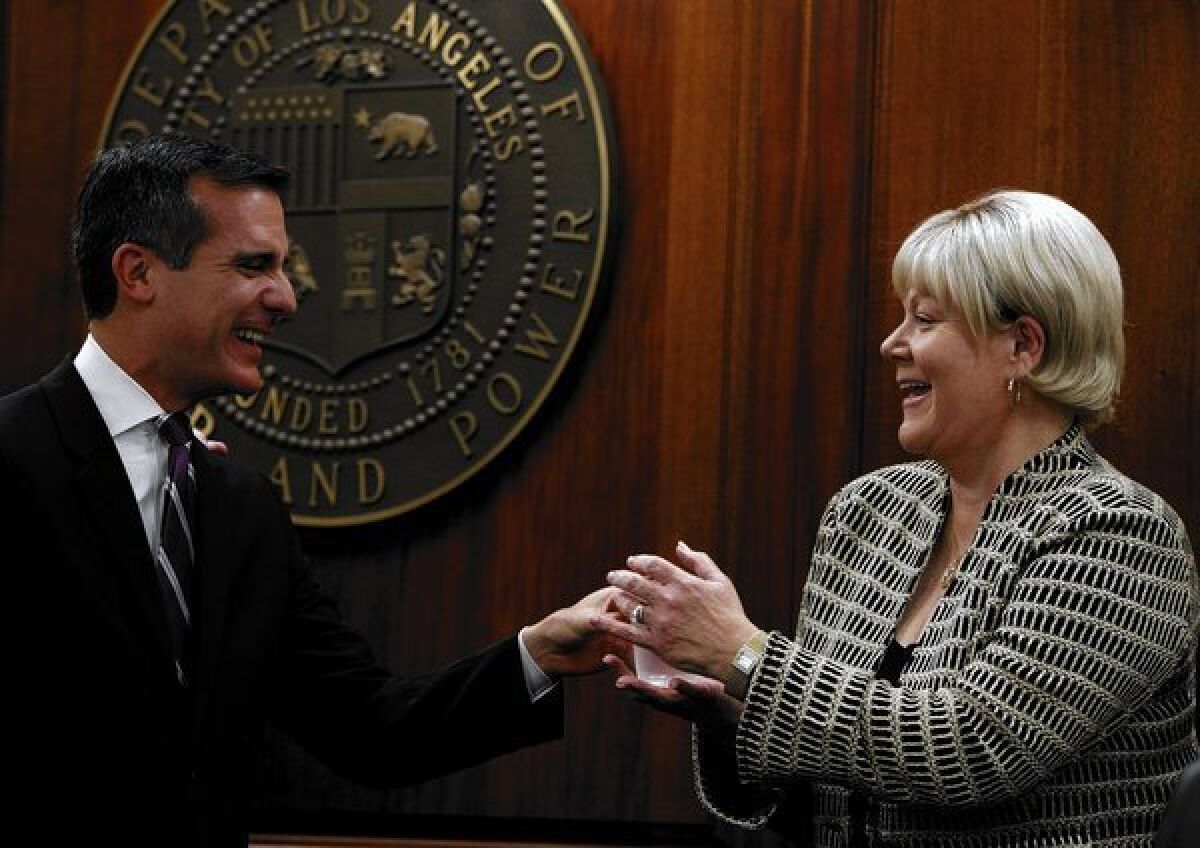 Nearly a year after the Los Angeles Department of Water and Power installed a faulty new computer billing system, customers are still plagued with billing issues and lengthy wait times when they call with problems, utility executives said Wednesday.
DWP General Manager Marcie Edwards told the City Council's Energy and Environment Committee there are still 6,000 customers who have not received a bill in about seven months and are in line to get a big cumulative tab down the road.
She said the department will call those customers in advance before the bills come in the mail to ease the sticker shock. Utility collections for the fiscal year that ended in June were $247 million short of what was expected, officials said.
The new billing system was launched in September and faced immediate problems as customers received no bills or were inaccurately charged exorbitant amounts.
Customers are still waiting an average of 35 minutes before speaking to a utility representative about billing issues, although Edwards said 37 new workers will start answering phones Friday and more are on the way.
Utility executives want to get the wait times down to 15 minutes by next month and to 3 minutes by next March, said Randy Howard, senior assistant general manager of the power system.
When Councilman Tom LaBonge placed a call to the department's customer service line during Wednesday's meeting he said he was given an estimated wait time of 57 minutes.
"It is frustrating," said Councilman Felipe Fuentes, who chairs the committee. "Literally we are going to have to bleed this out of the system to get to stability."
Also on Wednesday, a terse letter was sent to Edwards by Assemblyman Raul Bocanegra (D-Pacoima), who accused DWP managers of initially failing to cooperate with state auditors who are trying to review the billing system problems.
Bocanegra said managers had impeded the auditors' request for full access to utility documents and would not let them interview employees unless their supervisor was present.
While the department has been more responsive in recent days, Bocanegra said, "it is imperative that, going forward, the auditor be allowed unobstructed interviews of LADWP employees and unrestrained access to documents."
Follow @jpanzar for breaking news.
---
Life is stressful. Our weekly mental wellness newsletter can help.
You may occasionally receive promotional content from the Los Angeles Times.