Proud Bird, famed LAX aerospace hangout, gets one-month reprieve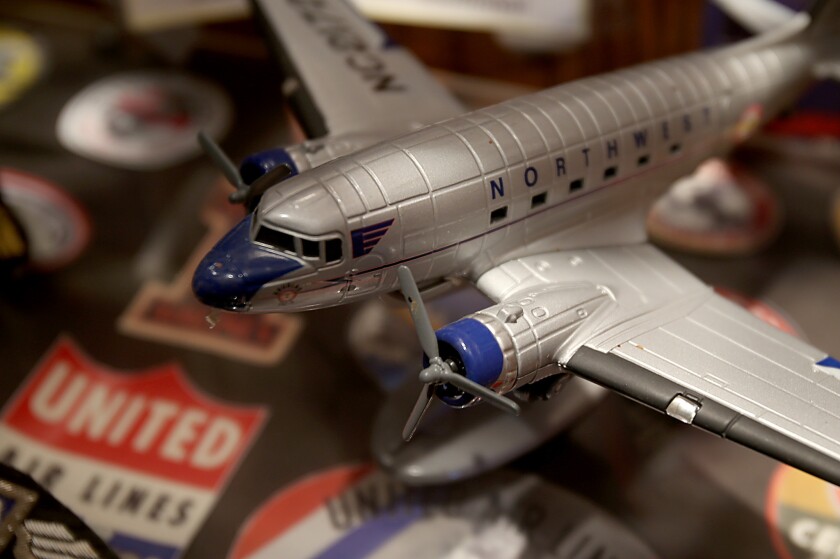 The closure of one of the aerospace industry's premier hangouts, the Proud Bird, has been delayed for about one month, as the restaurant owner and city officials continue discussions for a new lease, officials said Wednesday.
The restaurant, which has a collection of 20 historic aircraft and hundreds of photographs that document the long history of aerospace in Southern California, was due to shut its doors Thursday, following an unsuccessful two-year effort to renew the business' lease with Los Angeles World Airports.
But John Tallichet, the owner and son of the founder, said he will continue to operate the restaurant and a related banquet business until Dec. 21, as last-minute negotiations with airport officials continue.
The airport has offered some possible solutions and Tallichet said he is continuing to explore ways to reduce the expenses of a new lease.
Tallichet said he has received an outpouring of support from pilots, aerospace industry employees and others who want to keep the restaurant open. The dining room has been filled to capacity in recent days.
After his prior long-term lease expired, Los Angeles airport and City Hall officials said they would have to increase his rent to about $500,000 a year, up from $200,000. They blamed federal laws that require they charge market-based rent. In addition, the city's living wage law has boosted the minimum wage that workers earn to nearly $16 per hour.
An airport spokeswoman confirmed Wednesday that negotiations are continuing.
Outside experts have said the city has a wide range of solutions, if it actually wants to keep the restaurant open. The large plot of land where the aircraft are parked could be granted an easement or taken over by a museum, they said. The Proud Bird's massive parking lot could also be rented out by the city on a part-time basis for additional airport terminal parking.
Mayor Eric Garcetti has declined to comment on the ongoing negotiations.
ALSO:Costco in Simi Valley labels Bibles as fiction; pastor disagrees
Relative arrested in beating death of 84-year-old Glendale man
McStay family mystery: Crosses, remembrance planned at desert site
Twitter: @rvartabedian

---
The stories shaping California
Get up to speed with our Essential California newsletter, sent six days a week.
You may occasionally receive promotional content from the Los Angeles Times.