L.A. County attorneys who represent indigent clients in criminal court protest their new boss
More than 150 deputy public defenders gathered in downtown Los Angeles on Monday to protest what they say is an existential threat to the office: their new boss.
The lawyers chanted and wore "RESIST" T-shirts. They held signs reading "CLIENTS FIRST" and "We need a leader who knows Miranda, not HR propaganda."
Last month, the L.A. County Board of Supervisors appointed Nicole Davis Tinkham as interim public defender — the latest in a yearlong string of temporary appointments. The decision disturbed many within the office, who say Tinkham, who has never tried a criminal case, is woefully unqualified.
"Leadership without experience in the field is a recipe for disaster," said Deputy Public Defender Timothy McDermott.
Tinkham worked most recently as senior deputy county counsel and before that as a trial attorney and partner at the law firm Collins, Collins, Muir and Stewart. During her time at the firm, she represented the L.A. County Sheriff's Department in a case involving a deputy who shot a 15-year-old who was holding a toy gun.
Leadership without experience in the field is a recipe for disaster.
— Deputy Public Defender Timothy McDermott on his recently appointed boss
Alisa Blair, the deputy in charge of the public defender's unit at Los Padrinos Juvenile Courthouse, said she was concerned Tinkham's history with the Sheriff's Department would damage her ability to build trust with her clients.
"They're going to say, 'You're representing the body that mistreats us in the jails, that polices our neighborhoods unnecessarily,' " said Blair, a 15-year veteran of the office.
Zachary Smith, a deputy public defender in Long Beach, said he was worried about ethical issues posed by Tinkham's work for the Sheriff's Department. She may have information about law enforcement that could help defendants in their cases but would be required to keep that confidential.
"However, she has a duty to her current clients to disclose that information in order to defend them," Smith said. "That's the epitome of a conflict of interest."
To Vernon Patterson, a 23-veteran of the public defender's office, Tinkham's appointment stung: "It felt like it was a slap in the face."
In a statement Monday, Tinkham said although she doesn't have a background in criminal law, she's confident that her skill set — including 15 years of employment law experience — will help her "confront a number of pressing managerial and workplace issues."
Since her appointment, Tinkham said, she has held town hall meetings with employees and started to examine internal budget and human resources systems to look for "potential areas of improvement." Tinkham said she knows that the staff of the public defender's office cares deeply about protecting the rights of the accused and ensuring a fair and just system.
"In the days and weeks ahead," Tinkham wrote, "I hope that these passionate public servants will come to see that I, too, am singularly committed to enhancing the office's effectiveness so its clients can be even better served."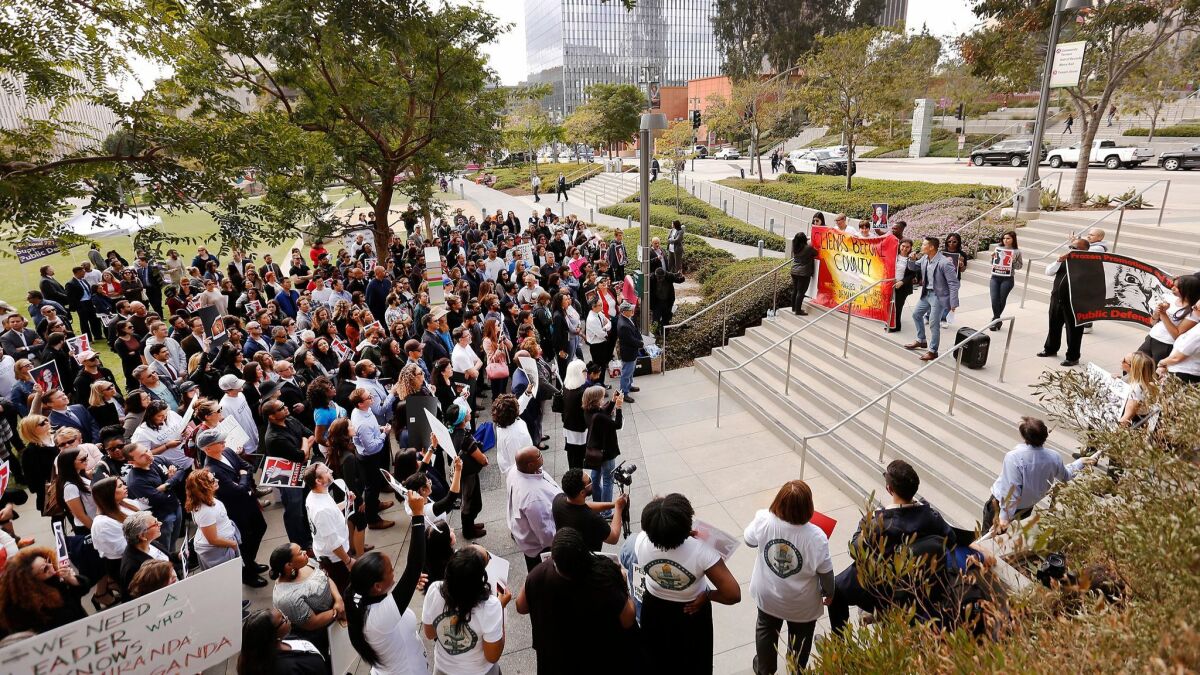 Before Tinkham was approved, Supervisor Sheila Kuehl sent a letter to employees in the public defender's office, telling them that the board was considering commissioning a management audit to learn more about the challenges facing the office. The supervisor wrote that she was confident Tinkham could "bring much needed stability" to the agency — the oldest public defender's office in the nation.
The office has been without a permanent boss since the end of 2016, when Ron Brown, an office veteran, retired from the top job after five years. (Brown's predecessor, Michael Judge, held the job for nearly two decades, as did the man who led the office before him.)
Tinkham will serve for six months.
At the rally, Smith said that a disconnect between attorneys and management has persisted for years, but characterized bringing in someone from the county counsel's office as a "desperate and poorly thought-out solution to the problem."
A woman on a bullhorn shouted to the protesters: "Are we here for the money?"
"No!" the crowd screamed.
"For prestige?"
"Hell no!"
"Our clients?"
"Whooo! That's right!"
Before long, Alameda County Public Defender Brendon Woods, who is also the president of the California Public Defenders Assn., took the microphone, telling the crowd he could hardly believe the news when he learned of Tinkham's appointment.
"I was outraged, I was appalled, I was angry," he said. "This job is personal and we do it because we care."
One woman in the crowd teared up. Nearby, a man whispered to his friend, "Can we have a trade-out and hire this guy?"
After the rally, Tiffiny Blacknell, a felony trial attorney and 15-year veteran of the office, reflected on her career. She thought about the day she walked into lockup and saw her client wearing a helmet and a safety smock to protect him from killing himself. She thought about the pitch of a client's mother's scream when she learned the jury's verdict — her son would die behind bars.
"She can't begin to understand," Blacknell said, shaking her head as she spoke of Tinkham.
Los Angeles Times staff writers Melissa Etehad and Matt Hamilton contributed to this report.
For more news from the Los Angeles County courts, follow me on Twitter: @marisagerber.
---
UPDATES:
7:45 p.m.: This article was updated with additional comments from Deputy Public Defender Zachary Smith.
5:05 p.m.: This article was updated with a statement from the interim L.A. County public defender, Nicole Davis Tinkham.
This article was originally published at 3:50 p.m.
---
The stories shaping California
Get up to speed with our Essential California newsletter, sent six days a week.
You may occasionally receive promotional content from the Los Angeles Times.