Quake danger: Lawmakers want faster fault mapping by state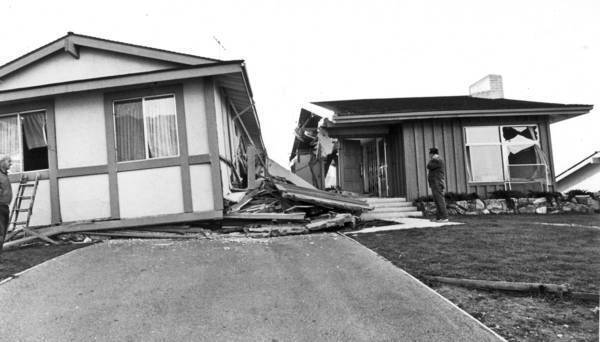 Shown is a home destroyed in the 1971 Sylmar earthquake, in which one side of the San Fernando fault moved as much as 8 feet. About 80% of the buildings along the fault suffered moderate to severe damage, illustrating the risks of building atop faults.
(Los Angeles Times)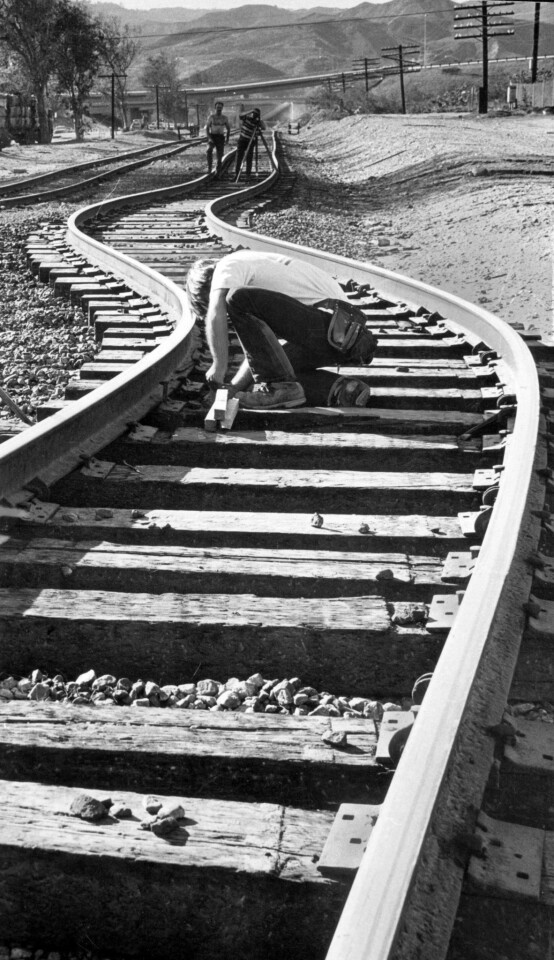 Twisted railroad tracks from 1971 earthquake in front of the San Fernando Valley Juvenile Hall in Sylmar give evidence of force of the earthquake. This photo was published in the Feb. 10, 1971 Los Angeles Times.
(Cal Montney)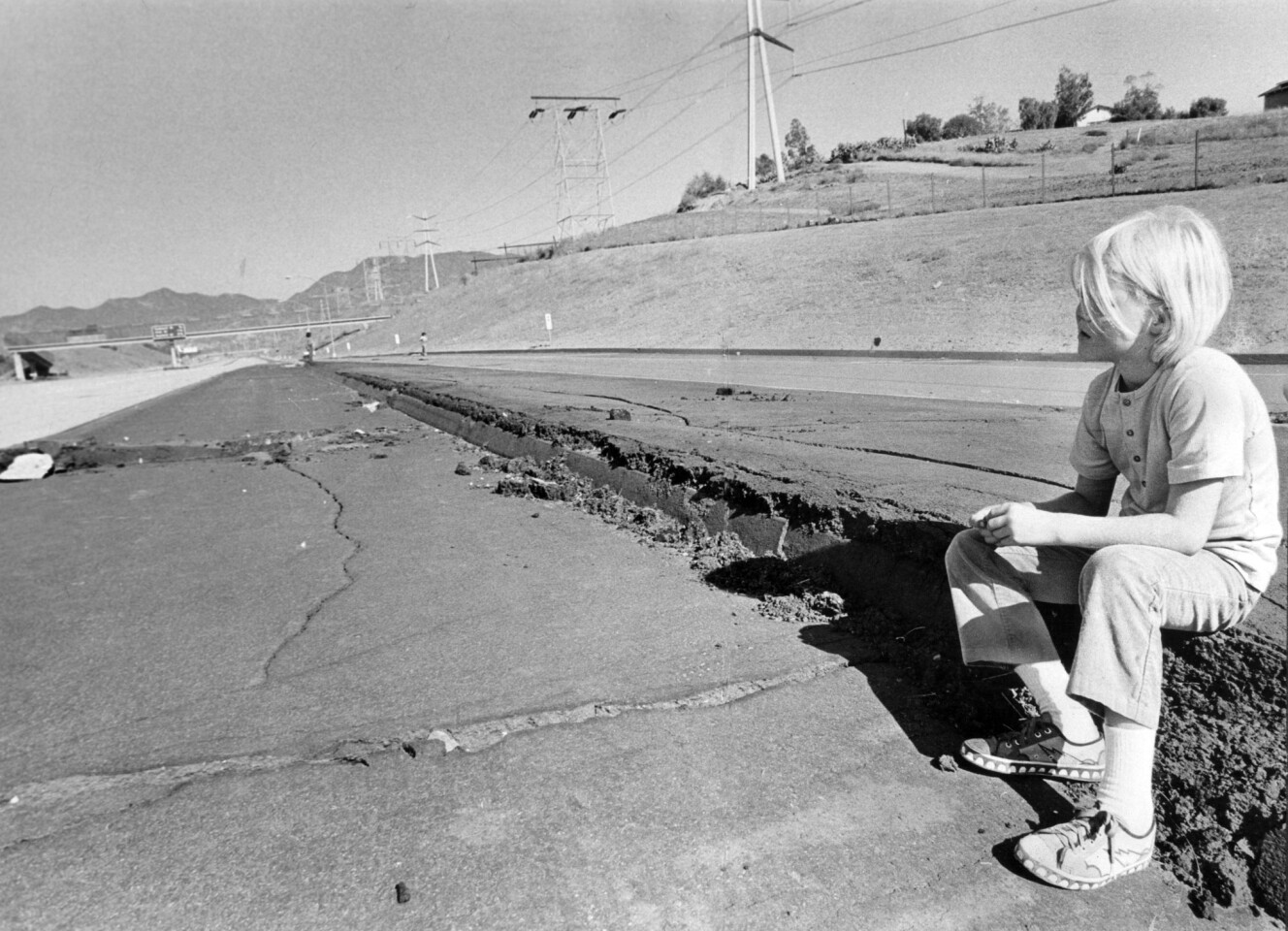 Jon Roennau, 9, rests on freeway breakage on Foothill Freeway caused by the February earthquake during field trip in Oct. 1971 by the Natural History Museum Alliance.
(Tony Barnard / Los Angeles Times)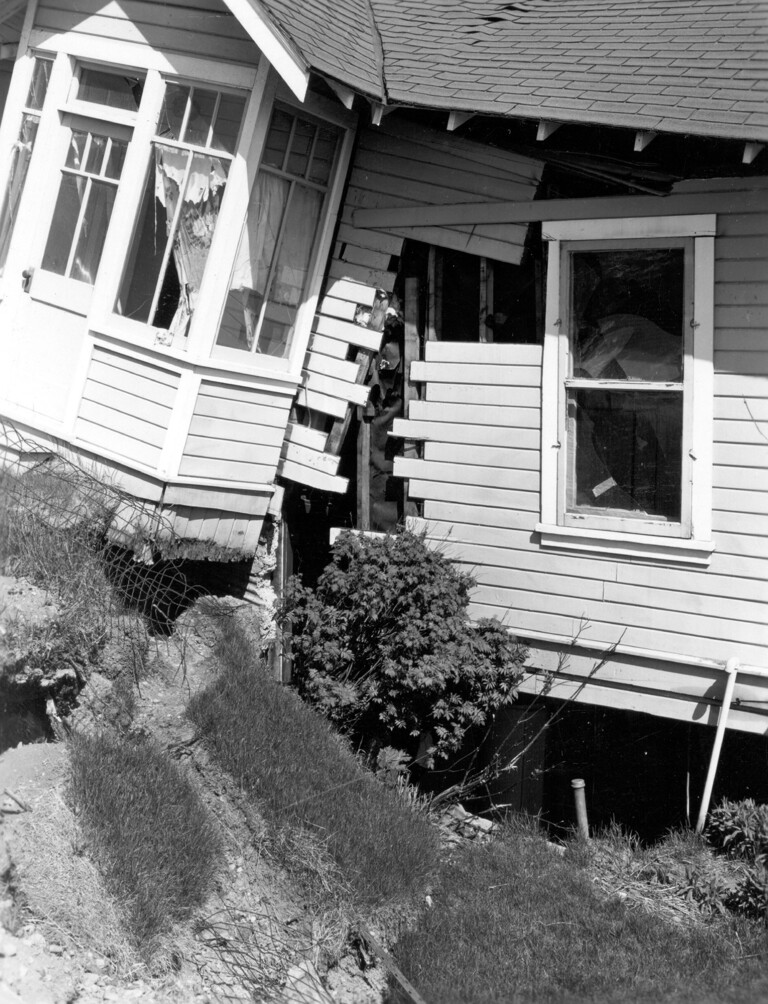 A wrecked dwelling sits above a ground fissure at Eighth Avenue and N Street in Anchorage after the Great Alaska Earthquake of 1964. The damage was caused entirely by ground displacement along the fracture, the U.S. Geological Survey said.
(W.R. Hansen / U.S. Geological Survey)
Two state lawmakers Monday said California should pour more money into rapidly mapping known active earthquake faults, a safety measure that would keep new construction from being built atop dangerous faults
"The more we know," said state Sen. Alex Padilla (D-Pacoima), "the better we can plan."
His remarks came after The Times on Sunday reported that the state's efforts to map active earthquake faults have slowed to a crawl, with many dangerous faults still undocumented. Between 1974 and 1991, 534 maps of faults were released, but only 23 have been drawn since 1991.
FULL COVERAGE: California earthquakes
About 300 more maps need to be drawn — including some in heavily populated areas in Southern California. That represents about 2,000 miles of faults statewide.
The slow pace affects public safety. New construction is prohibited on top of the fissures because previous quakes have shown that buildings can be torn apart during violent shaking.
If the faults aren't mapped, there's no requirement to enforce the state law at those locations.
Padilla said Gov. Jerry Brown should put more money into the California Geological Survey's budget for mapping when he releases his proposed budget in January.
"The amount of money is modest compared to our annual state budget," Padilla said. "The more information we have, the better we can guide … planning and land use at the local level to ensure safety."
Officials are currently drawing the Hollywood fault and have scheduled the Santa Monica fault for next year. Authorities are concerned about several other zones that need new seismic research or revisions, including San Diego Harbor, Yorba Linda, the San Gabriel and Pomona valleys, Indio, Napa County and South Lake Tahoe.
Assemblyman Ken Cooley (D-Rancho Cordova), who sits on the state Seismic Safety Commission, said California should increase its mapping efforts.
"We need to work to make our state more secure for its known hazards," Cooley said.
Cooley said the state was once a leader in finding out the cutting-edge knowledge for seismic safety, and, amid budget woes, "somehow, we've sort of lost the urgency."
"The basic orientation of California for decades has been: We ought to be capturing the best available information that could produce a safer California and find a way to translate that into policy," Cooley said. "I would be supportive of bringing that knowledge to bear."
When asked for comment, a spokesman for the governor, Evan Westrup, noted that "mapping started again last year under the Brown administration."
The slow pace of state earthquake fault mapping became an issue in recent months because of several new developments planned along the Hollywood fault, which runs through the heart of the famed entertainment district. A high-rise development has been approved by the Los Angeles City Council along the fault area, and another large mixed-use project nearby is already under construction.
The landmark state law, known as the Alquist-Priolo Earthquake Fault Zoning act, requires new buildings located near faults mapped by the state to perform extensive testing to prove their structures do not sit on top of active faults.
But the Hollywood fault has not been officially mapped by the state, leaving it to local officials to map and regulate the fault.
State officials have known about the Hollywood fault for decades, but focused on first mapping faults with recent histories of major ruptures, such as the San Andreas, which caused both the 1906 San Francisco earthquake and the Loma Prieta quake. By contrast, the Hollywood fault is capable of producing a 7.0 earthquake but hasn't ruptured in modern L.A. history.
Because of budget cuts, no maps were completed between 2004 and 2011, according to records reviewed by The Times.
State geologist John Parrish said there are still many faults in populated areas that need to be mapped.
"If you don't know what's there, then it's easy to just ignore it," he said. "That's why the Legislature set it up that they be zoned — to make local planning departments aware of these high-hazard areas."
The state geologist's budget has dropped from $9.1 million in 2001 to $2.9 million for the current fiscal year. Parrish said his office scraped up funding from its existing budget to restart the mapping program last year, though he said progress has been slow.
"We try to perform as best we can do," Parrish said.
ALSO:
Man who was shot by Pasadena police is charged with 4 felonies
Giant oarfish likely carried ashore by ocean current, scientist says
Hate crime probe: Swastikas, epithets spray-painted on Alhambra house
---
Get breaking news, investigations, analysis and more signature journalism from the Los Angeles Times in your inbox.
You may occasionally receive promotional content from the Los Angeles Times.