Racist 'promposal' by Palos Verdes High School students prompts outrage
It seems that, yet again, a social media post involving two teens with a racist message has prompted outrage online.
The photograph, posted by several users on Twitter and Instagram, shows two young people who attend Palos Verdes High School standing together and laughing near a brick driveway.
The boy in the photograph is said to have just delivered a "promposal," asking the girl to prom through a sign that reads: "Bianca You are racist, but I would give anything for you to go with me to prom."
Whoever created the sign used a different font to bold and capitalize six letters on the sign to spell the "N-word" within the message.
Palos Verdes High School will host its prom, "Wish Upon a Star," on Saturday.
UPDATE: Teens involved in racist 'promposal' can expect 'severe consequences,' Palos Verdes principal says »
Several students and parents have demanded in online posts that the school investigate the photograph.
Palos Verdes High School Principal Allan Tyner said in a statement that the two students and their families had been contacted "to inform them that we are forming a response and anticipate severe consequences."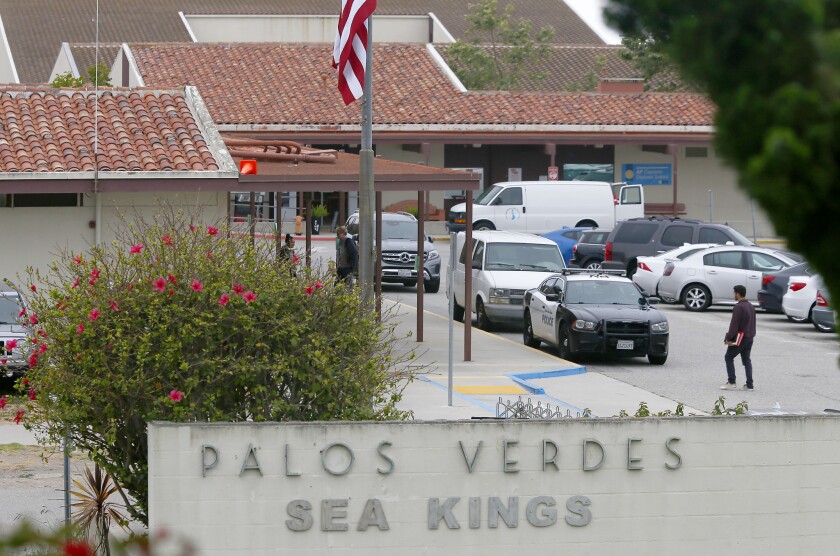 "In accordance with our values and expectations for respectful conduct in our district and at PVHS, this sign is unacceptable," Tyner said. "We are also continuing to investigate the situation to determine who else may have been present when the photo was taken, and who took the photo.
"However, we will not discuss the details of any school action or potential consequences for students as we have a strict obligation to protect privacy rights.
"At this time, I am asking all teachers and parents in our school community to join me in reminding our students that we live in a society that must respect diversity and tolerance. Indeed, this life lesson is critical and is one that school and home must partner to teach. At the same time, I am heartened by the immediate response by our students and families on social media that make it very clear that our community does not support this behavior."
Tyner wrote in a letter posted on the school's website that he plans to meet with all students to "review appropriate behavior and how the use of hurtful racial slurs like the one used on this recent picture posted on social media is unacceptable."
Promposals with racist messages have recently made headlines across the country in Ohio, New York, Texas, Arizona and in East L.A. Similar incidents happened last year in Florida.
The promposal involving the Palos Verdes High School students is only the most recent in a series of troubling incidents involving students from high schools in predominantly white, wealthy communities in Southern California.
Earlier this month, the Newport-Mesa Unified School District investigated a series of overtly racist messages shared among young people, including students from Newport Harbor High School in Newport Beach, in a private Instagram group.
One group member asked if anyone wanted a souvenir while the group member was in Alabama and Mississippi, noting, "I'll get you a real confederate flag."
Another person in the group then asked: "Do they still sell black people down there?"
The group member taking the trip responded: "If they do, I'll get everyone a new plantation worker."
It's the same school that made national headlines in March when a group of students at a party posed with red Solo cups in the shape of swastikas, some students standing with hands outstretched in Nazi salutes.
In September, after a high school football game in Orange County, Santa Ana High Principal Jeff Bishop said in a Facebook post that he was upset over what he saw as racially tinged intimidation by Aliso Niguel students.
At the football game, students from Aliso Niguel, whose student body is majority white, hung signs that read "We love White" and "Build the Wall." Their opponent, Santa Ana High School, has a student body that is almost entirely Latino.
Times Community News writer Julia Sclafani and Times staff writer Howard Blume contributed to this report.
---
The stories shaping California
Get up to speed with our Essential California newsletter, sent six days a week.
You may occasionally receive promotional content from the Los Angeles Times.