Jetliner and oil refinery hit by lightning as storm moves through Southern California
Trabajadores laboran para reabrir un tramo de la autopista de la costa del Pacífico, cerrada debido al lodo, en el condado de Ventura, al oeste de Malibu.
(Al Seib / Los Angeles TImes)
En una pausa entre las tormentas de invierno, un equipo de trabajadores limpia una tubería que se usa para recolectar escombros de PCH cerca de Deer Creek Road en el Condado de Ventura.
(Al Seib / Los Angeles TImes)
El horizonte del centro de Los Ángeles se refleja en un enorme charco, un remanente del primero en una serie de tormentas de invierno en la región.
(Genaro Molina / Los Angeles Times)
En el condado de Santa Bárbara, se ordenó a los residentes que viven cerca de las zonas quemadas que evacuaran; horas después, se les permitió regresar a sus hogares a medida que disminuían la lluvia y las amenazas de aludes de lodo.
(Al Seib / Los Angeles Times)
Una ráfaga de viento en el condado Santa Bárbara alcanzó los 128 km/h (80 mph) cuando la tormenta se desplazaba hacia el sur y después cayeron más de 1,27 centímetros (media pulgada) de lluvia en cinco minutos. Diversos árboles y tendidos de electricidad cayeron derribados en la región.
(Al Seib / Los Angeles Times)
Sash Shubert, quien dice que es conocido como el Capitán del muelle, empacó sus instrumentos musicales y dejó su concierto habitual en el muelle de Santa Mónica cuando la lluvia comienza a caer...
(Al Seib / Los Angeles Times)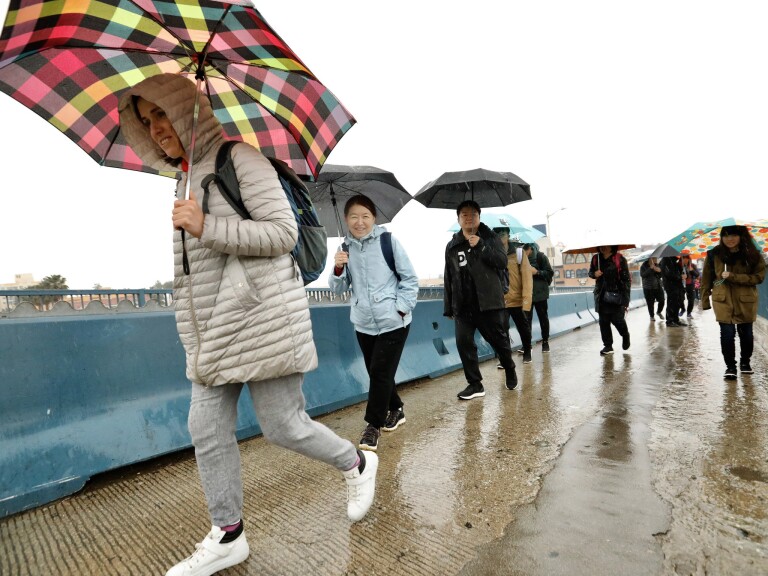 Debido al mal clima, muy poco pudieron ver -y disfrutar- los visitantes en el muelle de Santa Mónica, California.
(Al Seib / Los Angeles Times)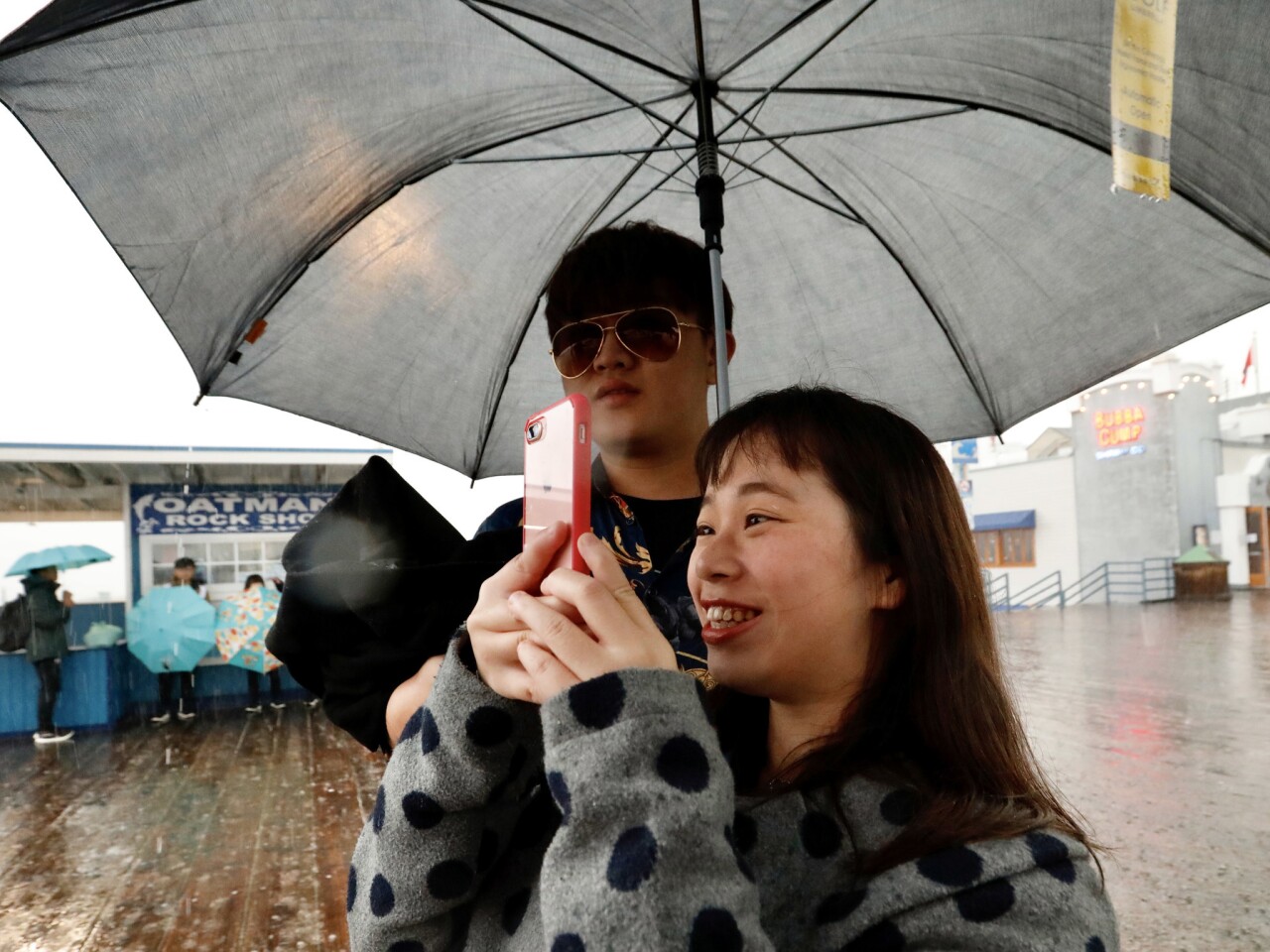 Sin días de Sol en California, los turistas en Santa Mónica utilizan sombrillas para protegerse de la lluvia.
(Al Seib / Los Angeles Times)
Las tormentas azotaron California, cerrando carreteras clave después de que el agua y el lodo se precipitaron hacia los caminos desde las laderas desnudas de las colinas, chamuscadas por los incendios forestales del año pasado.
(Al Seib / Los Angeles Times)
The first of three rainstorms forecast for Southern California pummeled the region Thursday with heavy rain, hail, thunder and lightning, causing flooding and debris flows that forced the closure of Pacific Coast Highway and prompting a passenger jet to make an emergency landing at Los Angeles International Airport.
Ian Gregor, a Federal Aviation Administration spokesman, said the emergency landing of the Jetblue plane was reported around 10:45 a.m. He said the plane had been en route to New York's Kennedy Airport when it was hit by lightning and turned around. No injuries were reported.
Shortly after, the El Segundo Police Department said lightning had struck the Chevron refinery there, causing a power outage.
Several beaches in Los Angeles and Orange counties were temporarily closed or evacuated because of lightning. Zuma Beach closed as the storm was passing through, while Santa Monica officials evacuated the beach areas and pier. Some beaches were expected to reopen after the storm.
Meanwhile, heavy rain sent gushing mud onto Pacific Coast Highway, closing a portion of the roadwayfor nearly 20 miles from Los Posas Road in Ventura County to Broad Beach Road in Los Angeles County. The duration of the closure is uncertain.
No evacuations have been ordered in the areas recently scarred by the Woolsey fire. However, Riverside County officials issued mandatory evacuation orders for residents affected by the Holy fire and said those in the burn zone from last year's Cranston fire should also prepare to leave in the event of heavy rain.
The storm dumped a significant amount of rain on Santa Barbara County as it moved over the region early Thursday. Rainfall rates of up to half an inch per hour were measured in some areas, prompting the National Weather Service to issue flood advisories for Santa Barbara and Ventura counties. Forecasters also issued a flash-flood watch for all the most recent burn scars in Los Angeles, Riverside and Orange counties through 3 p.m.
In addition to thunder and rain, forecasters said hail was reported in some areas. Some Los Angeles residents took to Twitter to share videos of small ice pellets landing on the ground or hitting office windows.
While the rainfall rates weren't heavy enough to cause concerns about mudslides for the area damaged by the Thomas fire in 2017, there could be potential for debris flows and flooding in other areas if the storm maintains its strength, said Keily Delerme, a meteorologist with the National Weather Service in Oxnard.
"It's been raining pretty much all night here and the storm doesn't seem to be weakening," she said.
The slow-moving system could drop more than an inch of rain throughout the day in L.A. County, although predictions call for roughly half an inch of precipitation.
The rain could cause other hazards as well. Authorities in Palmdale have warned the public to avoid city streetlight poles during the storms because of wiring problems that could deliver an electric shock to people when the lights are on in the rain.
The Southland will have a short break from wet weather Friday before a stronger system moves into the region that night. That atmospheric river-fueled storm has the potential to bring gusty southeast winds up to 60 mph and dump 1 to 3 inches of rain through Saturday in Los Angeles County. It also may bring snow to higher elevations.
Atmospheric rivers are fairly long, narrow regions in the atmosphere — similar to rivers in the sky — that can hold as much water as the mouth of the Mississippi River.
"The impacts we're looking at are downed trees, travel delays and possible shallow debris flows," said Lisa Phillips, a meteorologist intern with the National Weather Service in Oxnard. "The second storm is the one where you want to stay home."
While the heavy rain they produce can cause flooding, weather experts say atmospheric rivers aren't all bad. They also can help replenish dwindling water reserves and contribute beneficial increases in the state's snowpack.
The state Department of Water Resources said Thursday measurements taken at a survey site showed that the series of storms that brought record rains to the state and massive amounts of snow to the mountains have helped double the snowpack in the Sierra Nevada.
A much weaker third storm arriving Sunday will bring scattered showers that could linger through Monday, forecasters said.
Twitter: @Hannahnfry
---
The stories shaping California
Get up to speed with our Essential California newsletter, sent six days a week.
You may occasionally receive promotional content from the Los Angeles Times.