Redding police chief who lost his home helps neighbors evacuate amid 'fire tornado'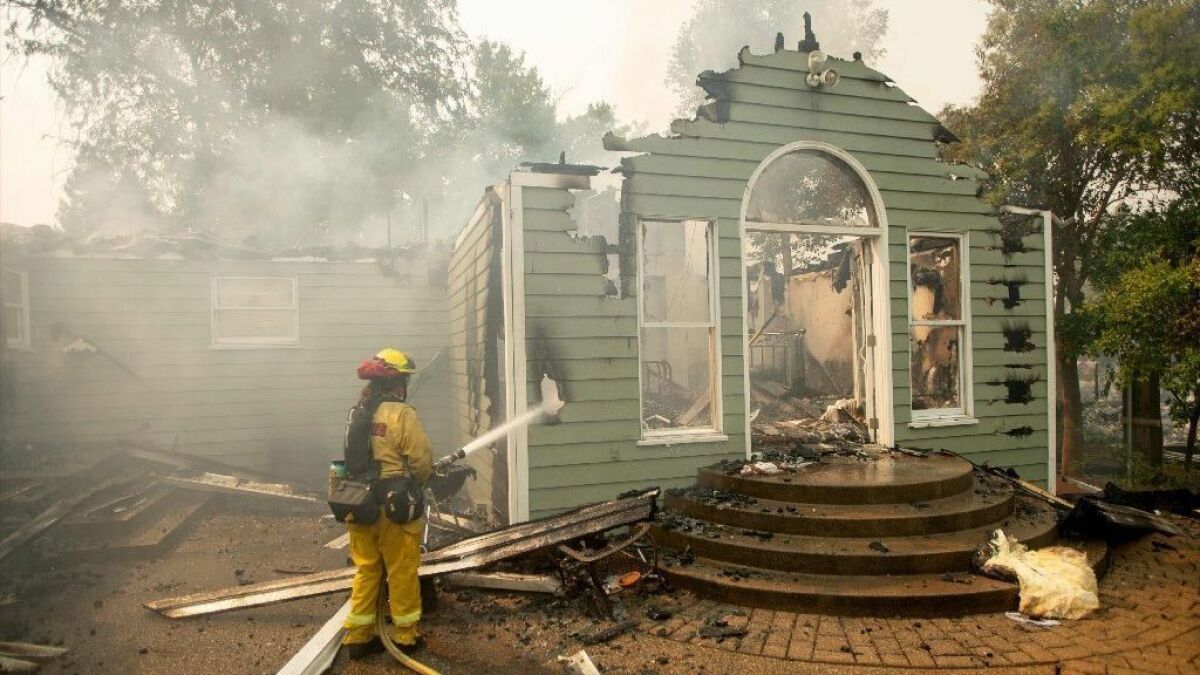 Redding Police Chief Roger Moore spent Thursday evening evacuating his neighbors from their River Ridge homes.
As he and his fellow officers moved door to door shuffling residents out, Moore said he saw a whirling tower of flames reaching into the sky.
"I look up and see what I would describe as a fire tornado," said Moore, who took over as Redding's top cop in September. "It was 400 or 500 feet tall, 100 feet wide and it was just destroying everything in its path. It was making a sound like a jet engine, making its own weather pattern.
"It was chaos," said Moore, who was working only on an hour's night sleep Friday.
Moore and two other officers lost their homes to the fire.
"I would say I'm on auto-pilot right now because a job has to be done," the chief said. "But the wife and kids, they're anxious and nervous and sad."
Moore said they managed to save their valuables — photos and important documents — but he's not sure everyone in Redding was so lucky.
"I don't think we were prepared," he said. "No one expected that, and we all thought it would be contained."
He estimates at least 100 homes were destroyed in the terrifying hours overnight that the Carr fire overwhelmed crews, jumped the Sacramento River and raced into foothill neighborhoods in western Redding in Northern California.
Not only was River Ridge hard hit, he said, but so were Sunset Terrace and Salt Creek, a new subdivision that just went up.
Two firefighters have been killed and three injured along with several civilians, authorities said in enumerating the fire's human toll.
On Wednesday night, wind gusts drove the fire down from the mountains into Whiskeytown, where it burned dozens of boats at Whiskeytown Lake. On Thursday, the winds returned and pushed the fire into Redding, nearly doubling in size to 44,450 acres along the way. The fire was 3% contained Friday.
Forecasters say firefighters won't see a break from the heat that's been hampering their efforts until at least the middle of next week and temperatures are expected to top 100 degrees every day through Tuesday, at least.
For Moore, the takeaway for the community is to be prepared when fire approaches. He said some residents were reluctant to flee and when it came time to go, the rural town's roads were completely jammed.
"Get a box ready and know in your mind what you need to take and have a plan on where you're going to go," he said.
---
The stories shaping California
Get up to speed with our Essential California newsletter, sent six days a week.
You may occasionally receive promotional content from the Los Angeles Times.