Rep. John Lewis speaks out against Trump's divisive rhetoric during L.A. visit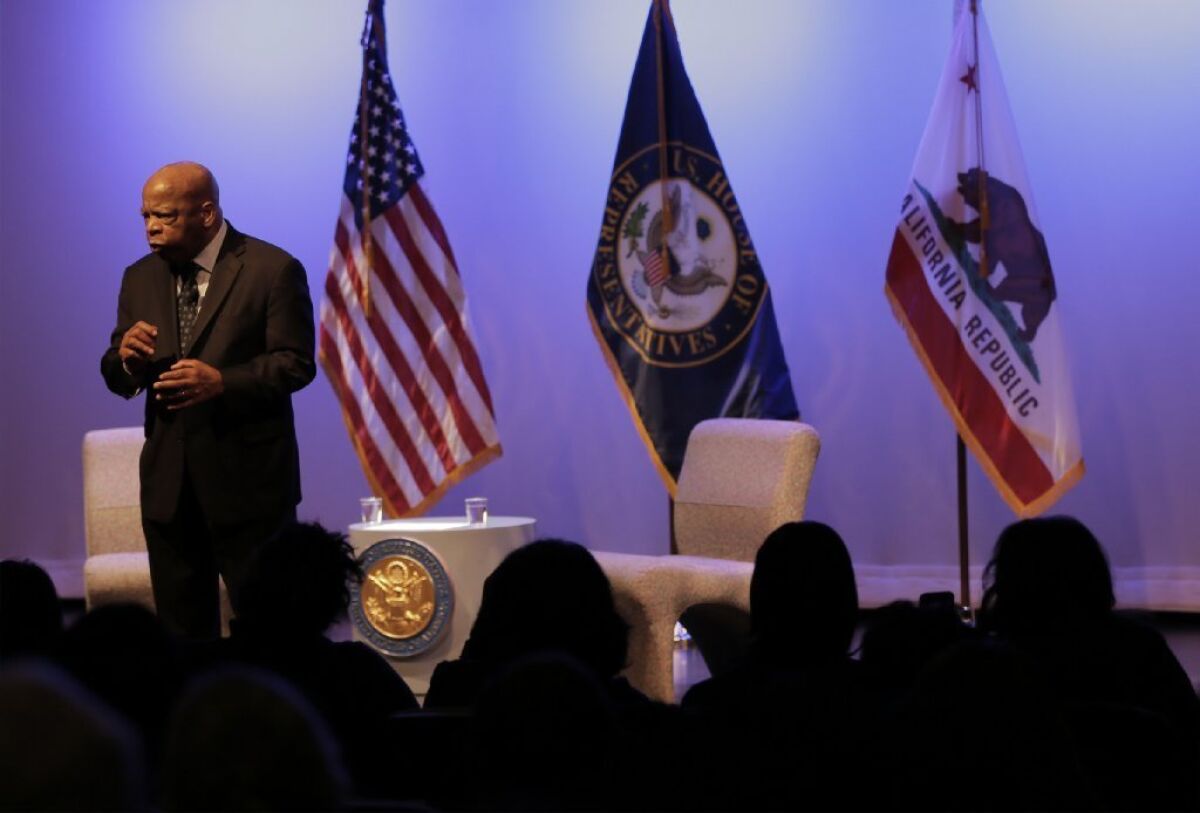 Civil rights icon Rep. John Lewis (D-Ga.) used a pair of appearances in Los Angeles on Saturday to urge young student activists to continue to fight for equality in the United States, warning that Republican presidential front-runner Donald Trump could set the country back with his divisive rhetoric aimed at immigrants and Muslims.
"I've been around a while and Trump reminds me so much of a lot of the things that George Wallace said and did," Lewis said in an interview with The Times after speaking at Cal State L.A. "I think demagogues are pretty dangerous, really. ... We shouldn't divide people, we shouldn't separate people."
"Sometimes I feel like I am reliving part of my past. I heard it so much growing up in the South," he said. "I heard it so much during the days of the civil rights movement. As a people, I just think we could do much better."
Lewis, 75, started off the day taking questions from student activists at a breakfast hosted by the Los Angeles County Federation of Labor to honor the legacy of Dr. Martin Luther King Jr. He recounted his role in the 1965 march from Selma, Ala., to Montgomery in support of voting rights when he was severely beaten by Alabama state troopers.
Kimberly Kalayaan Mendoza, a UCLA senior, asked for advice about how to overcome workplace retaliation to organize workers in the city and got a fiery response from Lewis, who told her, "You will win, they may beat you ... but continue to stand up, continue to speak out, continue to agitate."
Lewis later joined Rep. Xavier Becerra (D-Los Angeles), the chairman of the House Democratic Caucus, at Cal State L.A. to speak before a screening of the 2014 Oscar-nominated film "Selma" that dramatized the historic march.
He defended the tactics of the Black Lives Matter movement and its affiliated groups, which often shut down major highways and bridges during protests.
"I don't see a vast difference between the Black Lives movement and what we did during the '60s; you may call it a different name," Lewis said. "We disrupted the order of things, but we also engaged." In an interview after the talk, he credited the movement for helping to educate the country "to see what is happening to young black men."
Join the conversation on Facebook >>
Lewis also addressed the lack of diversity in the membership of the Academy of Motion Picture Arts and Sciences, which for the second year in a row has selected an all-white slate of acting nominees.
"I don't think there is any room in America in this day and age for people to try to sweep the issue of race under the rug," he said. "The culture of the films, paintings, and the stage should reflect the makeup of society."
Twitter: @jpanzar
ALSO
Potential Michael Bloomberg candidacy drops new wildcard into already wild race
Hillary Clinton and Bernie Sanders offer contrasting visions to liberal pocket of Iowa
Donald Trump and Ted Cruz attack in dueling TV ads to win over Iowa conservatives
The stories shaping California
Get up to speed with our Essential California newsletter, sent six days a week.
You may occasionally receive promotional content from the Los Angeles Times.