Gunman released elderly and children from BBQ restaurant standoff in Downey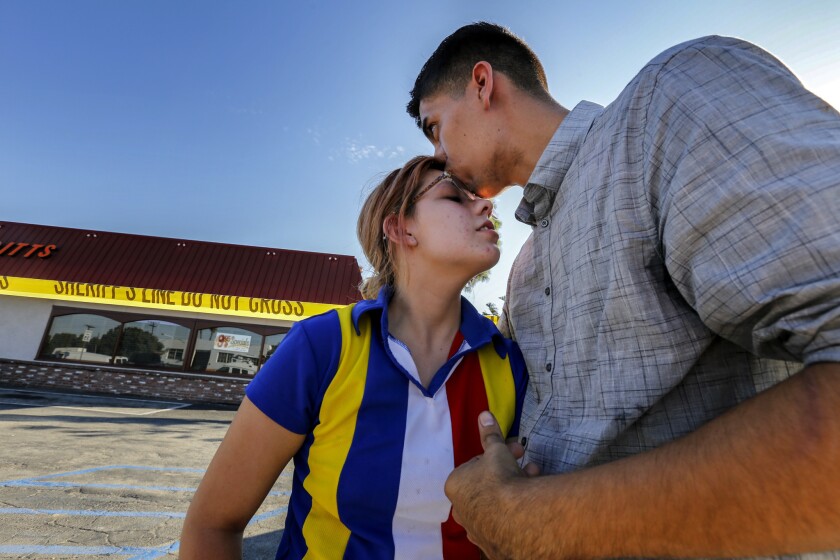 Madelynn Bastidas was shaking uncontrollably in fear at the man with the gun who'd just barged into the Downey BBQ restaurant and announced he didn't want to hurt anyone but would if he had to.
Unable to escape because the building was surrounded by sheriff's deputies, the gunman told the children and elderly inside Chris' & Pitt's restaurant Thursday night they could leave.
Then Eddie Tapia, 41, told everyone who remained to get to the front of the restaurant, where he could see them. Tapia pointed the gun in a manager's face and demanded water from an employee, witnesses said.
"He told us it was the end for him, he didn't know what to do," Bastidas said. "He was asking for advice from everyone inside the restaurant. He was really apologetic."
Interested in the stories shaping California? Sign up for the free Essential California newsletter >>
About 45 minutes later, Tapia was dead. First wounded by a deputy's gunshot from outside the restaurant, he was killed moments later when more officers stormed through the front doors, saw him crawling on the ground with the gun in his hand and shot him, Lt. Eddie Hernandez told reporters at the scene.
Video of the standoff showed deputies throwing a flash grenade into the restaurant before entering. Tapia's death was the bloody conclusion of an hours-long chase that started about eight cities away, when he carjacked a vehicle equipped with LoJack, a tracking system that helps police recover stolen vehicles, said CHP Officer Alex Rubio.
A sheriff's department helicopter was monitoring the stolen vehicle from above. At some point, deputies saw Tapia ditch the first car and carjack a silver sedan by threatening a driver at gunpoint, sheriff's department Cmdr. Mike Parker said.
Then came a winding chase at speeds up to 80 mph. While passing between Montebello and Monterey Park, Tapia struck at least one vehicle, Parker said. Footage of the chase broadcast on KCAL-TV Channel 9 showed the car nearly striking a bicyclist.
Tapia led authorities along surface streets in Monterey Park, Alhambra, Montebello, Pico Rivera and neighboring cities, speeding through red lights and weaving through occasionally heavy traffic, sheriff's Deputy Ryan Rouzan said.
The chase ended when CHP officers performed a PIT maneuver in Downey outside the restaurant. Tapia ran from the car and fired at least one shot into the air, Parker said.
Then he ran into the restaurant, which had about 80 patrons and workers inside.
"I was just terrified, thinking about the worst," Bastidas said.
For breaking California news, follow @JosephSerna and @MattHjourno.
ALSO:
A monster El Niño is likely, but there are 'no guarantees'
CHP officer shot during traffic stop in West Covina; suspect arrested
Ex-USC athlete arrested on suspected ties to international drug smuggling
---
The stories shaping California
Get up to speed with our Essential California newsletter, sent six days a week.
You may occasionally receive promotional content from the Los Angeles Times.