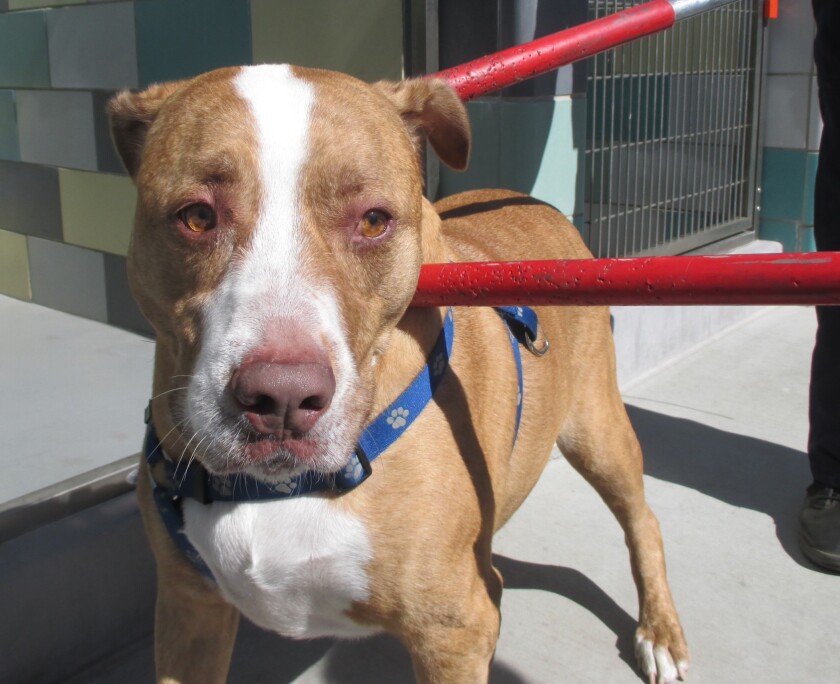 A pool cleaner was recovering Thursday after a dog at the Riverside County home where he was working mauled his face, arm and leg.
The injuries to the man's right arm will probably require reconstructive work, said John Welsh of the Riverside County Department of Animal Services.
"It was one of the worst injuries I've seen in a long time," he said. "It was terrible."
Welsh said the man had previously told the property owner -- who was not present when the attack happened -- that the dog's behavior during earlier visits made him nervous. But the 8-year-old pit bull/Labrador mix named Pigbert was not confined, Welsh said.
The attack happened about 5 p.m. Wednesday in the 4000 block of Sandia Creek Drive in the unincorporated De Luz neighborhood near Temecula. The dog walked up to the victim from behind and startled him.
"He could tell the dog was getting a little bit assertive and he was trying to keep a distance between him and the dog," Welsh said. But then the man lost his footing and fell, "and that's when the dog went at him…. Now the dog knew that he was easy prey. Now he's prone, he's in a weakened position."
Welsh said most such attacks involve stray dogs.
"Severe dog bites, 9 times out of 10, the dog got out and went down the street and attacked" someone, he said. Most dogs involved in those attacks are not neutered or spayed, but this dog had been neutered, Welsh added.
The attack lasted about a minute, Welsh said, and then it appeared that the man was able to push the dog's head away, jump over a fence and drive himself to a hospital.
"The property owner was not home so no one could hear his cries for help," Welsh said. "This could have been worse."
Though the attack happened Wednesday, it wasn't until Thursday that the animal services department got a call from a nurse at the hospital. The dog was carried from the property to a waiting animal control truck by his owner, but officers had to use their control sticks when they kenneled him at the county shelter in San Jacinto, Welsh said.
The dog will be held in quarantined pending a hearing on his fate, but he could be euthanized. Welsh said there was no record of previous incidents involving the dog.
Twitter: @hbecerralatimes

---