Ex-police officer at center of LAPD cadet scandal pleads no contest to statutory rape charges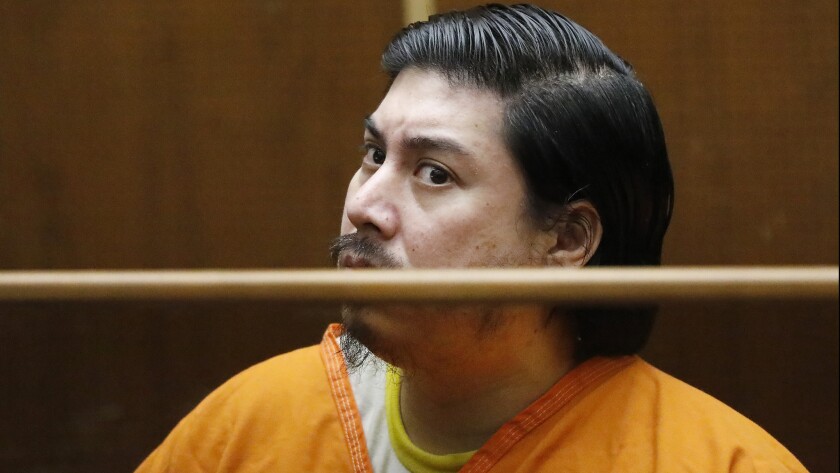 A former Los Angeles police officer accused of sexually abusing a teenage member of the department's heralded cadet program was sentenced to two years in prison Wednesday after pleading no contest to statutory rape charges.
Robert Cain, 32, pleaded no contest to oral copulation with a minor and having sex with a minor, a little more than a year after he was arrested by former Police Chief Charlie Beck as part of a widening scandal involving the LAPD's signature youth program.

For the record:
12:50 p.m. Aug. 15, 2018An earlier version of this article stated that former LAPD Officer Robert Cain pleaded guilty to statutory rape charges. He pleaded no contest.
Cain will have to register as a sex offender. He also will be barred for 10 years from contacting the victim, who was a 15-year-old LAPD cadet at the time of the attacks, Los Angeles County Deputy Dist. Atty. David Reinert said.
The felony conviction also will prevent Cain from attempting to become a police officer again, his attorney, Bill Seki, said. Cain resigned from the Los Angeles Police Department last year.
The girl, whose identity is being withheld by The Times, referred to Cain as a "monster" several times while reading a statement in court Wednesday morning. She accused the former police officer of robbing a piece of her youth and causing her deep emotional suffering and humiliation at school.
"You were an officer, someone who promises to protect people like me from people like you," she said.
Cain originally was charged with two counts of oral copulation of a person under the age of 16, lewd acts upon a child and unlawful sexual intercourse. He faced up to seven years and eight months in prison had he been convicted of all charges.
Luis Carrillo, an attorney representing the victim's family in a civil lawsuit against the city, said both he and the girl's mother were "unhappy" with the light sentence.
"In a way, the criminal justice system does give officers somewhat of a break," he said. "That happened in this case."
Reinert said the district attorney's office believed the sentence was "appropriate" as it prevented the victim from having to testify against Cain in court.
The sex abuse was uncovered as part of an investigation into the theft of LAPD cruisers and other police equipment in which members of the cadet program were charged. A subsequent review revealed flaws in how the program was run.
In June 2017, three cadets driving stolen LAPD cruisers were accused of leading police on a wild chase through South Los Angeles that resulted in several car crashes. Ultimately, seven cadets were arrested and accused of taking at least three LAPD cruisers on joyrides and stealing police equipment that included Tasers, radios and bulletproof vests.
A search warrant obtained by The Times last year revealed that the cadets had access to the stolen cruisers for at least six weeks, driving as far away as Corona and Santa Clarita. Three cadets are now facing criminal charges in connection with the thefts.
Cain's victim was among the seven arrested, but she will not face criminal charges, Carrillo said.
The son of a former LAPD officer, Cain was with the department for 10 years, working in the Van Nuys and 77th Street divisions before his arrest. He once applied to work as a youth services officer, but his application was denied.
In a statement, the LAPD said Cain's plea marked the close of a "disturbing incident within our ranks."
"As mentioned by former LAPD Chief Charlie Beck, Cain has tarnished the badge and is being punished accordingly," the statement read. "While the Department will not comment on the specifics of the sentence, we do believe anytime an officer betrays the trust of the people we serve, it tears away at the fabric of our community."
Cain also was sentenced to two years in prison on illegal weapons charges in San Bernardino County earlier this year. While serving a search warrant connected to the sex abuse charges, the LAPD found a cache of weapons, some illegally modified, in Cain's Rancho Cucamonga home.
The earliest Cain could be released from state prison would be early in 2019, Seki said.
"While Mr. Cain is not happy and we don't agree with some of the statements made by the victim, we do believe that this is an opportunity for Mr. Cain to continue moving forward with his life," Seki said.
The LAPD also has presented a case to the district attorney's office alleging that Cain played a role in the theft of department property, prosecutors said last month. The district attorney's office did not immediately provide an update on that case Wednesday. Seki said he doesn't believe police have "any evidence tying" Cain to the thefts.
Police said they began investigating Cain after uncovering text messages with the girl that detailed an inappropriate relationship between the two.
The sexual assaults took place roughly 10 days before the LAPD began investigating the thefts linked to the cadets. Cain picked up the girl at her family's home, then took her to Six Flags Magic Mountain in Valencia, Reinert said. Cain sexually abused her several times that day, at various places within Los Angeles County, Reinert said.
Speaking before Cain's sentencing Wednesday morning, the victim's mother recalled letting Cain into her home that day. She said Cain told her that he was "the officer in charge" of her daughter's training and that he could help her achieve her dream of becoming a police officer. Cain framed the trip to Magic Mountain as a reward for her conduct in the cadet program, the woman said.
"I trusted him because he was an officer of the law," she said.
The woman then showed a ripped-up stuffed animal, which she claimed Cain gave to her daughter on the day of the abuse, and accused Cain of intimidating her into silence. The girl was scared that Cain would get in trouble with the LAPD if she talked about what had happened, and she also was concerned about the gun he was carrying at the theme park, her mother said.
"Why did you do it?" the mother asked. "I want him to answer."
Cain, who has grown long hair and a beard since his arrest, did not respond or look at the victim or her mother as they spoke.
Times staff writer Richard Winton contributed to this report.
Follow @JamesQueallyLAT for crime and police news in California.
---
UPDATES:
2:45 p.m.: This article was updated with comments from Cain's defense attorney and the Los Angeles Police Department.
12:55 p.m.: This article was updated with details from the courtroom.
This article was originally published at 10 a.m.
---
The stories shaping California
Get up to speed with our Essential California newsletter, sent six days a week.
You may occasionally receive promotional content from the Los Angeles Times.