Robert Durst's wife told her mentor the millionaire murder suspect had a 'homicidal side'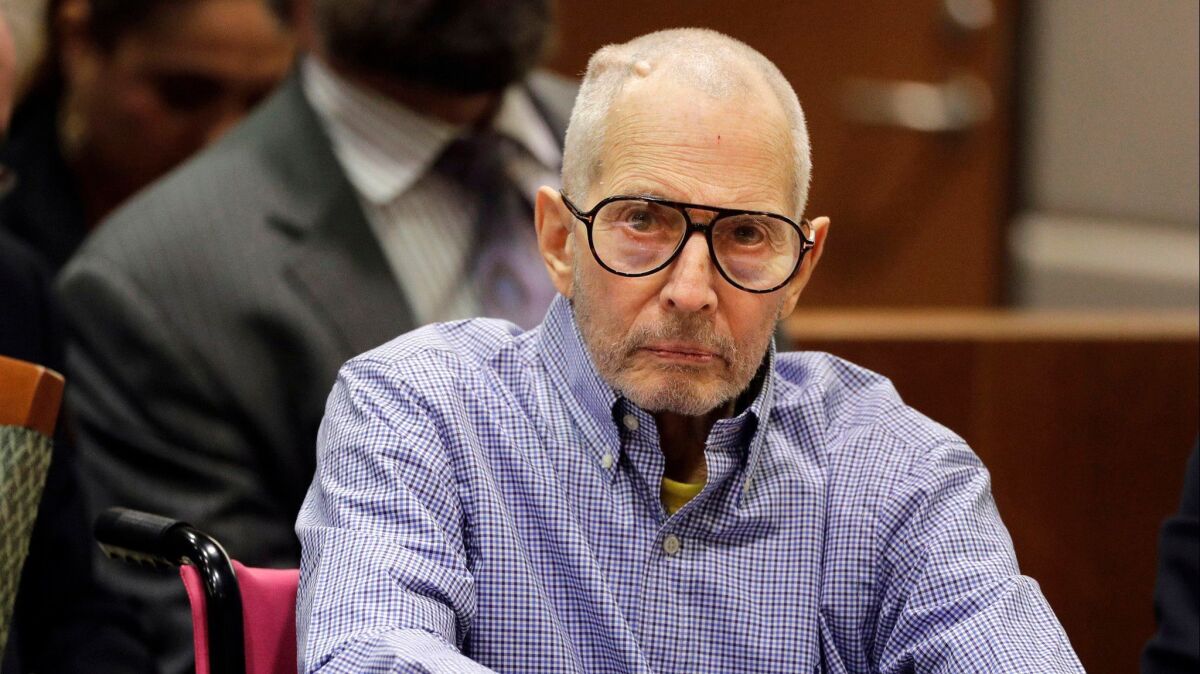 Kathleen Durst's former medical school mentor testified Wednesday that during a conversation in 1981 she told him she lived in fear of her husband, New York real estate tycoon Robert Durst, who she said had a "homicidal side."
Kathleen vanished in 1982 and her body has never been recovered. No one has been charged in connection with her disappearance.
But Robert Durst was charged in the 2000 slaying of best friend Susan Berman, a killing prosecutors contend was to prevent her from telling authorities what she knew about Kathleen's disappearance. Prosecutors and Kathleen's family members believe the real estate magnate also murdered his wife.
Durst, 75, has denied killing either woman.
Wednesday's testimony in a Los Angeles courtroom came during a preliminary hearing to determine if there is enough evidence to hold Durst over for trial in the murder of Berman, 55, an author and the daughter of a Las Vegas mob boss.
The multimillionaire was taken into custody by federal agents in a New Orleans hotel March 14, 2015. A day later, the finale of a six-part HBO documentary about his life, "The Jinx," aired, including an audio segment of Durst mumbling what some interpreted as a confession to multiple murders — those of Berman, his wife and Morris Black, a neighbor in Texas. Durst said he shot Black in self-defense while trying to defend himself in a struggle and admitted to dismembering the body. He was ultimately acquitted.
His defense team has argued that his arrest in connection with Berman's slaying wasn't based on facts, but on hype surrounding the documentary.
Peter Wilk — the now-retired surgeon who mentored Kathleen years ago — said that of the hundreds of young medical students he'd met, she stood out as mature and poised. But something else about her struck him as well: "She was terrified."
After Kathleen fell behind in school, he met with the extremely emotional student who told him that she was divorcing her husband. Wilk testified that she then used a chilling phrase that has always stayed with him: "She said there was a homicidal side to him."
During his testimony, prosecutors displayed notes Wilk said he took during the 1981 meeting that included the phrases "in the midst of divorce not very pleasant," "assaulted" and "homicidal side."
Despite Kathleen's struggles, Wilk said she managed to make up the work and he ultimately wrote her a passing grade for her surgical clerkship.
Since learning of her disappearance, Wilk said, he's harbored guilt.
"She had told me she thought she was in danger, she told me she thought her husband might kill her," the doctor said. "I wonder now, if I could've done more to protect her."
During cross-examination, a member of Durst's defense team, Chip Lewis, said that divorce papers hadn't been filed at the time Kathleen spoke with Wilk. The attorney also seemed to suggest that Kathleen's shaking during the conversation might be attributed to cocaine use rather than her emotions.
On Tuesday, Los Angeles Police Officer Rashad Sharif testified that on December 24, 2000, he and his partner responded to a home on Benedict Canyon Drive for a welfare check after a concerned neighbor called 911 to report Berman's backdoor had been left open.
Sharif testified that he, his partner and two other officers who arrived before them discovered a body splayed on the floor near the doorway of a bedroom.
Prosecutors showed crime scene photos of Berman, who was barefoot and dressed in blue pajama bottoms and a white shirt, lying on her back with her arms outstretched. Blood had dried on her face. Nearby, two of Berman's dogs had left several bloody paw prints on the hardwood floors.
The officer testified that there were no signs of a burglary — no shattered windows, no overturned furniture and both a computer and a purse had been left in plain sight. Sharif also testified that although Berman's home is in the city of Los Angeles, many people mistake the area for Beverly Hills.
Prosecutors will probably argue at trial that Durst made that geographical mix-up. At an earlier hearing, Deputy Dist. Atty. John Lewin displayed an envelope addressed with a misspelling to "Beverley Hills Police." Inside the envelope, prosecutors say, was an anonymous note sent to authorities around the time of Berman's death, alerting them to a "cadaver" inside her home. A longtime friend of the multimillionaire testified that the handwriting looked like Durst's.
During cross-examination, Durst's lead attorney, Dick DeGuerin, seemed to suggest the crime scene may have been contaminated. When asked if he or any of the other officers inside the home were wearing protective gear — such as shoe covers — when they discovered the body, Sharif said "no."
Berman's friend Daniel Goldberg testified Tuesday that during his last conversation with her, Berman said that she was expecting to see Durst during the holidays. She also told him, Goldberg said, that Durst feared authorities would reinvestigate Kathleen's disappearance.
In a 2015 recording of a call with authorities, which was played in court, Goldberg recalled asking Berman what she thought happened to Kathleen.
"She said, 'You know, I'm a gangster's daughter so I have different standards for friends.… But I think he probably, he — he — he — killed her,'" Goldberg said on the recording.
But on the stand, Goldberg said he now believed Berman was telling him that even if Durst had killed Kathleen, she'd still be his friend.
Another friend, Ricki Ring, testified that after Berman's death, she made an anonymous call to police.
"I just said, 'Susan was not killed because of anything to do with the mob. Bob Durst killed her,'" Ring said, adding that she couldn't recall if she spoke to an officer or left a voicemail.
Durst will return to court Thursday as prosecutors gather testimony from conditional witnesses who may be unavailable during the trial. The preliminary hearing will resume in October.
For more news from the Los Angeles County courts, follow me on Twitter: @marisagerber
---
The stories shaping California
Get up to speed with our Essential California newsletter, sent six days a week.
You may occasionally receive promotional content from the Los Angeles Times.