Former state Sen. Ron Calderon's guilty plea in corruption case marks blow to political dynasty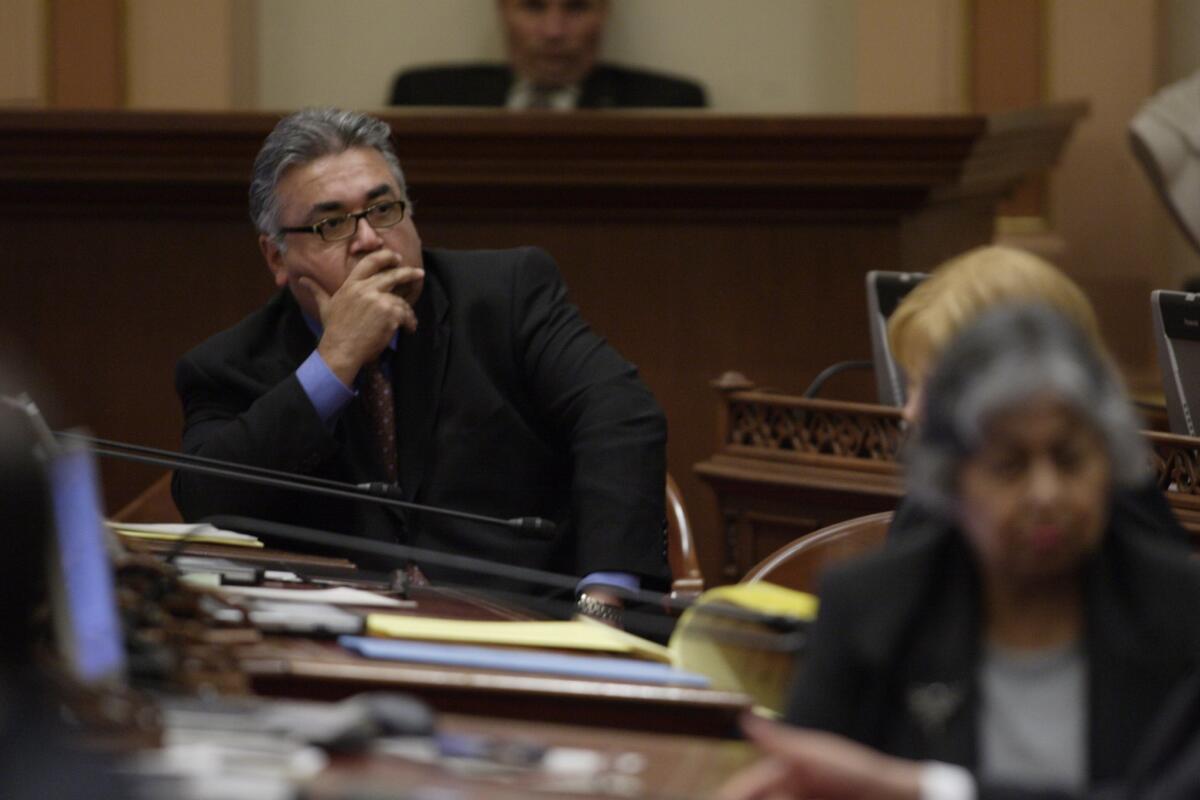 For decades, the Calderon name carried weight.
Ronald and Tom Calderon, along with an older brother, were power brokers and deal makers who rose up from the small-time politics of Montebello, their hometown east of Los Angeles, to hold sway in Sacramento's corridors of power.
Known for a ruthless style of political hardball and audacious fundraising, the brothers were masters of leverage, using others' wants and weaknesses to their advantage.
But in recent years whispers about misdeeds and broken laws erupted into the open as federal prosecutors indicted the two Democrats on a host of bribery and money laundering charges.
Monday brought a crushing blow to the family dynasty as Ron Calderon, a former state senator, pleaded guilty in the case to mail fraud, conceding he accepted tens of thousands of dollars in bribes from undercover FBI agents and a corrupt hospital executive.
The announcement of the plea agreement came on the heels of a guilty plea last week by Tom Calderon, a former state assemblyman, to a charge of money laundering that stemmed from allegations he helped conceal the bribes his brother solicited.
The plea deals mean the brothers will avoid a trial that had been scheduled to begin next month and was expected to feature a who's who of state lawmakers, including Senate leader Kevin de León (D-Los Angeles), who testified before a grand jury in the case and who prosecutors planned to call as a witness.
"This closes a sad chapter in the Senate's history," De León said in a statement Monday. "We move on."
See the most-read stories this hour >>
Although the guilty plea spares Calderon the possibility of a jury convicting him and the harsh punishment that would have followed, he is almost certain to be given a lengthy prison sentence. Under the terms of the deal, prosecutors agreed only to request that U.S. District Judge Christina Snyder sentence him to no more than 70 months behind bars — the low end of what sentencing guidelines suggest. His brother, meanwhile, is expected to receive about a year in prison.
Along with a guilty plea for mail fraud, the deal filed Monday in U.S. District Court in Los Angeles calls on Calderon not to contest any of the other allegations prosecutors leveled against him in a 2014 indictment.
Although a mail fraud charge sounds somewhat innocuous, included within it are an array of allegations that Calderon solicited and received bribes for himself and his children.
For example, Calderon, 58, admitted that he pressured the owner of a Long Beach hospital to hire his son as a paid summer intern in exchange for pushing legislation in Sacramento that would have benefited the man.
Similarly, Calderon acknowledged he agreed to push for a state law that would have provided a tax break for producers of smaller-scale, independent films. He made the legislative moves on behalf of men he believed were film executives, but who were actually undercover FBI agents. In return, Calderon demanded that his daughter be put on one man's payroll for a fabricated job and that the would-be executives send a $25,000 check to an organization run by Tom Calderon. The brothers used the organization as a front to enrich themselves, the plea agreement said.
Ron Calderon's attorney, Mark Geragos, had steadfastly declared his client's innocence and vowed to beat the charges. He previously described the case as "the definition of entrapment" – a reference to work the FBI agents did to lure Calderon in – and said the alleged offenses had been "manufactured by the government at the cost of millions of dollars to the taxpayer."
Geragos could not be reached for comment Monday.
The plea agreements mark the downfall of a political dynasty in California that saw members of the same Los Angeles County family wield power in the Capitol for more than three decades.
One or more Calderons have been part of the state Legislature since the 1982 election of Charles Calderon, a Democrat from Whittier and brother to Ronald and Tom.
"It's a huge fall from power for the family because they were riding the crest," said Jaime A. Regalado, emeritus professor of political science at California State L.A. "It's from the top of the mountain to the deepest valley."
Charles Calderon, who lost a race for Superior Court judge in 2014 after his brothers' indictment, at one time was the Senate majority leader. He helped elect his son, Ian Calderon, to the Assembly in 2012.
Ian Calderon distanced himself from his uncles after their indictment and is the last remaining family member in state office. Neither Charles nor Ian were charged – or implicated – in the criminal scandal.
The Calderons came to prominence as Latinos were beginning to gain more political clout in Sacramento. Changing demographics left Latinos as the majority in a large swath of communities south and east of downtown Los Angeles.
Playing musical chairs, Tom Calderon served in the Assembly from 1998 to 2002, when Ron Calderon was elected to the Assembly. Ron jumped to the Senate four years later, earning a reputation as a moderate vote for business. After his indictment, he was suspended with pay for the last eight months of his term in office, which ended in November 2014.
The Calderons all were skilled at political fundraising: the family raised nearly $15 million in contributions for dozens of political committees they controlled since 2000, the Times has reported. Much of the fundraising took place at lavish resorts where family members liked to golf.
The older generation's members used their political muscle to help one another, squeezing political opponents and pushing legislation backed by supporters. They also leveraged their power to gain important chairmanships on powerful "juice committees," those overseeing banking, insurance and other industries that have the cash to bankroll political campaigns. Until his legal troubles began, Ron Calderon was chairman of the Senate Insurance Committee.
Tom Calderon was also able to benefit from his family name to obtain a lucrative consulting contract with the Central Basin Municipal Water District, which serves 2 million people in southeast Los Angeles County. Tom Calderon was paid to advise the district when his brother was in the Senate.
Ian Calderon has won reelection once and is running again this year. By distancing himself from his uncles and raising funds for a political reform measure on this month's ballot, the youngest Calderon has shown signs he may be able to survive the fallout from the scandal that engulfed his relatives, according to Jack Pitney, a professor of political science at Claremont McKenna College.
"Family members once succeeded because of the family name," Pitney said. "Ian Calderon is succeeding despite the family name."
Join the conversation on Facebook >>
The Calderons were two in a handful of current and former legislators to face criminal charges in 2014. Former Sen. Leland Yee (D-San Francisco) was sentenced in February to five years in prison for doing political favors in exchange for campaign cash, and former Sen. Roderick D. Wright (D-Inglewood) was found guilty of lying about living in his district.
"It's the end of a chapter," Bob Stern, an attorney who co-wrote the state's political reform laws, said of Ron Calderon's plea. "The Legislature suffered a black eye."
joel.rubin@latimes.com; patrick.mcgreevy@latimes.com
Twitter: @joelrubin, @mcgreevy99
ALSO
Former Assemblyman Tom Calderon pleads guilty in federal money laundering case
California voters favor letting state legislators be suspended without pay for misconduct
Assemblyman Calderon backs Proposition 50 ballot measure spurred by his uncle's legal problems
MORE LOCAL NEWS
Authorities considered canceling L.A. Pride after Orlando attack, but march and mourning go on
Stanford rape case: Protest planned at graduation
Inglewood to pay $4.6 million to unarmed man shot by police officer
---
UPDATES:
7:53 p.m.: This story was updated with additional background about the Calderons.
6:07 p.m.: This story was updated throughout with background details and quotes about the Calderons and the criminal case.
This story was originally published at 1:49 p.m.
Sign up for Essential California for news, features and recommendations from the L.A. Times and beyond in your inbox six days a week.
You may occasionally receive promotional content from the Los Angeles Times.