Runyon Canyon Park set to reopen after 4-month closure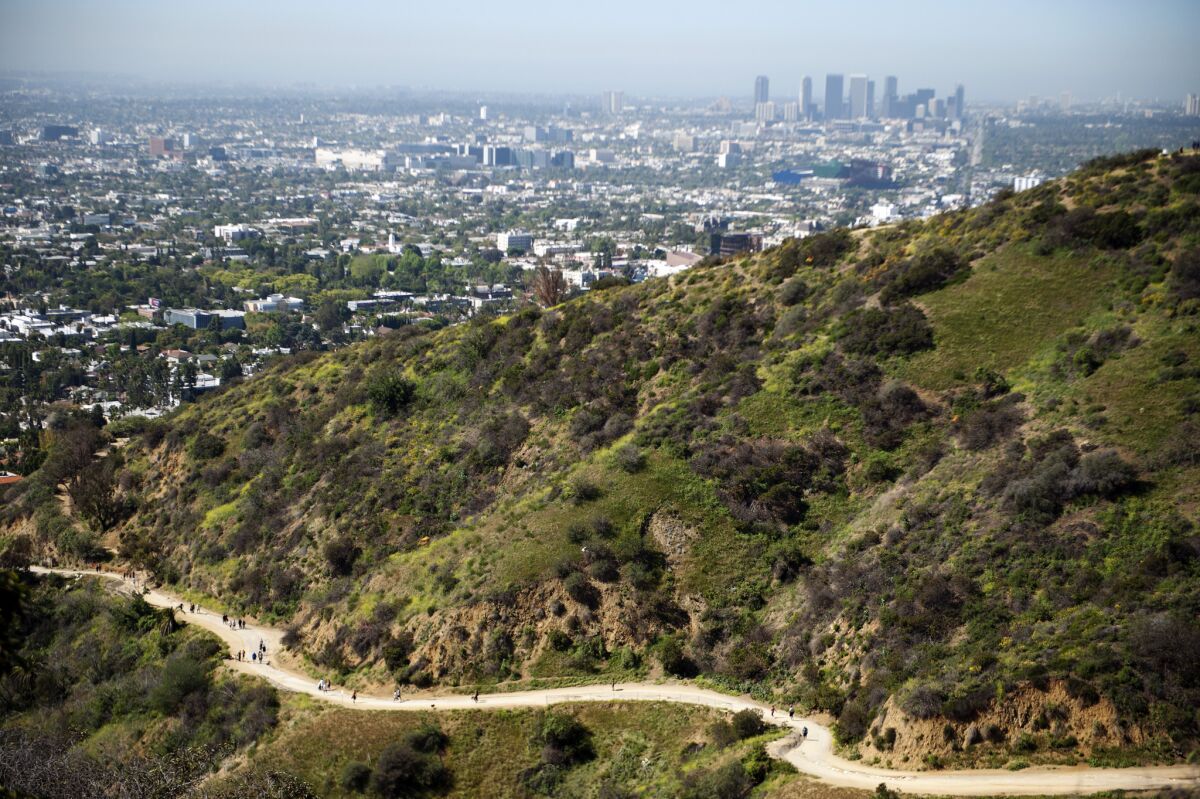 Runyon Canyon Park, the popular hiking area known for its scenic trails in the Hollywood Hills, will reopen next week after a four-month closure, city officials said Thursday.
The park was temporary closed while crews replaced an aging 6-inch water main that snakes through the canyon for roughly a mile. It will open Aug. 2, according to a spokesman for City Councilman David Ryu, whose district includes the park.
All of the 137-acre park -- except for the yoga field -- was closed to the public on April 1, when crews began replacing the pipeline. At the time, Los Angeles Department of Water and Power officials said closing the trails would allow construction crews to work longer hours, making the repair process faster and more efficient.
The closure also ensured the public's safety, they said.
Officials said they identified more than 30 leaks in the pipe so far, and if the pipe were to burst, it could wash out roads and damage nearby homes.
A Times analysis published last year found that about one-fifth of the city's water pipes were installed before 1931 and nearly all will reach the end of their useful lives in the next 15 years. They are responsible for nearly half of all water main leaks. Replacing 435 miles of the city's lowest-graded pipes would cost about $1.3 billion.
The analysis found that older hillside areas such as Runyon Canyon accounted for more than a third of the utility system's leaks from 2010 to 2014.
The park's closure wasn't without controversy. A project to add a corporate-branded basketball court partway up a hiking trail was shut down in June following virulent public outcry.
Most park users learned about the project at the end of March, just as the park was being shut down. They had plenty of warning about the four-month closure, but did not know that a retaining wall and basketball court were to be built at the same time.
About 1.8 million people visit Runyon Canyon each year, with 35,000 coming each week, according to the Friends of Runyon Canyon organization. The park is particularly popular because dogs can explore much of its territory off-leash.
For more local and breaking news follow me on Twitter: @sarahparvini
MORE LOCAL NEWS
Chinatown rec center basketball coach charged with molesting teen player
Hollywood apartment building will not be turned into hotel
The stories shaping California
Get up to speed with our Essential California newsletter, sent six days a week.
You may occasionally receive promotional content from the Los Angeles Times.