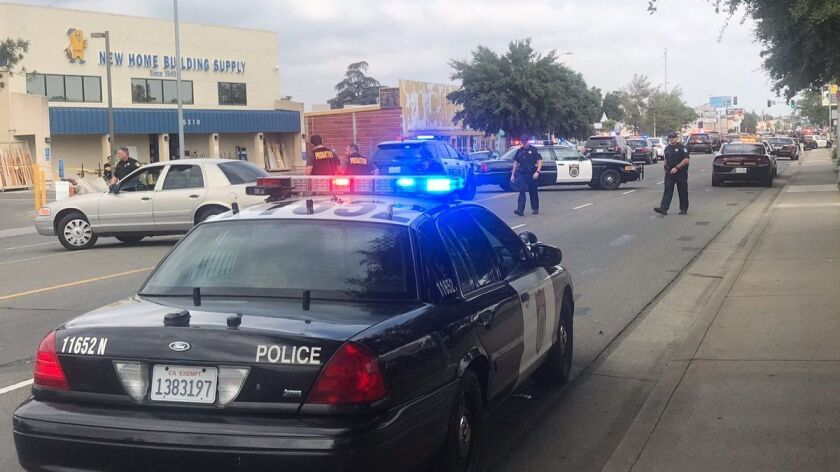 A suspect in a double homicide was killed and two police officers were wounded Thursday during a gun battle on a Sacramento street, authorities said.
The two veteran police officers were hospitalized with non-life-threatening injuries, said Sgt. Bryce Heinlein, a department spokesman. The suspect, who has not been identified, died at the scene.
The shootout occurred after the officers received an alert about a Chevy pickup tied to the deaths of two women whose bodies were found Friday in a Sacramento home, Heinlein said.
The pickup was detected near Watt Avenue and Highway 80 by police observation devices, cameras and license plate readers mounted in boxes on utility poles, he said.
As the officers patrolled the area, they spotted the pickup about 10:40 a.m. at the 65th Street Expressway and Fruitridge Road, Heinlein said.
The officers then called for backup, Heinlein said, and continued following the pickup until the suspect stopped in the 3300 block of 27th Avenue.
As the officers called out instructions, the man threw his keys out of the pickup, Heinlein said.
Seconds later, the sergeant said, the man got out of the truck and began shooting at the officers, striking both of them.
The officers returned fire, fatally wounding the man, Heinlein said.
The shooting came just as area peace officers were preparing to bid their final farewells to Deputy Robert French, who was killed in a shootout last week at a Sacramento hotel.
French was a 21-year veteran with the Sacramento County Sheriff's Department.
"It's been a very difficult day," Heinlein said. "Obviously a lot of [officers] came from there as the ceremony was starting."
Twitter: VeronicaRochaLA
---