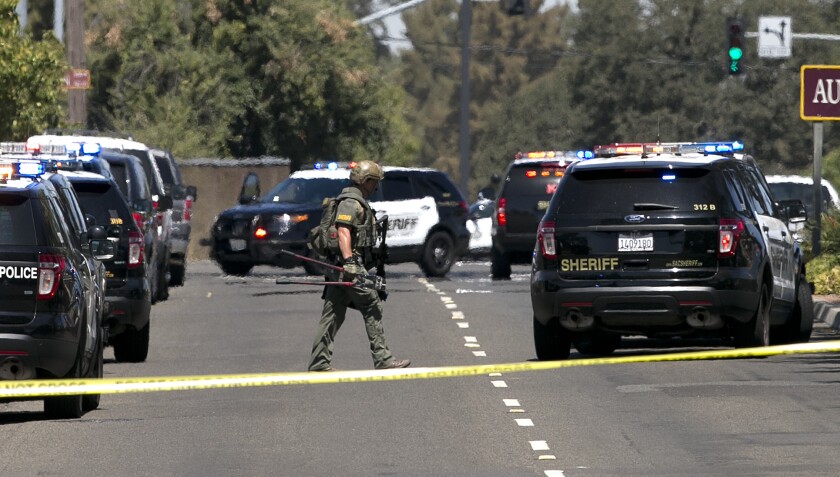 A gunman who authorities say fatally shot a Sacramento County Sheriff's deputy and wounded two California Highway Patrol officers died from his wounds over the weekend, the coroner said.
Thomas Littlecloud, 32, died Saturday following a gunfight with law enforcement at the Ramada Inn on Auburn Boulevard in Sacramento County on Aug. 30.
Deputy Robert "Bob" French, a 21-year veteran of the department, was killed.
The CHP officers, whose names were not released, were wounded but are expected to survive.
The gun battle erupted amid a stolen car investigation that started just after 9:30 a.m. Aug. 30 in the hotel parking lot.
Members of a Sacramento County auto theft task force were monitoring the hotel after they found a stolen vehicle in the parking lot, sheriff's spokesman Sgt. Tony Turnbull said.
They saw two women enter the vehicle and drive away, Turnbull said. When officers tried to stop the vehicle, the women led authorities on a pursuit that ended in Elk Grove, about 16 miles south of Sacramento.
Officers arrested Priscilla Prendez, 23, of Oakland, and released the other woman, Turnbull said. Prendez was booked on suspicion of vehicle theft and felony evasion, authorities said.
Authorities discovered Prendez was on probation and had been staying at the hotel, Turnbull said, so officers returned to the hotel to search her room.
When officers arrived, he said, they knocked on the door and announced themselves. That's when multiple shots were fired through the hotel room door and walls, striking the CHP officers.
As sheriff's deputies surrounded the hotel, Turnbull said, Littlecloud, armed with a high-powered assault rifle, tried to escape from the balcony.
"He engaged the deputies in gunfire, striking Deputy French during his attempt to flee," Turnbull said in a statement.
French, 52, was shot in his side, and the bullet entered his chest cavity, authorities said.
Littlecloud climbed off the balcony, jumped into a vehicle and led police on a pursuit that ended in a crash and an exchange of gunfire, authorities said. He was shot and taken into custody.
Staff writer Veronica Rocha contributed to this report.
For breaking California news, follow @JosephSerna on Twitter.
ALSO
CHP officer fatally shoots man at Reagan state office building in downtown L.A.
Los Angeles OKs $6.5 million to settle lawsuit after cyclist hit a pothole
A man offered to pay for an alleged shoplifter's stolen goods. Then he was attacked with a hatchet
---