Marquez and Farook plotted campus and freeway attacks, prosecutors allege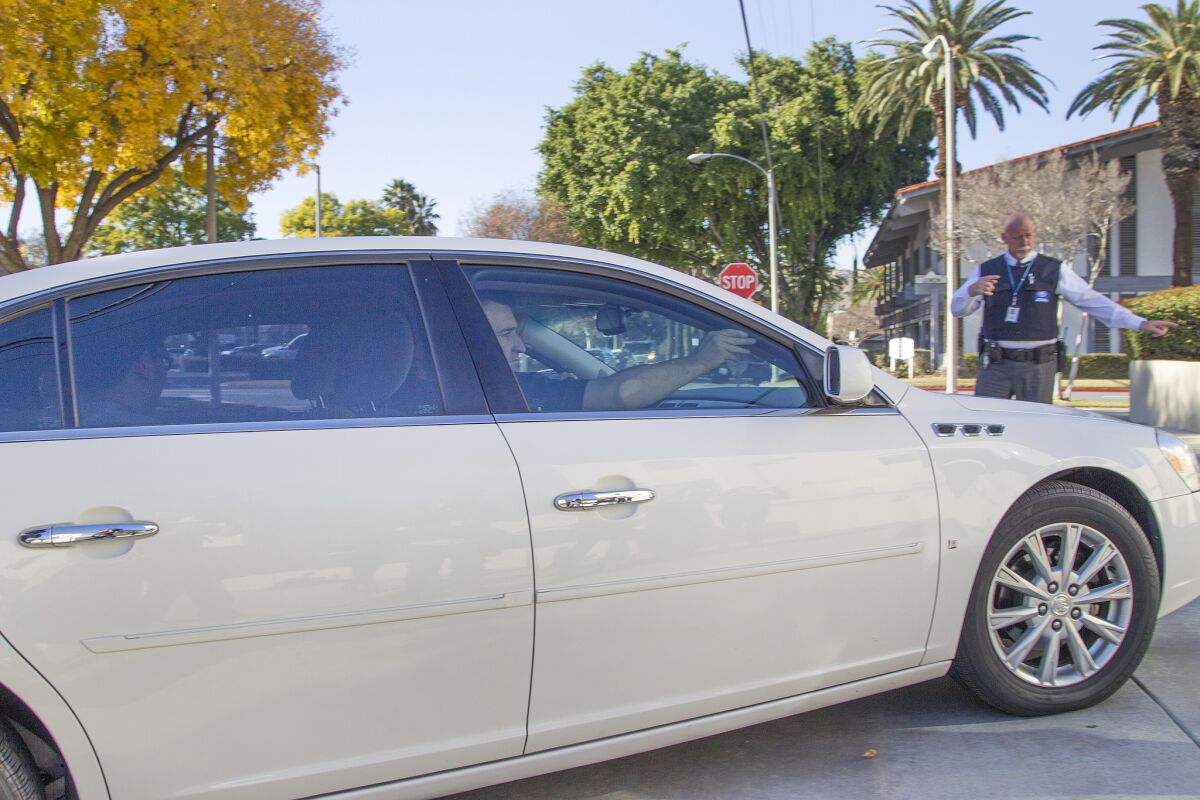 Reporting from Washington —
They were soft-spoken teenagers — next-door neighbors growing up in a suburban tract in Riverside.
But the bond Syed Rizwan Farook and Enrique Marquez formed a decade ago was tight.
They began visiting a local mosque, discussing Islamic radicalism and amassing weapons and explosives. Then, four years before the San Bernardino massacre, they hatched terrifying schemes, according to federal prosecutors.
The duo plotted to launch pipe bombs into the cafeteria of Riverside City College, shooting people as they fled, and to open fire on drivers on the 91 Freeway during rush hour, according to federal charges released Thursday.
The three-count criminal complaint against Marquez provides the most detailed account yet from authorities of the deadliest terror attack on the United States since Sept. 11, 2001.
Marquez, 24, was charged with conspiring with Farook in 2011 and 2012 to commit crimes of terrorism, as well as unlawfully purchasing two assault rifles used in the San Bernardino massacre and defrauding immigration authorities by entering into a sham marriage.
There is no evidence Marquez collaborated with Farook and his wife, Tashfeen Malik, in the Dec. 2 shooting, officials said. A day afterward, Marquez called 911, according to a transcript included in the affidavit.
"What's wrong? Why do you feel like you want to kill yourself? What's going on?" the operator asks.
"I don't know. My neighbor. He did the San Bernardino shooting," Marquez said. "They can trace all the guns back to me."
Join the conversation on Facebook >>
Shortly afterward Marquez was admitted to the emergency room at UCLA-Harbor Medical Center, and referred to the psychiatric ward.
Over a 10-day period, Marquez was interviewed multiple times by investigators, who said he repeatedly waived his right to an attorney.
Marquez appeared in federal court in Riverside on Thursday afternoon, wearing a beige T-shirt and square-rimmed glasses, his hands cuffed in front of him as he sat at the defense table. The judge assigned Marquez a federal public defender and set a bail hearing for Monday.
Known as mild-mannered and impressionable, Marquez was undergoing an unnerving transformation behind the scenes, according to the affidavit.
A few years ago, Marquez began attending prayers at the Islamic Society of Corona-Norco, where attendees viewed him as a "decent guy." He and Farook would discuss the Tablighi Jamaat, a proselytizing movement that rejects violence.
But his conversations with Farook evolved into exploring extremist ideologies. Farook began providing Marquez with radical Islamic materials, such as Inspire, a magazine published by Al-Qaeda in the Arabian Peninsula, according to the affidavit.
The affidavit describes a chilling plan the friends devised to attack the college they both had attended: throw pipe bombs into the cafeteria from an elevated position on the second floor, then take aim at those who ran.
Marquez had attended the community college from the fall of 2009 until the winter term of 2011, according to a district spokesman. The affidavit said Farook was registered as a student there from about 2004 to 2010.
"Marquez admitted that the attacks were designed to maximize the number of casualties that could be inflicted," the affidavit said, adding that Marquez drew a diagram of the planned attack for authorities.
The two also allegedly conspired to throw pipe bombs on a section of the eastbound 91 Freeway that lacked nearby exits. Once vehicles were disabled and traffic was clogged, Farook would gun down those who were trapped, while Marquez took aim at first-responders from an adjacent hillside.
"Farook planned to move among the stopped vehicles, shooting his rifle into them and killing people," the affidavit said.
In preparation for the attack, the two purchased firearms, ammunition and tactical gear and practiced at local firing ranges.
On Nov. 14, 2011, Marquez spent $750 on a Smith & Wesson M&P-15 sport rifle. Bank records show Farook gave Marquez money for the weapons. Three months later he bought a similarly priced DPMS model A-15 rifle, according to records in the affidavit. There was no record of any transfer of the weapons from Marquez to Farook and Malik.
According to the affidavit, the pair decided that Marquez would make the purchase because they thought Farook's Middle Eastern appearance would draw more attention. Marquez also purchased smokeless powder for the purpose of building bombs, the affidavit said.
Marquez told investigators he stopped plotting with Farook after 2012 for "a variety of reasons," including the arrest of three men that November in the Inland Empire on suspicion of plotting to kill Americans in Afghanistan.
But two years later, he married Mariya Chernykh, whose sister is married to Farook's older brother. The sisters are from Russia and came to the United States on J-1 visas — commonly used for educational and cultural programs. Marquez admitted to investigators that he was paid $200 a month to marry her so she could obtain legal status.
Marquez allegedly told investigators that his wife lived with her boyfriend — the father of her child — in Ontario. Marquez's family members told investigators that they had no idea Marquez was married until this month.
The charges carry maximum penalties of 10 to 15 years.
NEWSLETTER: Get the day's top headlines from Times Editor Davan Maharaj >>
According to the affidavit, Farook placed an improvised explosive device on a table at the Inland Regional Center at about 9 a.m. on Dec. 2. The pipe bomb was constructed out of three galvanized steel pipes and smokeless powder that was armed and ready to detonate. A remote control was found in Farook and Malik's rented sport utility vehicle after the couple were killed in a shoot-out with police.
Days later, Marquez's mother stood outside her home and wept as she spoke of her son, with whom she has had no contact since the massacre.
"I don't know how this happened," Armida Chacon told reporters. "My world is upside-down."
Other acquaintances remain in shock.
"Enrique wasn't a violent kid. He wasn't a tough guy. ... That's what's spooky about it," said Jerry Morgan, who has known Marquez for four years. "People felt comfortable around him."
Twitter: @rickserranoLAT
Twitter: @palomaesquivel
Twitter: @corinaknoll
Times staff writers Richard Winton, Sarah Parvini and Matt Hamilton contributed to this report.
MORE ON SAN BERNARDINO
Obama: No known terrorist threats to U.S. ahead of holidays
San Bernardino shooter was a Pakistani who became known as a 'Saudi girl'
After San Bernardino shootings, Disneyland and Universal Studios step up security
The stories shaping California
Get up to speed with our Essential California newsletter, sent six days a week.
You may occasionally receive promotional content from the Los Angeles Times.