One killed, three injured in San Bernardino shooting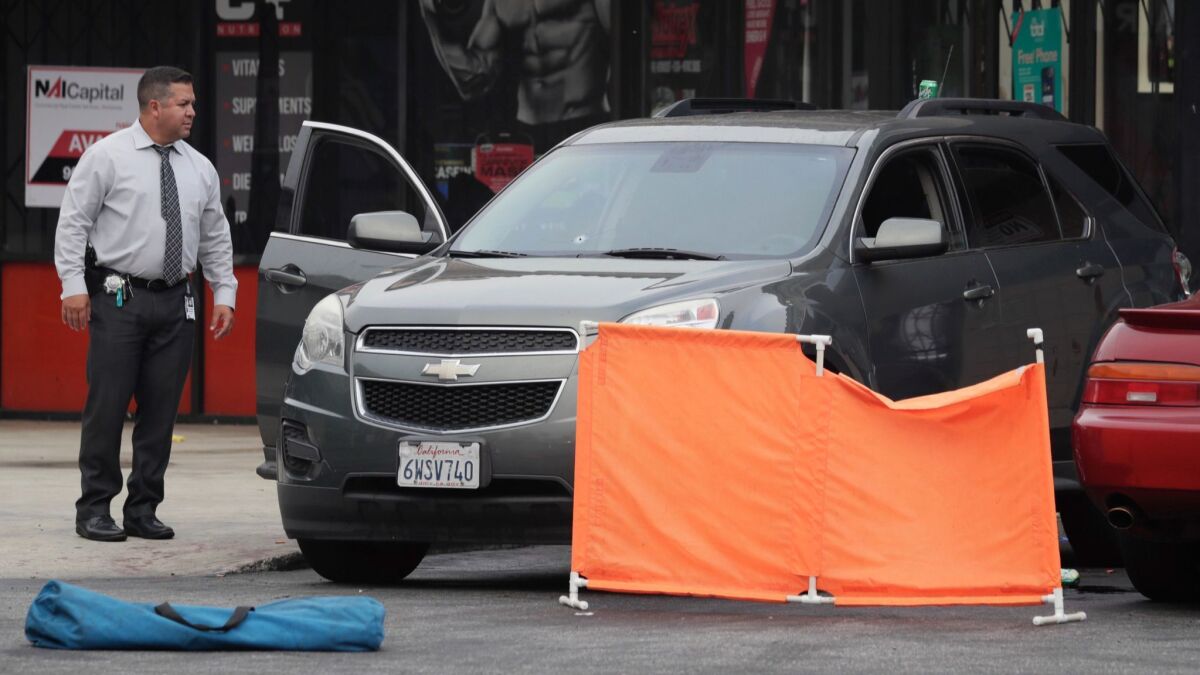 Police are searching for a gunman who opened fire in a San Bernardino strip mall Thursday night, killing one man and injuring three other people, authorities said.
Around 10:50 p.m., a crowd gathered as a security guard and a man got into an argument in the parking lot of a strip mall on the corner of East Baseline Street and North Waterman Avenue, said San Bernardino police Lt. Mike Madden.
A vehicle pulled into the parking lot as the "disturbance" was happening, Madden said, and the driver of the car got out and began shooting into the crowd. The shooter then got back in his car and "sped away," Madden said.
Four people were shot, he said. One man was pronounced dead at the scene and two people were transported to hospitals from there. The fourth victim fled in a vehicle and got to a nearby residence, from which they were transported to a hospital, Madden said.
The security guard was not one of the victims, and Madden said he did not believe the other man in the argument was shot either. He did not know the genders of the three shooting victims who survived. As of about 5 a.m., one was in critical condition and in surgery and the other two were expected to survive, he said.
Police believe there was just one shooter, but do not yet know the motive or the connection between the shooter and the people at the strip mall, Madden said.
"That's certainly something our investigators will be looking at," Madden said.
Authorities are asking anyone with information about the incident to call San Bernardino police at (909) 384-5742.
Reach Sonali Kohli at Sonali.Kohli@latimes.com or on Twitter @Sonali_Kohli.
---
The stories shaping California
Get up to speed with our Essential California newsletter, sent six days a week.
You may occasionally receive promotional content from the Los Angeles Times.