Comic-Con-backed convention center expansion approved for San Diego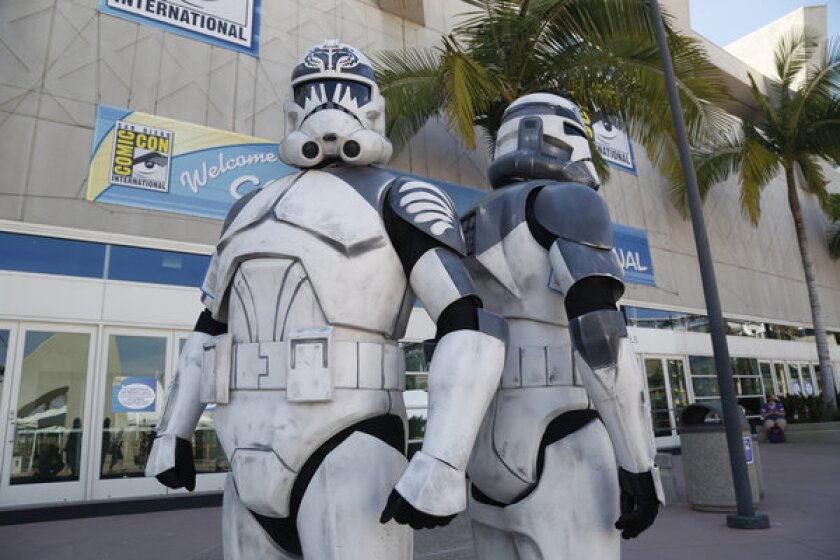 SAN DIEGO — The California Coastal Commission voted unanimously Thursday to approve an expansion of the waterfront convention center here -- an issue that pitted the needs of the Comic-Con convention against those of the Chargers football team.
Comic-Con leaders said the expansion is vital to keep the pop-culture extravaganza from having to leave San Diego in search of a larger venue for its summer fest.
But the Chargers had opposed the expansion, putting forth an alternative plan for a joint stadium-convention center expansion several blocks from the current center. For a decade, the team has warned that economic pressures could force it to leave San Diego unless it gets a stadium to replace aging Qualcomm Stadium.
"The result is no surprise, given the influence of the powerful groups supporting the project," said Chargers spokesman Mark Fabiani. "Still, it was disappointing to see the Coastal Commission ignore its own staff's recommendation."
The $520-million expansion is meant to provide an additional 740,000 square feet of convention space to help retain Comic-Con and also attract other large conventions -- particularly from the medical profession -- that now skip San Diego in favor of cities with larger convention centers, including Los Angeles and Anaheim.
The Coastal Commission staff recommended that the proposal be rejected, saying that it would block "one of the few windows to the water along a heavily built-up boulevard" and would push development unacceptably close to the bay.
But commission members, while expressing concern about loss of a view corridor, approved the project.
Commissioner Mark Vargas praised the waterfront location. "I'm jealous," he said. "I'm from Los Angeles."
ALSO:
L.A. Fire Chief Brian Cummings to step down, mayor says
Brown OKs higher fees for high-demand community college classes
Contractor charged with fraud for allegedly taking employees' wages
Twitter: @LATsandiego
tony.perry@latimes.com
---
For reporting and exclusive analysis from bureau chief John Myers, get our California Politics newsletter.
You may occasionally receive promotional content from the Los Angeles Times.