Spend a day behind the scenes at the San Diego Zoo as it turns 100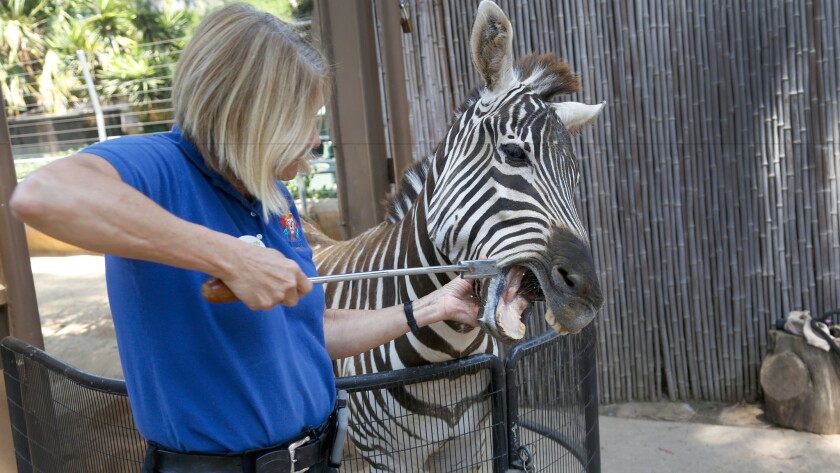 Reporting from SAN DIEGO —
With about 3.5 million visitors every year, the zoo here is one of the city's best-known attractions — and one of its oldest. This year marks the 100th anniversary of its founding.
For all its fame and longevity, though, the zoo remains in many ways a mystery, at least to its guests. What goes into feeding the animals? Who trains them? Where was Puddles the hippo born?
With the cooperation of zoo officials, the San Diego Union-Tribune gained access to a variety of behind-the-scenes moments for a day-in-the-life look at this institution that helps shape how San Diego is viewed by the world.
The zoo has become a nonprofit juggernaut that has its mix of conservation, entertainment and education down to a science — a far cry from its seat-of-the-pants origins, when founder Harry Wegeforth built the collection any way he could, flying to the Salton Sea to trap pelicans, stealing a backyard-pet alligator, paying local residents to bring in snakes.
Here is a look at the zoo's hidden world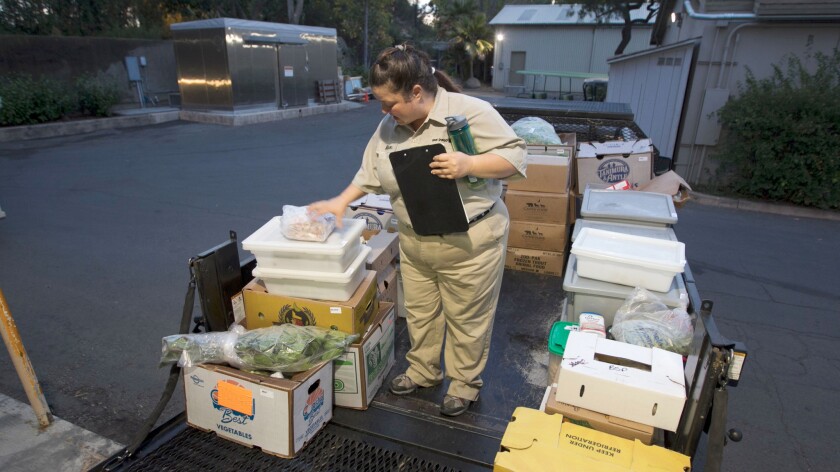 5:30 a.m. Forage Warehouse
At an hour when most people have not had their first cup of coffee, Allison Kaastra is loading a pickup truck with vacuum-packed bags of frozen mice and bins filled with meat, produce, insects, refrigerated eucalyptus branches and a femur bone or two. Or as the animal residents of the San Diego Zoo like to call it, breakfast, lunch, dinner and incentive.
"Today I'm delivering 40 pounds of raisins to the elephants," says Kaastra, a nutritional assistant whose day starts at 4:30 a.m. "Elephants will do anything for a handful of raisins."
Welcome to the Forage Warehouse, where pretty much everything consumed by the zoo's 3,700 or so animals is received, logged and packed before being trucked to animal holding areas.
The cost of feeding the zoo's massive menagerie is $125,000 a month. Restaurant-quality produce is delivered to the warehouse four times a week, with carrots and yams being most in demand. There are two bone deliveries per week for the carnivores and big cats, weekly deliveries of ants and the California condors' beloved cow spleens, and shipments of live termites and fruit flies.
"We're like the Costco of the zoo," says senior nutritional services assistant Jimmie Cunningham.
6:30 a.m. Koalas
There are 22 Queensland koalas on display at the zoo, and when senior mammal keeper Jennifer Roesler arrives, they're all sleeping — not just because it's barely past daybreak, but because that's what koalas do more than anything else. They snooze about 18 to 20 hours a day.
"We all want to come back in our next lives as koalas," one of the other keepers said.
These koalas get breakfast in bed. The food is eucalyptus, harvested from a 13-acre farm the zoo operates in the Miramar area. Roesler pulls branches from a walk-in cooler, arranges them in bundles and takes them outside to the pen housing a koala named Mundoe.
A canister holding yesterday's eucalyptus is lowered on pulleys, the old branches are replaced with new ones, and the canister is raised again. Mundoe barely stirs while this is happening, but he'll start munching before too long. Koalas eat about 2 pounds of eucalyptus daily.
San Diego's collection of koalas — 22 on display, another 28 on loan to other zoos — is the largest outside Australia. When one of the animals needs to be moved, often for breeding purposes, it flies not in cargo, but in a carrier in first class.
7:45 a.m. Opening prep
The zoo opens in an hour. At Elephant Odyssey, keepers are raking the grounds and filling feeders with hay. A maintenance staffer runs a squeegee over a window to give visitors a better look at the zoo's big cats. A retail clerk makes sure stuffed pandas are on the shelves.
There are thousands of details to fret about, and today Victor Stewart is in charge of the fretting.
Stewart is the duty manager.
He likens the zoo to "a mini city." It has houses, streets, water pipes, restaurants, lights, offices, roads, a security force, even a hospital.
"There's a lot of rush, rush, rush to get ready," he said.
9 a.m. Taking flight
Zoo visitors are eager to begin exploring. They've bought their tickets, gone through the turnstiles, and now they're standing behind temporary ropes just beyond the zoo entrance when Katie Cheng, an animal trainer, maneuvers the bird cart into position.
It's time for a winged welcome.
The bird cart is a small truck with a large cage on the back. Cheng flips a switch that raises the cage 14 feet into the air, then flips another switch to open the door. Seven colorful macaws fly past the roped-in visitors, who applaud and take pictures. The birds disappear behind the Wegeforth Bowl, back to their enclosures.
"Have fun," Cheng tells the crowd as the ropes are lowered and visitors surge in different directions.
See the most-read stories in Local News this hour >>
11 a.m. Clean water
Hippos have been popular at the zoo since 1936, when Puddles arrived. Born a year earlier at the Brookfield Zoo in Chicago, he was the first of his kind displayed at a zoo on the Pacific Coast. He made crowds laugh by rolling on his back and waving his legs in the air.
In the 1940s, Rube and Ruby, imports from Calcutta, became stars — star attractions, and star breeders. They had 11 offspring together and lived at the zoo for more than four decades. One of their favorite tricks was crunching down on whole watermelons.
People who admire the hippos don't often think about the water in the exhibit, but Kevin Dempsey does. He's the lead water quality operator and a 21-year veteran of the zoo.
In the old days, before pumps and filtration, the hippo pool was filled with water, emptied after several days, then filled again. The practice was wasteful and time-consuming.
The current hippo exhibit opened in 1995, and the 185,000-gallon pool, the largest of 147 at the zoo, has had to be drained just twice in 21 years. Behind the exhibit, a treatment plant keeps the water clean, pumping 1,200 gallons a minute through filters and digesters to remove the hay that makes up a large part of a hippo's diet.
"Not to get too graphic about it, but what goes into the hippo is pretty much what comes out," Dempsey said.
1:15 p.m. Speaking panda
The sign at the beginning of Panda Trek says the wait is 35 to 40 minutes. Might be nice to have something that will help pass the time.
That's where Kay Ferguson comes in.
She's a panda interpreter, and from her chair in one corner of the exhibit, she speaks through a microphone to give visitors information about the popular black and white bears: what they eat, what they weigh, how old they are when they first start climbing. Even how often they poop.
Ferguson has been doing this for about 20 years, and she knows the pandas so well that when Xiao Liwu begins to settle in for a nap in a tree, she calls out his moves before he does them.
"Put the paws up," she says, and Xiao Liwu does.
If Ferguson's wardrobe is any indication, she loves her work. She's wearing panda earrings, panda socks, a panda pendant. Her purse and cellphone case have pandas on them.
The Lemon Grove resident is 76 and has no plans to retire. "I'll probably die in this chair," she said.
5:30 p.m. Evening keepers
In the zoo's Urban Jungle area, senior keeper Doug Kresl can set his watch by his rhinos.
"It's like clockwork," said Kresl, one of four keepers who start their shifts in the late afternoon and are in charge of animal bedtimes. "They are very food-motivated, just like me. They are creatures of habit. By 8 p.m., they are right at their bedroom door, waiting for their treats."
Kresl has been at the zoo for 23 years. His evening-keeper duties include supervising the public giraffe-feeding (in which visitors pay $10 for the singular experience of feeding primate biscuits to the giraffes), giving Silver, the 23-year-old giraffe his osteoarthritis medicine and occasionally fishing dropped maps, hats and cellphones out of the koala exhibit.
Kresl loves having a shift that lets him sleep in, but he also loves having a job that lets him live out every kid's Saturday-matinee fantasy.
"I don't mean to be disrespectful to the giraffes, but I love the rhinos," he said. "They love being scratched. You'd think with their big, thick hides you could just bounce stuff off of them, but they are quite sensitive."
8 p.m. Nighttime Zoo
Tonight, Tom Peterson is a giraffe. In a couple of weeks, he will be a lion's head, and there is a flamingo in his future. Peterson is an acrobat and a member of "The Journey," an evening parade of walking puppets created for the Nighttime Zoo's summer-evening festivities. This is his time to shine.
For the evening parade, which kicks off 30 minutes before closing, the 40-year-old Peterson marches jauntily with a towering giraffe neck and head strapped to his back. He uses a stick to make the neck and head bob and dip, much to the delight of the kids in the crowd. The giraffe head is top-heavy, which takes its toll on Peterson's lower back. But for the trained acrobat and veterinarian technician, this seasonal job is a little slice of employment heaven.
"I love being with animals and I love being an acrobat, so this is the perfect job," Peterson says. "I get to come in early and look at the animals, and then I walk to work."
John Wilkens and Karla Peterson write for the San Diego Union-Tribune.
MORE LOCAL NEWS
Santa Clarita area fire grows to more than 22,000 acres
Arizona woman dies after car-to-car shooting in Pomona
San Diego County program for nonviolent felons may be helping to keep people from returning to jail
---
The stories shaping California
Get up to speed with our Essential California newsletter, sent six days a week.
You may occasionally receive promotional content from the Los Angeles Times.