The 1969 Santa Barbara oil spill that changed oil and gas exploration forever
The oil spill that sent at least 21,000 gallons of crude through the waters near the Santa Barbara County coast on Tuesday brought haunting echoes of a much larger spill nearly half a century ago, one that gave birth to the modern environmental movement and forever changed the trajectory of oil and gas exploration in California.
The Santa Barbara oil spill of 1969 spewed an estimated 3-million gallons of crude oil into the ocean, creating an oil slick 35 miles long along California's coast and killing thousands of birds, fish and sea mammals.
Following the spill, the region became ground zero for some of the most significant conservation efforts of the 20th century.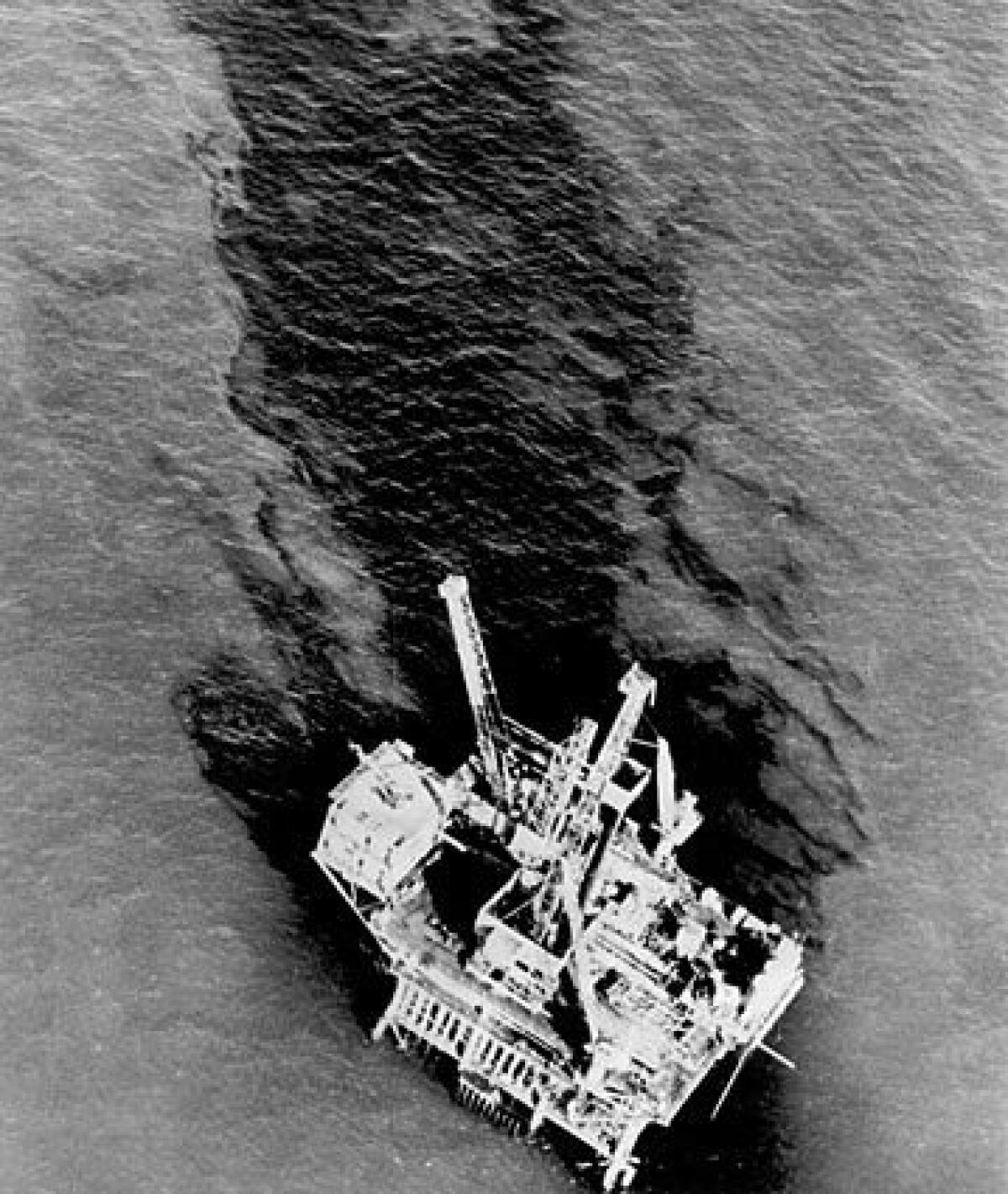 The Jan. 28, 1969, blowout was caused by inadequate safety precautions taken by Unocal, which was known then as Union Oil. The company received a waiver from the U.S. Geological Survey that allowed it to build a protective casing around the drilling hole that was 61 feet short of the federal minimum requirements at the time.
The resulting explosion was so powerful it cracked the sea floor in five places, and crude oil spewed out of the rupture at a rate of 1,000 gallons an hour for a month before it could be slowed.
It was the worst oil spill in the nation's history – until 20 years later, when the Exxon Valdez dumped 11 million gallons of crude off the coast of Alaska.
The toll of that devastation blinked on TV screens nationwide: beaches painted black, birds with feathers plastered in oily muck, and the corpses of seals and dolphins washing in with the tides.
Rep. Lois Capps (D-Santa Barbara) had been living in the city for only a few years when the 1969 blowout occurred, and remembers driving her children to East Beach to take in the scene and seeing workers throwing bales of straw into the blackened water in an attempt to soak up the oil.
"It was just sickening," Capps said Wednesday, recalling the thick smell of tar in the air. "There were people with waders on and covered with oil, going out to rescue the birds. It was heartbreaking."
The spill became a flashpoint for the founding of the environmental movement as it's known today. The backlash spawned a flurry of citizen-led environmental groups and advocacy for a slew of new laws and regulations.
"Battle Shaping Up Over Offshore Oil," read a front-page Los Angeles Times headline days later, as oil continued to seep into the ocean. Brewing in those waters was a "free-for-all battle" that could "affect the entire offshore oil industry in California," the article read.
For three years after the 1969 spill, the California State Lands Commission placed a moratorium on all new offshore drilling in state waters, even on existing leases. A federal moratorium has effectively banned new offshore drilling in the federal waters off California for decades. Today, there are 23 offshore oil and gas leases in state waters, according to the commission.
New federal policies established after the disaster required offshore oil platform operators to pay unlimited amounts toward oil spill cleanup costs, along with penalties of up to $35 million.
In the aftermath of the spill, President Richard Nixon signed the National Environmental Policy Act in 1969, which requires environmental impact reports, and the California Environmental Quality Act was adopted the next year, says Peter Alagona, an associate professor of environmental studies at UC Santa Barbara.
The nation's first Earth Day, spearheaded by burgeoning grassroots environmental groups, was celebrated in 1970.
Laws regulating air and water pollution soon followed, as did legislation protecting sensitive coastal areas and endangered species.
"What these laws really did was create an entire new framework for environmental regulation," one that focused on protecting resources such as air and water, as well as wildlife, rather than on land conservation, Alagona says.
Much of the quick action following the 1969 spill can be attributed to the "optics" of the disaster, he says.
"What the oil spill did was show a very compelling picture of why we need these protections," says Kathryn Phillips, director of Sierra Club California. Phillips, who was 13 and living in San Diego at the time of the spill, says she remembers vividly the images of "oiled birds and a vast sea of oil," and she recalls being very sad about it. In the two years after the spill, Sierra Club membership doubled, she says.
"America had been riding on a high for a long time, and all of a sudden this big oil spill opened people's eyes as to what our lifestyles were creating," says Michael Lyons, president of Get Oil Out, a Santa Barbara organization that was founded soon after the 1969 spill and has been a vocal opponent of drilling for oil in the area.
Phillips says that environmental activists have made large gains since then – the fact that the air and water is less polluted in large parts of the state as population has grown is a testament to those successes, she says. But, she adds, Tuesday's spill serves as a stark reminder of the risks of oil and gas drilling as the Obama administration considers the prospect of opening the nation's coastlines to new drilling.
Although technology and regulation of the oil industry have improved greatly since 1969, Capps says, Tuesday's spill demonstrates that "nothing about oil drilling is foolproof. It always has a risk."
UPDATES
6:37 p.m.: This article has been updated throughout with comments from Rep. Capps, Phillips and Alagona, and additional background and context.
This article was originally published at 12:06 p.m.
For more breaking news, follow me @cmaiduc
MORE FROM SANTA BARBARA
Slicks from oil spill cover 9 miles of coastline, officials say
Live updates: Fallout from the Santa Barbara County oil spill
Sign up for Essential California for news, features and recommendations from the L.A. Times and beyond in your inbox six days a week.
You may occasionally receive promotional content from the Los Angeles Times.