Santa Monica school district's conflict of interest investigation expands to three board members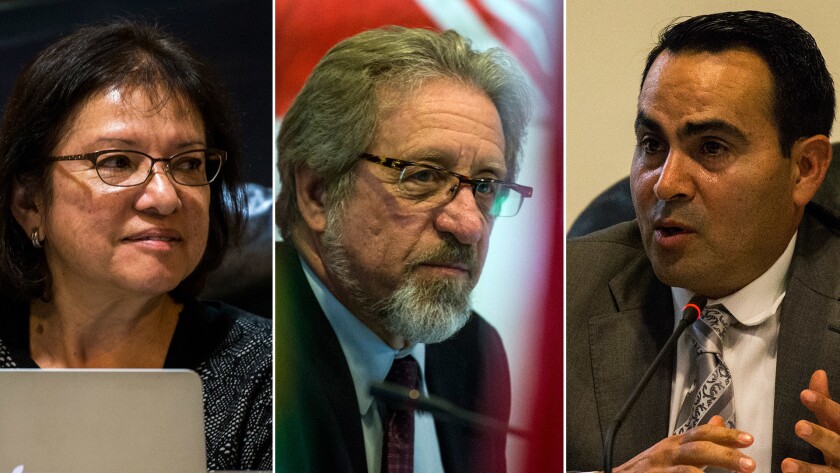 A Santa Monica school district's conflict of interest investigation has grown to include three of the board's seven members, a school district official confirmed Friday.
The Santa Monica-Malibu Unified School District's probe initially focused on Maria Leon-Vazquez, whose husband worked as a paid consultant to at least two district vendors.
Santa Monica-Malibu launched its probe after The Times revealed last month that Leon-Vazquez cast a series of votes spanning several years that included hundreds of thousands of dollars in contract approvals with her husband's clients, the financial advisory firm Keygent, LLC and TELACU Construction Management.
That investigation has now widened to include board members Ralph Mechur and Oscar de la Torre, according to a district spokeswoman. The district is looking into possible conflicts of interest related to Mechur's work as an architect for Leon-Vazquez's home remodel and a nonprofit involving De La Torre, said spokeswoman Gail Pinsker.
The district will release a "summary of findings that we will be sharing publicly in the next few weeks," she wrote in an email to The Times.
She said once the investigation is complete the district will commission an outside agency — likely the California School Boards Assn. or the state Fiscal Crisis and Management Assistance Team — to conduct an independent review.
Prosecutors with the public integrity unit of the Los Angeles County district attorney's office have also opened a review.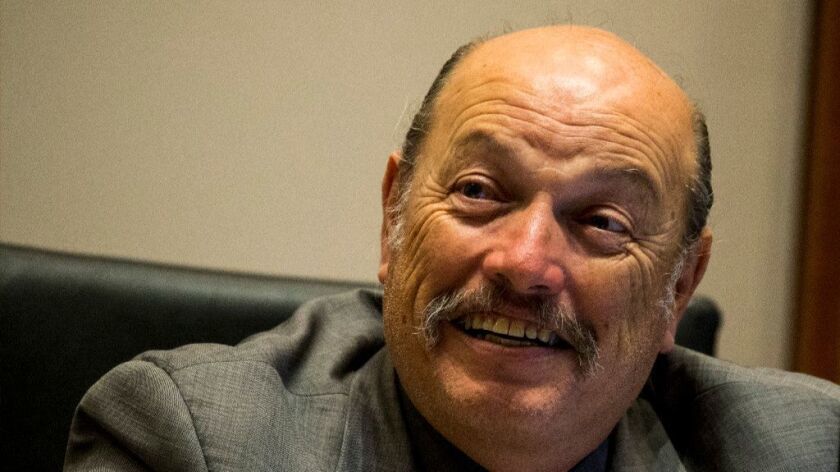 Leon-Vazquez's husband Tony Vazquez — who is also a Santa Monica councilman and a candidate for a state Board of Equalization seat — was paid to open doors at school districts by using his political access to arrange meetings with high-level district executives, he testified in a sworn deposition obtained by The Times.
This included a meeting he set up three years ago between a TELACU executive and then-Santa Monica-Malibu Superintendent Sandra Lyon, according to the deposition. He also said that his income from TELACU started at $1,000 per month but peaked at $8,000 a month around the same time he was asked to arrange the meeting between TELACU and Lyon, according to the deposition.
Since the Times article was published, the school district's retired head of business Jan Maez acknowledged she also had a meeting with Vazquez in 2012 about financial advising and construction management involving "several other people" whose affiliations she could not recall, according to Pinsker.
The Times also found business ties between Leon-Vazquez and Mechur. His architecture firm Ralph Mechur Associates designed Leon-Vazquez's home remodel and worked for the couple between 2001 and 2005, according to city records and interviews with Mechur. The construction, which building permits show included a second floor addition and a remodel of the first floor and basement, was valued in city records at $200,000. Mechur was not sitting on the board at that time.
According to Pinsker, the district is also looking into Mechur's contract work for a nonprofit that employed De La Torre.
"It's the same scenario as with Ms. Leon Vazquez. We are looking into both situations in our review," she wrote.
Between 2003 and 2006, Mechur's firm received nearly $30,000 in district purchase orders for contract work at the district's Washington West Preschool playground, according to district records.
In 2007, Leon-Vazquez joined in a vote to appoint Mechur to the board, according to school board minutes. De La Torre was absent for the vote, the minutes show.
In an earlier interview with The Times, Mechur said he did not see a conflict of interest in his work for Leon-Vazquez. He also said he charged Leon-Vazquez and her husband a flat fee that was market rate for the architecture work on their home remodel but refused to disclose the amount that the couple paid.
"Just take my word for it. I had a contract and they paid," Mechur said.
The school district's review of potential conflicts of interest involving Mechur and Vazquez began after The Times asked the district about the business relationship. Mechur could not be reached Friday to comment on new information that he also worked on De La Torre's youth center building. Leon-Vazquez also could not be reached for comment.
De La Torre said Mechur was hired in 2001 by a nonprofit called Community Partners and the city of Santa Monica to design a facility that would later become a youth center he runs. De La Torre said he was an employee of Community Partners at the time and didn't have the authority to approve Mechur's contract.
Mechur was paid about $2,000 to design the framing of the building, a fraction of the $8,000 to $10,000 market rate for the project, De La Torre said. He said the discount was given because it was for a nonprofit.
De La Torre said that work by Mechur was an entirely different scenario than Leon-Vazquez's home remodel. He said he didn't personally benefit and that at the time he also wasn't a board member or considering running for the board.
De La Torre said the district's release of this information makes him "question the legitimacy of the investigation."
"They're putting the information out there when it's irrelevant," De La Torre said.
---
The stories shaping California
Get up to speed with our Essential California newsletter, sent six days a week.
You may occasionally receive promotional content from the Los Angeles Times.