Scottie Pippen files countersuit over Malibu altercation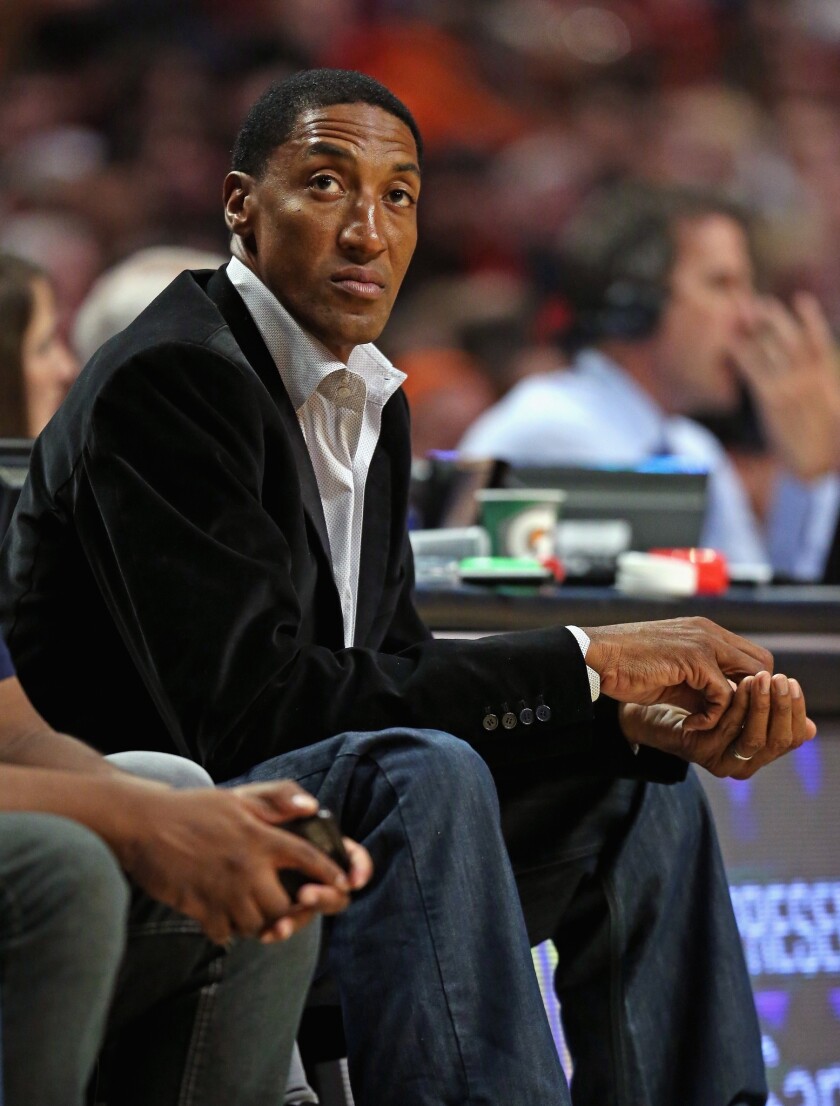 Scottie Pippen has filed a countersuit against a Malibu man who alleged the former NBA All-Star assaulted him at a restaurant last year.
Camran Shafighi filed a $4-million lawsuit against Pippen, accusing him of a "brutal and unjustified physical attack" that allegedly occurred outside upscale Nobu restaurant after Shafighi had sought a picture with the former Chicago Bull.
But in a cross-complaint filed earlier this month, Pippen's lawyer Mark J. Geragos alleged Shafighi cursed at Pippen using racial slurs, spat on him and his children and said, "I'm going to kill you."
The cross-complaint also alleges that Shafighi was "extremely aggressive and noticeably intoxicated" and calls for unspecified damages "according to proof."
Reached Tuesday, Shafighi's attorney, Kathryn Lee Boyd, said she had no comment on the cross-complaint "at this time."
In August, about a month after Shafighi filed his complaint, the Los Angeles County district attorney's office announced Pippen would not face assault charges after prosecutors determined there was insufficient evidence to prove beyond a reasonable doubt that Pippen was guilty of committing a crime.
Though the narratives in the complaint and cross-complaint differ widely, prosecutors said Pippen was dining with his family when Shafighi asked for a photo with the basketball legend. Pippen allowed him to take a photo but did not pose with the man, prosecutors said.
When Pippen left, the man again tried to ask for his photo. At that point, Pippen allegedly punched him in the mouth and spat in his face before kicking him several times.
The last thing the man remembers before awakening in the hospital, he told police, was Pippen's foot in his face.
Pippen told sheriff's investigators the man followed him to the valet stand, spitting and cursing at him. Pippen then spat back and pushed the man away with a horizontal arm movement, according to a declaration by prosecutors.
The man then allegedly kicked Pippen in the crotch, and Pippen lifted up his foot to block the kick, the basketball player told authorities.
A security guard and two parking attendants witnessed part of the confrontation and told detectives they saw kicking and punching by Pippen, including "right punch followed by a left punch" and described the number of kicks as anywhere from 10 to two.
Prosecutors said that in interviews, Pippen's family members said Shafighi was the aggressor.
After the incident, the man was taken to UCLA Medical Center, where he was diagnosed with a possible concussion, but a CT scan showed no signs of trauma. His blood-alcohol level was found to be 0.18%, double what is considered legally intoxicated in California, records show.
The next day, the man returned to the emergency room after his release from the hospital and claimed to have been diagnosed with fractured ribs and a fractured ankle, investigators said. He was described as being "extremely intoxicated" with no evidence of any fractures, and a physician noted he "was making up stuff to try and have a story."
Prosecutor William Ryder concluded that Pippen's pushing was "justifiable and the spitting is unprosecutable." Ryder wrote in his report the evidence was insufficient because of the man's "drunken condition," a lack of physical injuries, the parking employees' description of the blows and the doctor's opinion that he was feigning injury.
Pippen, whose NBA career spanned nearly two decades, is best known for his 11 seasons with the Chicago Bulls, where he and Michael Jordan led the team to six championships in the 1990s.
richard.winton@latimes.com
---
The stories shaping California
Get up to speed with our Essential California newsletter, sent six days a week.
You may occasionally receive promotional content from the Los Angeles Times.