Woman accused of spitting on officer in controversial Metro Red Line video charged with battery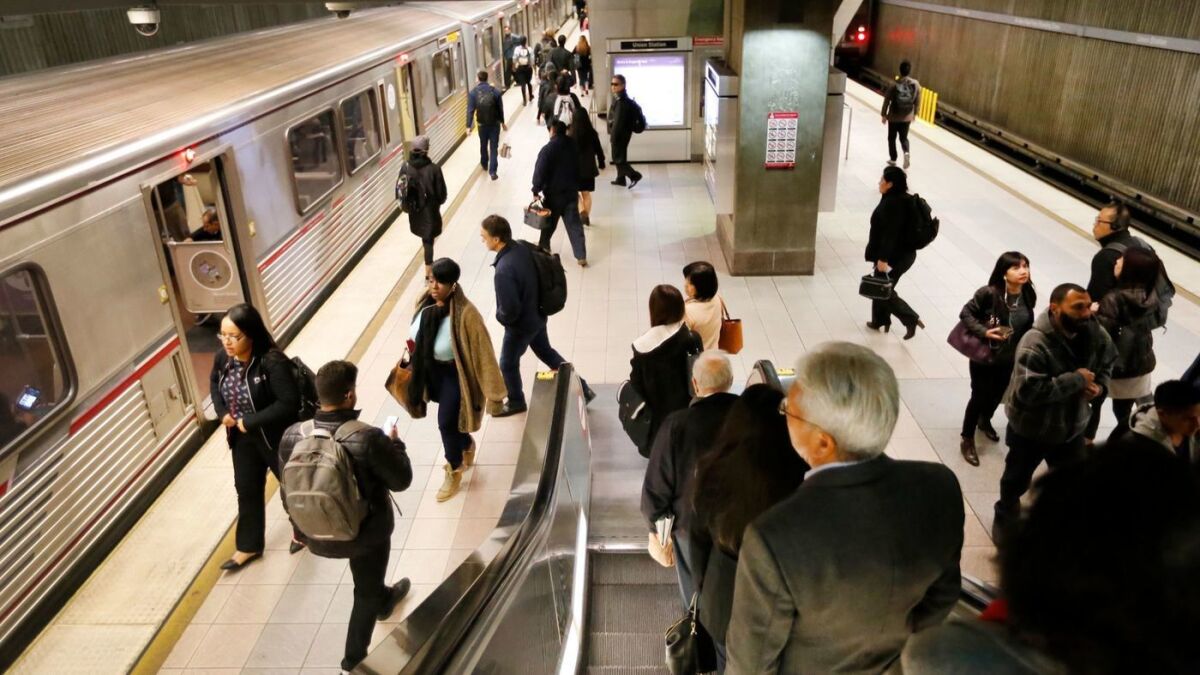 A 22-year-old woman was charged with battery this week for spitting on a Los Angeles police officer during a confrontation at a Metro station that sparked criticism of the LAPD earlier this year, authorities said.
Selena Lechuga pleaded not guilty to one count of battery on a peace officer Friday, according to Rob Wilcox, a spokesman for the Los Angeles city attorney's office. Lechuga was initially arrested on suspicion of misdemeanor battery, and the charge was formally filed Thursday, said her attorney, Nana Gyamfi.
Lechuga was one of two women at the center of a controversial arrest at the Westlake/MacArthur Park station that was caught on video in late January. The confrontation began when an LAPD sergeant approached 18-year-old Bethany Nava and ordered her to take her foot off an empty seat, which is a code-of-conduct violation on Metro trains.
When Nava refused, the sergeant grabbed her by the arm and pulled her off the train, according to bystander video that was posted to Facebook earlier this year. (Warning: Video contains explicit language)
Nava, Lechuga and other witnesses began yelling at the sergeant, claiming he had overstepped his authority and was unduly rough with the teenager.
"Come on, you think you can do this?" a woman shouted at the sergeant, in the video.
"Yeah, I can," he replied.
When people protested, saying the woman was only 18, he responded, "I don't care."
Nava and Lechuga were both arrested at the scene. The teenager was cited for loud and boisterous conduct on a train and released. She was not cited for violating the rule about placing her foot on a seat, the infraction that incited the entire incident.
Nava is not facing any criminal charges, according to Wilcox.
The video, which has been viewed more than 14 million times on Facebook, sparked fierce criticism of the LAPD and its enforcement actions on Metro Rail. Shortly before the clash, the department had launched a crackdown on conduct violations on trains, including eating, drinking, vaping, gambling, littering and placing feet or shoes on seats.
Metro's chief executive, Phil Washington, released a statement in January saying he was "disappointed at the way the situation escalated," and the LAPD has launched a use-of-force investigation. Nava also filed a claim against the city, saying she sprained her wrist as a result of the sergeant's actions.
Lechuga can be seen spitting in an officer's face as she was being handcuffed, according to the video. She faces up to a year in jail and a $2,000 fine if convicted of the battery charge, Wilcox said.
The city attorney's offered to divert Lechuga's case to its Neighborhood Justice program, which allows nonviolent first-time offenders to face a panel that recommends community service and other "restorative justice" as an alternative to a court hearing, according to Wilcox. But she declined.
Gyamfi said her client declined to participate in the city attorney's diversionary program because enrollment in the program requires a presumption that Lechuga is guilty.
"When you're walking into a situation in which you are presumed to be guilty, that's not really restorative justice," she said. "That's just doing something outside of the court process."
Lechuga does not know Nava personally, but chose to get involved based on the LAPD sergeant's conduct, according to Gyamfi, who said she does not believe Lechuga's arrest was lawful.
Follow @JamesQueallyLAT for crime and police news in California.
---
The stories shaping California
Get up to speed with our Essential California newsletter, sent six days a week.
You may occasionally receive promotional content from the Los Angeles Times.