Twin tunnels under the Sepulveda Pass could tame L.A. traffic. But the plan comes with unknowns — and a $6 billion price tag
If approved, Measure M, the half-cent sales tax increase, would fund twin rail tunnels, the first new route through the Sepulveda Pass in more than five decades
Southern California's rugged mountains, hills and valleys are among the region's most cherished features.
But the topography has proved a serious barrier to traffic flow as the Southland has grown, dividing key commuting routes — from the San Fernando Valley into the Los Angeles Basin, from the Inland Empire into Orange County — and creating chronically congested choke points.

For the record:
9:40 a.m. Nov. 7, 2016An earlier version of this article gave the name of the director of USC's construction engineering and management program as Henry Kauffman. His name is Henry Koffman.
Planners have long dreamed of solving the problem with tunnels, allowing roadways and mass transit to flow outside the limited number of canyons and passes. But engineering challenges and the huge cost of digging have kept tunneling more a dream than reality.
That could change Tuesday if voters approve Measure M, the half-cent sales tax increase on Tuesday's ballot. The measure would fund twin rail tunnels through the mountains — the first new route through the Sepulveda Pass in more than five decades.
The bold project comes with a bold price tag: more than $6 billion.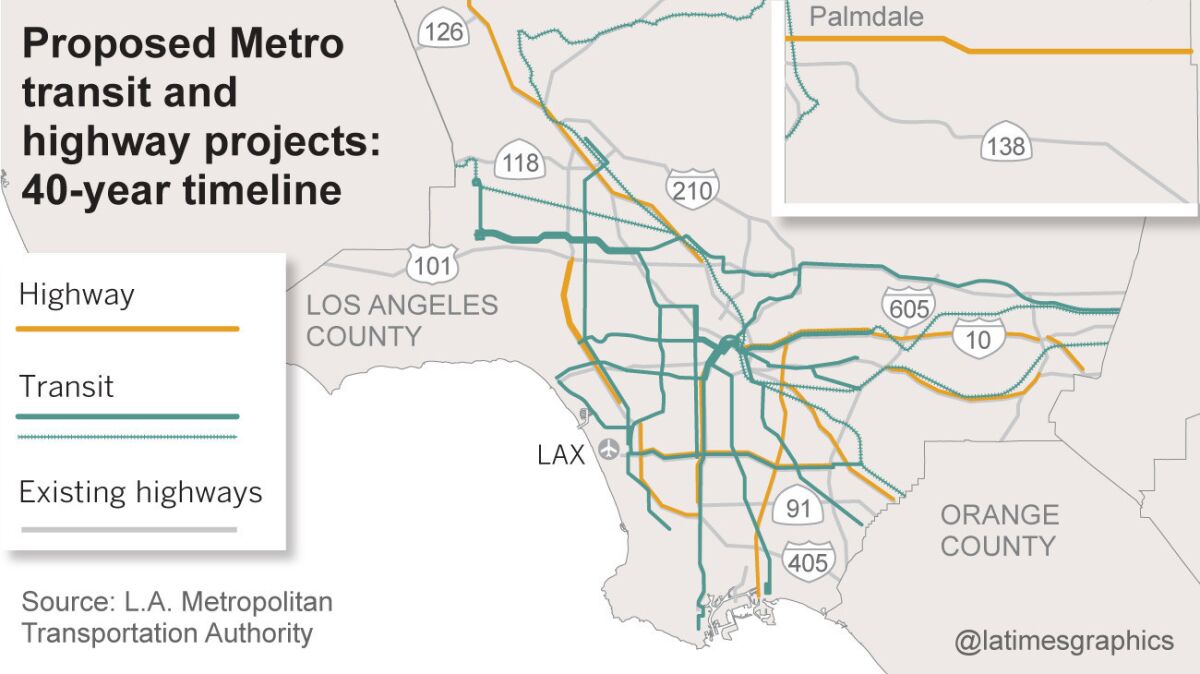 The Sepulveda Pass is perhaps the Southland's most notorious transportation challenge, one of the few connections between two of the region's most populated areas. The 405 Freeway carries more than 300,000 vehicles per day, a number that federal highway officials expect to grow to more than 450,000 over the next decade.
"That north-south egress into the Valley is really critical, particularly as the freeways are jammed more and more often," said Henry Koffman, the director of USC's construction engineering and management program.
The tunnel plan, one of the most ambitious in L.A.'s history, has the potential to change travel patterns for hundreds of thousands of commuters who brave the 405 at rush hour or wend their way through twisting back roads, backers say. It would also provide a critical north-south rail route that planners say is essential to the region's transit network.
But keeping such a complicated, expensive project in check in the midst of a rail-building boom funded by Measure M would also pose unprecedented challenges for Metro, which has struggled in the past with cost overruns and schedule delays on rail projects.
"Without question, it's one of the mega projects within Measure M," said Metro spokeswoman Pauletta Tonilas. As officials discussed transportation needs with county residents, she said, one of the most common requests was "doing something about the 405."
Without question, it's one of the mega projects within Measure M.
— Metro spokeswoman Pauletta Tonilas
Tunneling is difficult and expensive everywhere, but particularly in Southern California, where labor and material costs are high, and densely occupied areas make construction complicated.
Crews digging tunnels face the risk of cave-ins and can stumble across unexpected elements underground, including utility lines, debris from previous construction projects, and hidden sources of water or natural gas.
"There's always a lot of surprises when you tunnel," Koffman said. "It's just a fact of life that you end up seeing cost overruns."
Metro has tunneled beneath the mountains once before, to connect North Hollywood to downtown Los Angeles by rail.
The Red Line subway is now Metro's most popular rail line, but its construction was plagued with problems, including a sinkhole that opened on Hollywood Boulevard in 1995, destroying part of the iconic Walk of Fame.
By the time officials cut the Red Line's ribbon in 2000, the 17 miles of subway were considered the most expensive in American history.
In the intervening years, experts say, Metro has become more familiar with the risks and costs associated with tunneling.
Two tunnel-boring machines are digging subways beneath the streets of downtown and South L.A., and a third will soon start churning beneath Wilshire Boulevard.
For the most part, transportation planners have dealt with Southern California's topography by building roads and transit lines in available passes and canyons. But that approach is decidedly limiting and circuitous.
Some planners have long believed the answer is tunneling between key population centers.
For years, there was talk of a 12-mile route beneath the Cleveland National Forest to connect the fast-growing bedroom communities of Riverside County with the booming job center of Irvine. Another plan called for a 15.5-mile tunnel between Palmdale and La Cañada Flintridge.
Those proposals and their whopping price tags were met with concern from environmentalists and engineers, one of whom described the Inland Empire proposal as "prohibitively expensive and prohibitively dangerous."
Tunneling has also created schedule and budget concerns for California's bullet train. Crews will need to punch 36 miles of tunnels through geologically complex mountains north of Los Angeles, including fractured rock formations and a jumble of earthquake faults, some of which have not been mapped.
The Sepulveda Pass tunnel could also face pushback from homeowners and officials who endured five years of construction when Metro and Caltrans widened the 405. Adding a carpool lane in each direction cost well over $1 billion, and studies found traffic flow did not noticeably improve.
"To tunnel through the pass, they'd receive equally strong opposition," Koffman said.
Within a decade, officials plan to convert the 405's carpool lanes into toll lanes between Interstate 10 and Highway 101. Similar programs on the 110 Freeway and the 10 east of downtown charge solo drivers a per-mile price, which changes based on how many drivers are already in the tolled lanes.
That $260-million conversion could bring in at least $14 million in revenue during the first year of operation, which could help finance tunnel construction, according to a Metro analysis conducted earlier this year.
To tunnel through the pass, they'd receive equally strong opposition.
— USC professor Henry Koffman
The tunneling phase of the project would receive more than $5 billion through Measure M. Early plans call for twin tunnels, each 8.8 miles long, that would connect an Orange Line busway station in Van Nuys with a planned subway station near UCLA.
The tunnels are slated to open between 2033 and 2036, but Metro officials say the project could be accelerated if the agency secures a partnership with a private construction company.
The third phase would be an extension of the route from Westwood to Los Angeles International Airport, slated to open between 2057 and 2059. That leg would receive $3.86 billion in funding from Measure M, although the price tag is expected to be higher.
The ambition and scope of the project have appealed to global firms, including HDR Inc. and Parsons Corp., which submitted suggestions to Metro this year to speed construction and reduce costs. Metro said the proposals are confidential.
Accelerating construction by even a few years could result in "tremendous" savings, Metro Chief Executive Phil Washington said at a recent downtown public affairs forum.
In a typical public-private partnership, the firm building the project covers a share of the construction costs in exchange for a share of the expected revenue. The agreements can also include shifting responsibility for cost overruns to the contractor.
"If I can transfer construction cost overruns on a project to the private sector, that's a good thing," Washington said.
Other private-sector transportation experts have questioned whether trains could run at surface level through part of the pass to cut down on costs. Early Metro estimates have placed the cost of tunneling at more than $550 million per mile.
For more transportation news, follow @laura_nelson on Twitter.
MORE LOCAL NEWS
Wilshire Boulevard could be a glimpse into L.A.'s future
Did a fight over gentrification lead to a hate crime in Boyle Heights?
---
Life is stressful. Our weekly mental wellness newsletter can help.
You may occasionally receive promotional content from the Los Angeles Times.