Retired L.A. County deputy wounded in shooting at his Redondo Beach home
There was a knock at the door around midnight. Then bullets shot straight into the apartment.
Police said a retired Los Angeles County sheriff's deputy was shot in the wrist and abdomen at his Redondo Beach apartment just before 12:30 a.m. Thursday morning as he peered out his window.
Someone at the retired lawman's door asked for a person who doesn't live at the address in the 500 block of Avenue G. The stranger fired at least three shots, then fled, police said.
The 75-year-old victim is recovering from surgery.
Friends and a neighbor identified the wounded man as Matthew Turner, a Navy veteran and member of the American Legion.
"I saw Matt covered in blood as they walked him down the stairs," said Susan Margolese, who lives in an apartment several yards away and said she heard the shots.
"He is the nicest guy and would do anything for you," she said.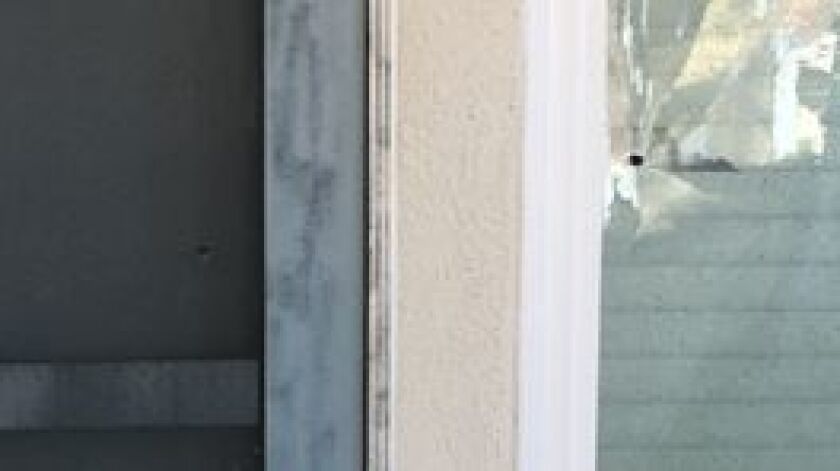 The former lawman retired from the Sheriff's Department in 1978, said agency spokeswoman Nicole Nishida.
Larry Futrell, an official at a local chapter of the American Legion, said Turner listed his occupation as "private investigator" when he joined the group in 1995. A LinkedIn profile for Matthew Turner describes him as an investigator.
Redondo Beach Police said in a statement there does not appear to be a link between the victim's previous occupation as a sheriff's deputy and the shooting.
At least two bullet-size holes could be seen in the door and window of the man's apartment on Thursday.
Police say a suspect was seen running away down Avenue G toward Prospect Avenue. Both injuries to the retired lawman came from a single shot fired by the gunman.
"He never went inside," said Redondo Beach Police Sgt. John Bruce. "Just shot and ran."
Authorities described the suspect as a male in a hooded sweatshirt. The incident is still under investigation.
For more California news follow me on Twitter: @sarahparvini
---
UPDATES:
4:20 p.m.: This article was updated with additional information about the victim.
11:20 a.m.: This article was updated with the age of the victim and comments from a Redondo Beach police spokesman.
10:40 a.m.: This article was updated with the year of the deputy's retirement.
This article was originally published at 9:05 a.m.
---
The stories shaping California
Get up to speed with our Essential California newsletter, sent six days a week.
You may occasionally receive promotional content from the Los Angeles Times.