County to pay $5.3 million in fatal shooting by sheriff's deputies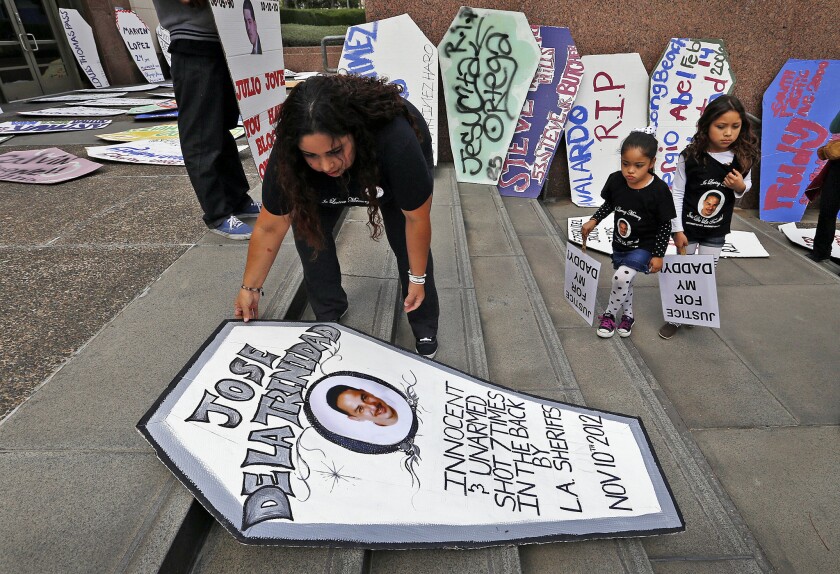 The Los Angeles County Board of Supervisors on Tuesday agreed to pay $5.3 million to the family of an unarmed man who was shot to death in 2012 by sheriff's deputies in Compton.
The settlement of a lawsuit in the death of Jose de la Trinidad, a father of two, came on a day when an estimated 300 demonstrators rallied outside the county Hall of Administration. They carried tombstone-shaped signs, each bearing the name of one of the 617 people they said have died in officer-involved shootings in the county since 2000.
Among the demonstrators were Rosie de la Trinidad, Jose's widow, and their two daughters.
The timing was coincidental, said Tanisha Denart, one of the organizers. Among the demonstrators' demands were calls for more thorough investigations of shootings and help for the families of those who die in officer-involved shootings.
Jose de la Trinidad, 36, had just left his niece's quinceañera, riding in a car driven by his brother, Francisco, on the night of Nov. 10, 2012, when two deputies tried to pull them over for speeding.
The driver took off, leading deputies on a brief pursuit before the car stopped abruptly, Jose de la Trinidad got out and the car sped off again. Francisco de la Trinidad was arrested after crashing his car a few blocks away.
Deputies told investigators that they had seen the driver pass a handgun to the passenger before the chase began. Then when the passenger got out he crouched down and reached for his waistband, prompting them to shoot.
But a woman who watched the scene unfold from a window of her home across the street said De la Trinidad had put his hands on his head, in compliance with deputies' orders, when they opened fire.
The coroner found that De la Trinidad, who, as it turned out, was not carrying a gun, had been hit seven times, including five times in the back. He died at the scene.
The shooting prompted outrage, including a march through Compton attended by De la Trinidad's widow and two small daughters, and about 100 other demonstrators.
"He was a hardworking man who didn't deserve this," Rosie de la Trinidad told a Times reporter a few days after the shooting. "He did what he was supposed to do and now he's dead."
She sued in April 2013, alleging wrongful death and excessive force by the two deputies who shot her husband.
A district attorney's investigation found in 2014 that the deputies "acted in lawful self-defense and defense of another when they used deadly force."
On Tuesday, Arnoldo Casillas, attorney for Rosie de la Trinidad, said he was outraged by the decision not to prosecute the two deputies. "It's absolutely shameful ... a black eye for the D.A.'s office," Casillas said. He called the supervisors' settlement "a hollow victory."
The shooting is being investigated anew by the sheriff's internal affairs bureau, according to a report by a county official recommending the settlement.
The five supervisors approved the amount unanimously and without comment. They postponed a decision on any corrective action stemming from the shooting until June, presumably after the current investigation is complete.
Follow @jeanmerl for the latest in Southern California news.
---
The stories shaping California
Get up to speed with our Essential California newsletter, sent six days a week.
You may occasionally receive promotional content from the Los Angeles Times.