L.A. County leaders look to regulate short-term rentals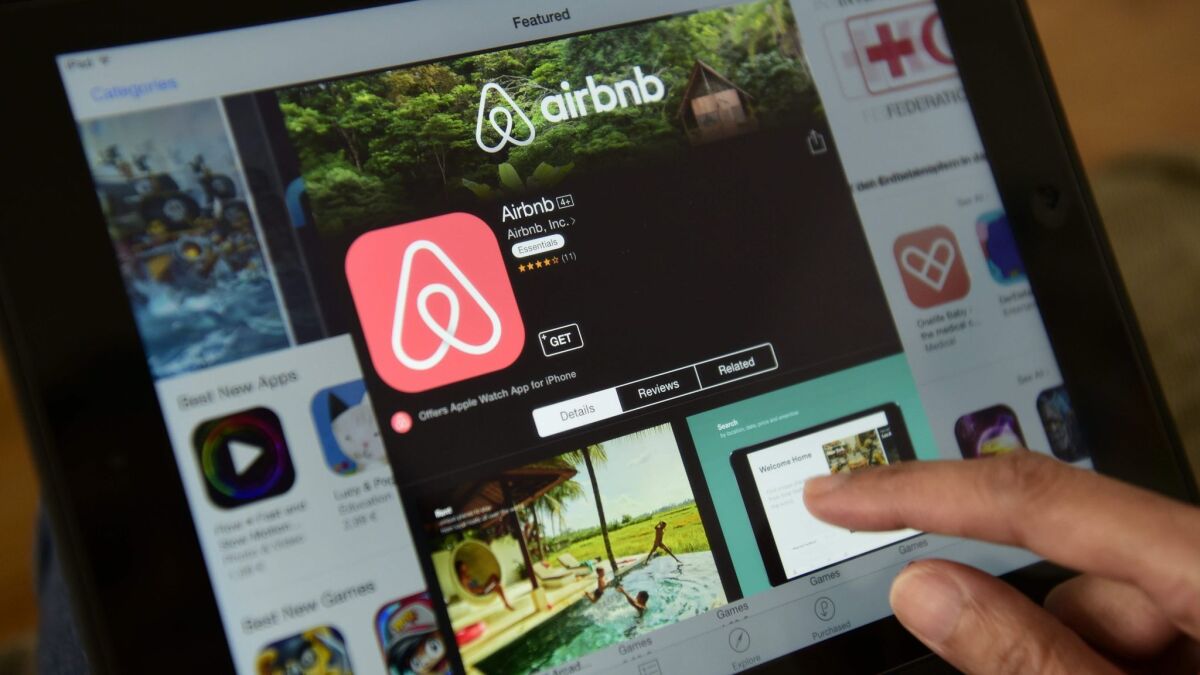 The Los Angeles City Council has spent two years grappling with how to regulate short-term rentals through popular platforms such as Airbnb. On Tuesday, county lawmakers took up the question.
The Board of Supervisors approved a motion to begin assessing the effect of such rentals on housing availability and affordability in unincorporated areas.
Supervisor Sheila Kuehl, who co-wrote the motion with Supervisor Kathryn Barger, said it aims to look into whether regulating short-term rentals could reduce homelessness and preserve affordable housing.
"We do not want to ban short-term rentals, but we want to ensure that short-term rentals do not have a negative impact" on efforts to reduce homelessness or to keep lower-income people from being priced out of the rental market, Kuehl said in a statement.
Barger said the proposal is the first step to understanding how such platforms are affecting the housing market.
"The short-term rental market operates mostly outside the county's regulation," Barger said in a statement. "We want to be sure we have the necessary tools to oversee the lawful operation of this type of lodging."
The issue has vexed the L.A. City Council, which has been unable to adopt an ordinance to legalize and regulate short-term rentals.
In February, city officials proposed looking into ways to allow residents to rent out their homes on a case-by-case basis if they seek approval from the city.
As platforms such as Airbnb have gained popularity, the phenomenon of residents renting out rooms or entire homes to travelers or short term tenants has spread throughout L.A. County, including to some areas not known as popular destinations.
As a result, spokesmen for Barger and Kuehl said over the last year they have seen a rise in the number of complaints from residents in unincorporated parts of the Santa Monica Mountains and Chapman Woods, an unincorporated area in Pasadena.
Critics of short-term rentals complain that they take affordable housing off the market, disrupt quality of life and increase traffic and noise.
Kim Lamorie, president of the Las Virgenes Homeowners Federation, said that over the last year there has been an increase in people renting homes in the Santa Monica Mountains to throw parties.
"The roads here are narrow and tiny. People throw cigarettes on the sidewalk and they don't realize it's a fire hazard here," Lamorie said. "They make loud noises and homeowners have had their houses and cars broken in."
Supporters of short-term rentals argue that they encourage people to visit neighborhoods they otherwise wouldn't, bringing revenue to local restaurants and shops.
Some rental hosts fear that regulating short-term rentals would take away income that otherwise helps them make ends meet.
Vanessa Johnson said at Tuesday's hearing that being an Airbnb host for the last six years has allowed her to earn income while she has taken care of her terminally-ill husband.
"I could not possible have earned enough money to pay for someone take care for my husband and our living expenses," Johnson said.
Michael Lens, assistant professor of urban planning at UCLA, said the effect of short-term rentals on the housing market isn't clear cut.
"There are very few places where Airbnb and other short-term rental outlets makes up so much of the housing stock that it has an effect," Lens said. "I think it's one of those hot issues that is largely a distraction from bigger problems that are causing our housing crisis."
Twitter: @melissaetehad
---
The stories shaping California
Get up to speed with our Essential California newsletter, sent six days a week.
You may occasionally receive promotional content from the Los Angeles Times.