Skid row shooting a test for LAPD body cameras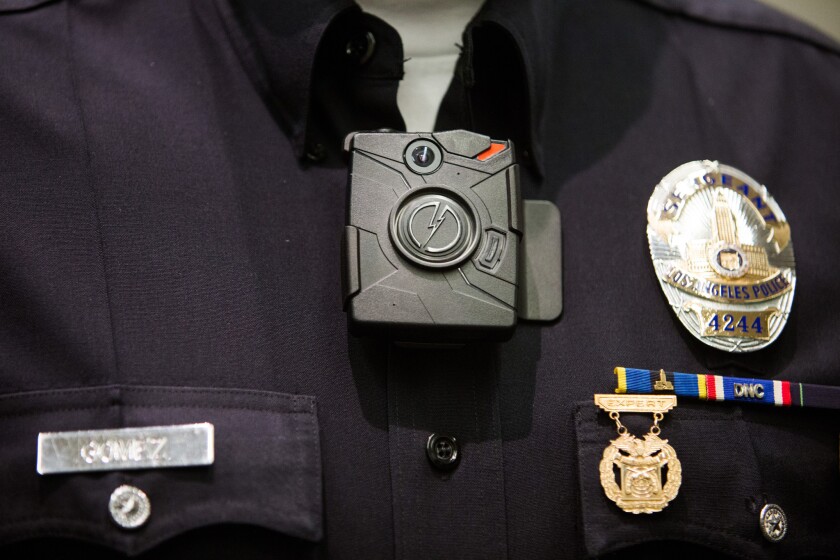 The officer-involved shooting Sunday on skid row that left a man dead could be an early test of the Los Angeles Police Department's new body camera program for officers.
The encounter was recorded by body cameras worn by at least one of the officers involved in the incident. Other videos have emerged showing parts of the incident, but the actual altercation that led to the shooting is not clear.
Q: What is the LAPD's body camera program?
A: The department plans to outfit every officer with a body camera that will record interactions with the public. Officials say the 7,000 cameras will help bring clarity to controversial encounters, guard against officer misconduct and clear cops accused of wrongdoing.
Q: Will the videos be made public?
A: There is some debate about that. Chief Charlie Beck said the department doesn't intend, in general, to release the recordings unless required by a criminal or civil court proceeding. The LAPD considers the recordings evidence, he said, investigative records exempt from public release under California's public records law. But at community forums, some residents said they thought videos should be released as a form of transparency.
Infographic: The influence of body cameras
The Southern California chapter of the American Civil Liberties Union has indicated support for the cameras but is demanding strong policies to protect civilian privacy. The organization wrote to the Police Commission, recommending it make public videos of high-profile incidents, such as police shootings, "if not while an investigation is pending, then as soon as it is concluded."
Q: What do we know about the body camera video in Sunday's incident.
A: So far, not much. Police have not said what the video shows. The LAPD has not said whether it would release the recording.
Source: Times reports
---
The stories shaping California
Get up to speed with our Essential California newsletter, sent six days a week.
You may occasionally receive promotional content from the Los Angeles Times.