Prosecutors drop all criminal charges against suspected 'Skid Row Stabber,' ending decades-old case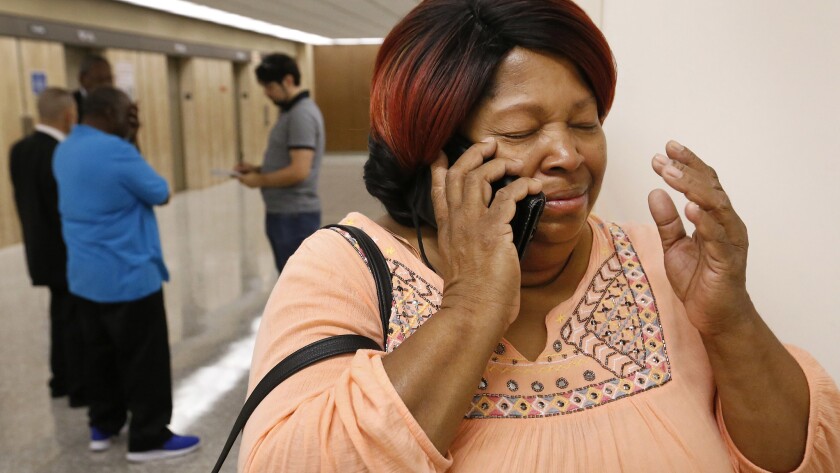 Los Angeles prosecutors dropped all criminal charges against the alleged "Skid Row Stabber" on Friday, closing a 40-year legal saga complicated by a jailhouse scandal, overturned convictions and a defendant who may have only months to live.
Bobby Joe Maxwell, who has been comatose since November, was released from police custody for the first time since 1979 on Friday morning, when Assistant Dist. Atty. Robert Grace asked a judge to dismiss five murder charges against the accused serial killer.
"Forty years. Forty years," his sister Rosie Harmon said outside the courtroom in between sobs. "Finally."
The district attorney's handling of Maxwell's situation drew criticism from legal experts and civil rights advocates earlier this year, when it was revealed that prosecutors had yet to act on a request to dismiss the case despite his increasingly dire prognosis. Maxwell first fell into a coma after suffering a massive heart attack in late 2017, and nearly died while housed at L.A. County-USC Medical Center on July 4. Court records made public last month showed the chief physician of the jail ward believed Maxwell has less than six months to live.
Grace asked Superior Court Judge Larry Fidler to dismiss the case on compassionate grounds without prejudice Friday morning, meaning prosecutors could still bring Maxwell to trial if his health improves. Grace said he was glad to see the case come to a close, but he expressed concern for the victims' relatives.
"I do hurt for the family members of the victims because they had anticipated getting their day in court and now they're not going to be able to get that," he said.
Capt. Patricia Sandoval, an LAPD spokeswoman, said Friday the agency understood and agreed with the prosecution's decision to drop the case.
Police think a single serial killer dubbed the "Skid Row Stabber" killed 10 homeless men in downtown Los Angeles over several weeks in October and November of 1978. The slayings came at a time when the city was already reeling from serial predators such as the "Hillside Stranglers," who preyed on women in 1977 and 1978, and another killer known as the "Skid Row Slasher" who targeted homeless men and was convicted of killing eight people years before the "Stabber" attacks began.
The "Stabber" victims were Jesse Martinez, 50; Jose Cortez, 32; Bruce Emmet Drake, 46; J.P. Henderson, 65; David Martin Jones, 39; Francisco Perez Rodriguez, 57; Frank Floyd Reed, 36; Augustine Luna, 49; Jimmie White Buffalo, 34; and Frank Garcia, 45.
In a statement issued Friday, Drake's daughter, Cindy Poulsen, said she and the relatives of the other victims had been denied justice.
"While the media has only chosen to focus on the current condition of Mr. Maxwell and how his family feels, there are several families involved who had no choice about the murder of our family members nearly 40 years ago," she wrote. "Now, Mr. Maxwell, nor my father or the other family members will get their day in court."
Legal experts and an appellate court have long raised questions about the validity of the evidence against Maxwell. No witnesses could identify him at trial, and the only forensic link between Maxwell and the killings was a palm print on a bench near one homicide scene.
A knife found in Maxwell's possession was consistent with the wounds suffered by victims of the "Stabber," but there was no conclusive evidence it was the weapon used in the attacks.
Maxwell's prosecution hinged largely on the testimony of a jailhouse informant, Sidney Storch, who insisted Maxwell had confessed to the killings. A jury convicted Maxwell in two of the slayings in 1984, and he was sentenced to life in prison.
Storch later was found to be at the center of a scandal involving several jailhouse snitches who were fabricating confessions in order to receive reduced jail time. He was charged with perjury, but died before he could stand trial.
While questions about Storch's testimony were first raised in 1988, Maxwell's convictions were not overturned until 2010. In its 41-page decision, the U.S. 9th Circuit Court of Appeals found that Storch was unreliable and described the remaining evidence against Maxwell as "circumstantial."
At the time of the original trial, even the district attorney's office noted the case against Maxwell was "weak from an evidential standpoint," according to the 9th Circuit ruling.
Grace, however, downplayed the informant's significance in the case. He believed the jury would have convicted Maxwell of additional murder charges at his original trial had they placed more stock in Storch's testimony.
"The only thing he told the prosecutors and law enforcement at the time was that Maxwell told him that he killed 10 people. He didn't give them any general details about what occurred," Grace said.
Retired LAPD Det. Tom Lange, who was the original investigator at the time of the killings, also pushed back at attorneys and advocates who have proclaimed Maxwell's innocence. In an email to The Times, Lange said a witness did see Maxwell at the scene shortly before David Martin Jones was killed.
Lange said police also recovered items belonging to several of the victims — including a specific piece of jewelry that belonged to Bruce Drake, as well as a commemorative coin and a set of nail clippers belonging to Frank Floyd Reed — during a search of the home of the defendant's sister Geraldine Maxwell.
"While it is understandable that this suspect's family grieves for him, it must also be understood that there were … men who also had families, who have been grieving for forty years!" Lange wrote.
Maxwell's attorneys have long argued that another man committed the killings and have accused the LAPD of "disappearing" that suspect. Maxwell was the third man the Los Angeles police accused of being the "Stabber" but the only one who stood trial.
"Bobby Joe Maxwell has always maintained his innocence," said attorney Fred Alschuler, who alongside Pierpont Laidley represented Maxwell at the original trial. "When he was facing the death penalty and was offered a plea bargain, he maintained his innocence."
As she hurried around calling relatives to give them the news, Harmon said she hoped her brother would wake up one day, so she could tell him what happened.
"I'm hoping and praying that he'll be able to wake up and be a free man," she said.
Follow @JamesQueallyLAT for crime and police news in California.
---
UPDATES:
1:20 p.m., Aug. 11: This story was updated with comments from a retired LAPD detective who investigated the killings at the time they occurred.
This article was first published at 12:45 p.m. Aug. 10.
---
The stories shaping California
Get up to speed with our Essential California newsletter, sent six days a week.
You may occasionally receive promotional content from the Los Angeles Times.