Stanford sex offender's friends and relatives wrote to persuade judge to keep him out of prison
Brock Turner faced a maximum sentence of 14 years in prison after a jury convicted him in March of sexually assaulting a woman behind a dumpster on the campus of Stanford University.
Prosecutors asked a judge to sentence him to a six-year prison term for the three felony counts he was found guilty of: assault with the intent to commit rape of an unconscious person; sexual penetration of an unconscious person; and sexual penetration of an intoxicated person.
Last week, Santa Clara County Superior Court Judge Aaron Persky sentenced Turner to six months in county jail and three years of probation – a decision that has sparked outrage and a campaign to oust Persky from the bench.
The woman who was sexually assaulted by Turner read a 12-page letter in open court, calling the lack of a state prison sentence "a soft time-out, a mockery of the seriousness of the assaults." She said Turner had failed to show sincere remorse or responsibility.
Before handing down the sentence, Persky, who was appointed by Gov. Gray Davis in 2003 and is up for reelection in November, received several letters from Turner's friends and family, asking the jurist for leniency.
Turner's father said his son should not pay such a "steep price … for 20 minutes of action," prompting another bout of criticism.
NEWSLETTER: Get essential California headlines delivered daily >>
Other letters came from Turner's aunt, grandparents, childhood friends and former teachers. A former high school guidance counselor praised his character and integrity and asked the judge to give him "a chance to reclaim his life." A former teacher hoped Turner would be able to grow and show his true self.
Here are some excerpts of what they told the judge, who is barred from commenting on the case because Turner has filed an appeal:
Brock is the only person being held accountable.

— Carolyn and Richard Bradfield, Turner's grandparents
Turner's maternal grandparents penned a joint letter, telling Persky they could not attend their grandson's trial because his grandfather could develop a blood clot on the long flight from Ohio.
"We are of modest means, on fixed income, and lack the financial wherewithal to assist [Turner's parents] who are hard-working but still middle income parents," Carolyn and Richard Bradfield wrote to the judge.
The couple recounted how their grandson showed kindness toward an uncle, Scott, who had mental and physical disabilities and died at the age of 38.
The verdict, they said, brought them "excruciating pain."
"We were shocked, and stunned by the outcome and left to the only thing we could do – hold each other and cry," they wrote. "Brock is the only person being held accountable for the actions of other irresponsible adults."
"Oh Brock ... what have you done?"

— Tommy Cope, 18, friend of Turner
A longtime friend of Turner, Tommy Cope, 18, said that when he first saw the allegations against Turner in the news, he thought, "Oh Brock … what have you done?"
In his letter to the judge, Cope described his friend as "a mild-mannered kid with a good heart in a terrible, terrible situation."
He added: "I have spent many good years with him, and have never known him to have a malevolent bone in his body."
A series of alcohol-fueled decisions that he made within an hour time span will define him for the rest of his life.

— Caroline R. Turner, sister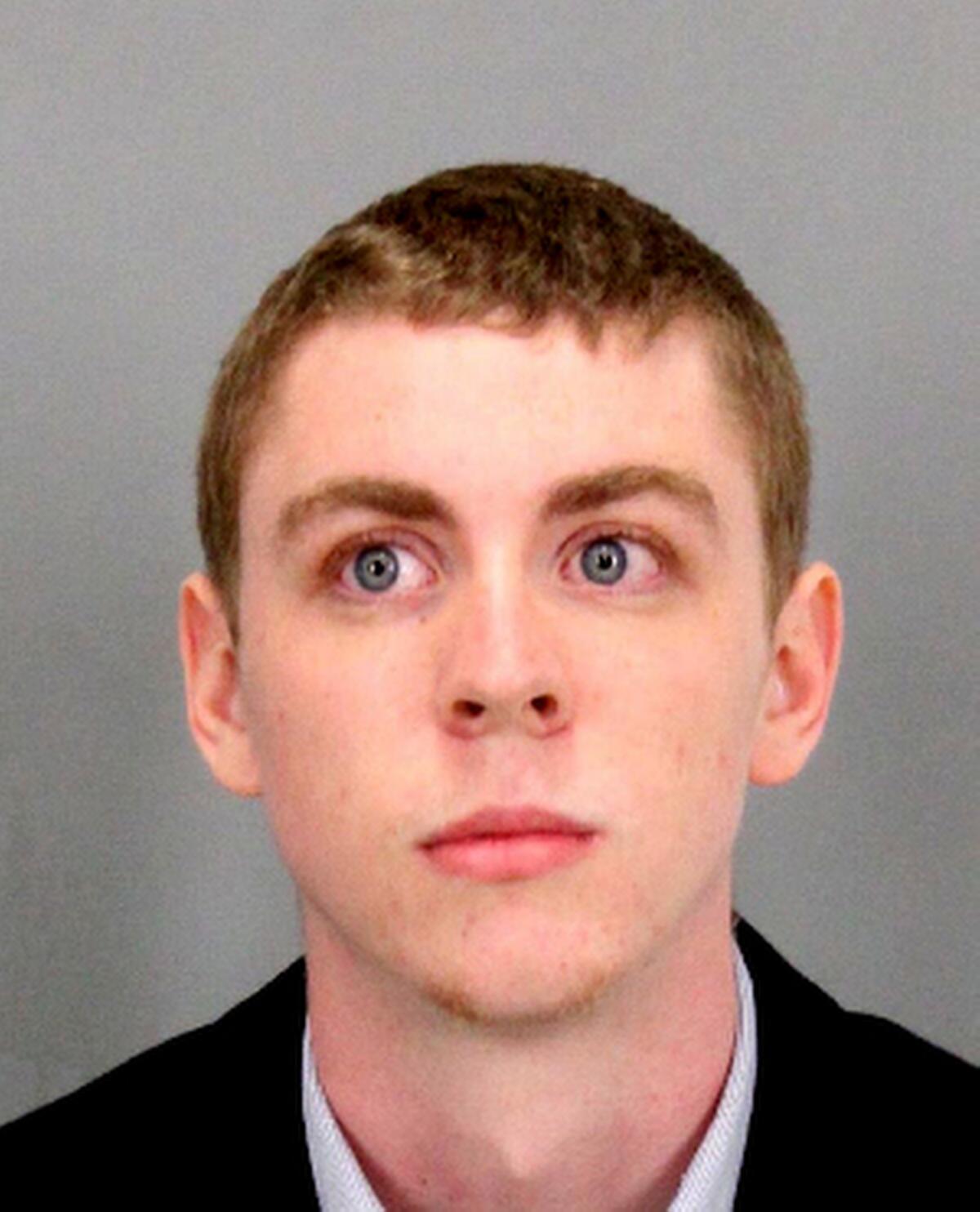 Caroline Turner, 22, said her younger brother has become "a shell of his former self, a broken young man," since he was arrested on suspicion of sexual assault.
"When he first returned from California a few days after the incident, I remember Brock needing to be constantly touched and held. He was suffering immensely and couldn't sleep alone, much like me when I was a young child," his sister wrote to the judge.
"I have gotten to know the new Brock: I have witnessed him carry the stigma of being accused of rape and sexual assault and the social, professional and cultural effects that he has experienced; I have witnessed his struggle to even get out of bed."
The contrast from his former behavior, she wrote, was startling.
"A series of alcohol-fueled decisions that he made within an hour time span will define him for the rest of his life. Goodbye to NCAA championships. Goodbye to the Olympics. Goodbye to becoming an orthopedic surgeon. Goodbye to life as he knew it."
See more of our top stories on Facebook >>
In a lengthy plea, Caroline Turner acknowledged that a jury convicted her brother and that he must pay his debt to society.
"Incarcerating Brock for the decisions he made on one night in 2015 would strip him of his ability to navigate through reality and erase that potential that he has to be a contributing member of society. Instead of making him a burden of the state, please consider how counseling, community service and probation would be a proper and deserved punishment."
As I know you are aware, the collateral consequences of a conviction are staggering.

— Margaret M. Quinn, retired federal prosecutor and family friend
A retired federal prosecutor and friend of the Turner family, Margaret M. Quinn, asked the judge to consider the long-term damage inflicted by Turner's conviction: limited job opportunities and the requirement to register as a sex offender.
"As I know you are aware, the collateral consequences of a conviction are staggering," Quinn wrote, saying they go beyond his expulsion from Stanford.
She asked the judge to consider allowing Turner to counsel young men and "warning them about the devastating consequences of a single decision." She suggested Turner could serve as a mentor.
"There is no doubt Brock made a mistake that night – he made a mistake in drinking excessively to the point where he could not fully appreciate that his female acquaintance was so intoxicated," Quinn wrote. "I know Brock did not go to that party intending to hurt, or entice, or overpower anyone. That is not his nature. It has never been."
ALSO
Judge in Stanford rape case running unopposed in reelection bid despite petition
Redstone family firm moves to block Paramount Pictures sale
Black Lives Matter activist to be sentenced in Pasadena
---
UPDATES:
3:22 p.m.: This story was updated with minor editing to include the specific charges of which Turner was convicted.
Sign up for Essential California for news, features and recommendations from the L.A. Times and beyond in your inbox six days a week.
You may occasionally receive promotional content from the Los Angeles Times.