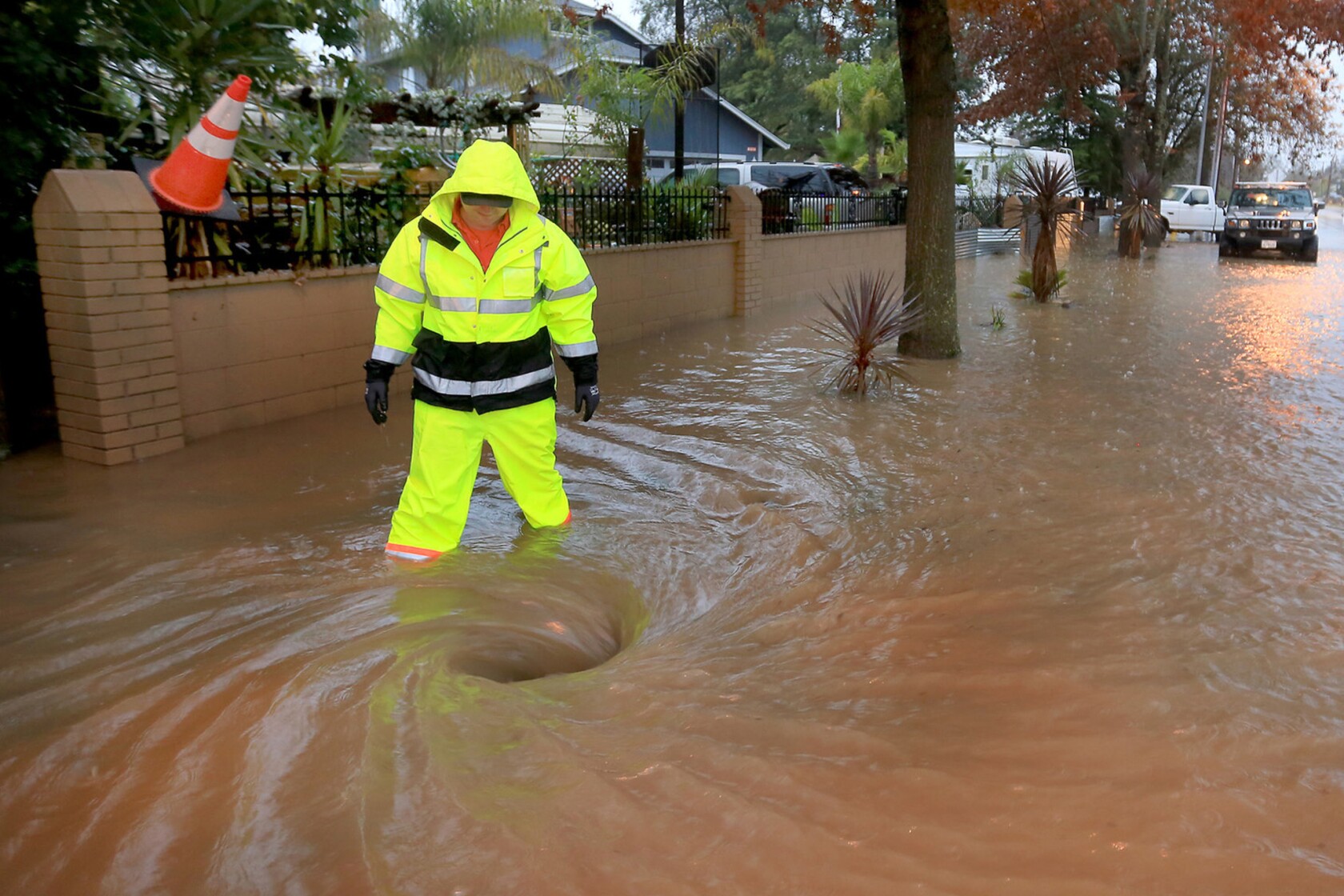 Scott Taylor of Windsor Public Works opens a manhole to help drainage along Old Redwood Highway in Windsor. A powerful storm churned down the West Coast on Thursday, bringing strong gales and much-needed rain and snow.
(Kent Porter / Santa Rosa Press Democrat)
Tom Muneio, 61, of Santa Barbara, center, enjoys a wave in Ventura County, where sets of 8 to 10 feet pounded the coast ahead of rain storms expected late Thursday afternoon.
(Rick Loomis / Los Angeles Times)
An employee of Mudrak Custom Cruisers bails out a Toyota Land Cruiser before it is pulled from floodwaters in Sonoma on Thursday.
(Kent Porter / Santa Rosa Press Democrat)
Erik Wagner, left, owner of Erik's Barber Shop in Healdsburg, and his employee James Uribe check on the flooding in the area Thursday, spurred by a powerful storm making its way through Northern California.
(Kent Porter / Santa Rosa Press Democrat)
Water covers one of several vehicles stranded in Berkeley on Thursday. A powerful storm churned through Northern California, knocking out power to tens of thousands and delaying commuters while soaking the region with much-needed rain.
(Noah Berger / Associated Press)
A major storm approaches the Los Angeles skyline Thursday, bringing with it fears of heavy rainfall, flash floods and debris.
(Allen J. Schaben / Los Angeles Times)
Matthew Hazard cleans snow from his vehicle after several inches fell in Soda Springs, Calif. A severe storm sweeping through Northern California forced drivers without four-wheel drive vehicles to put on chains before crossing over Donner Summit.
(Rich Pedroncelli / Associated Press)
People use kayaks and a canoe to make their way around a flooded parking lot at a shopping center in Healdsburg, Calif.
(Eric Risberg / Associated Press)
Beatrice Clark walks through the floodwaters in Healdsburg, Calif. Sonoma County authorities are recommending hundreds of people evacuate the lowest-lying areas near the Russian River, which is expected to start overflowing.
(Christopher Chung /Associated Press)
A resident of Guerneville, Calif., who parked his car overnight in the Safeway parking lot on Vine Street in Healdsburg, finds it submerged as Foss Creek topped its banks.
(Kent Porter / Associated Press)
This photo provided by the Placer County Sheriff shows waves pounding a dock in Lake Tahoe, Calif., where a powerful storm brought strong gales, rain and snow that caused widespread blackouts in Northern California and whiteouts in the Sierra Nevada.
(Placer County Sheriff)
A San Francisco Public Works employee unclogs a drain during a storm that flooded transit stations, grounded flights and left more than 90,000 people without power.
(David Paul Morris / Bloomberg)
An SUV is crushed by a large oak tree during a storm in San Jose. No injuries were reported.
(Gary Reyes / Associated Press)
Vehicles make their way along a snowy eastbound Interstate 80 near Soda Springs, Calif.
(Rich Pedroncelli / Associated Press)
Aidan Perez, left, 12, and Christopher Dow, 11, play with a shopping cart in the flooded parking lot of a shopping center in Healdsburg, Calif.
(Eric Risberg / Associated Press)
A car and shopping cart are submerged in water at a flooded shopping center in Healdsburg, Calif.
(Eric Risberg / Associated Press)
This photo provided by Robert Gower shows a manhole cover being blown out by water rushing under a street in San Francisco.
(Associated Press)
A vineyard is flooded along Highway 101 in Windsor, Calif., as a powerful storm churned through Northern California on Thursday.
(Eric Risberg / Associated Press)
Girls run along a flooded street in Healdsburg, Calif., during a powerful storm.
(Eric Risberg / Associated Press)
A pedestrian walks in the rain next to the San Francisco-Oakland Bay Bridge in San Francisco.
(Justin Sullivan / Getty Images)
Department of Public Works crews clear a tree that came down across a road in Larkspur, Calif.
(Justin Sullivan / Getty Images)
A pedestrian walks in traffic in San Francisco during the storm.
(Justin Sullivan / Getty Images)
Pedestrians walk through the rain in the San Francisco Bay Area.
(Justin Sullivan / Getty Images)
A man rides his bicycle through the flooded intersection in South San Francisco.
(Alex Washburn / Associated Press)
Mark Kunze of San Bruno pushes his stalled vehicle out of the flooded intersection in South San Francisco. Several vehicles stalled in and around the intersection after driving through the deep water.
(Alex Washburn / Associated Press)
Commuter ML Mann struggles in the wind and rain to make her way to catch a ferry to San Francisco from Sausalito, Calif.
(Eric Risberg / Associated Press)
Traffic moves slowly across the Golden Gate Bridge in the high winds and rain Thursday, in this view from Sausalito, Calif.
(Eric Risberg / Associated Press)
A satellite image from Thursday morning shows the storm front.
(Cameron Beccario / earth.nullschool.net)
A bus passes through a flooded roadway in Mill Valley, Calif.
(Eric Risberg / Associated Press)
A car creates a wave of water while passing through a flooded area in Mill Valley, Calif.
(Eric Risberg / Associated Press)
A man crosses Montgomery Street in San Francisco. The San Francisco Bay Area reached or exceeded normal annual rainfall totals for the first time in years.
(Jeff Chiu / Associated Press)
Reporting from San Francisco —
The tropical weather system that trended on Twitter here as #hellastorm packed a punch Thursday.
Winds conspired with drought-weakened roots to send trees toppling. Freeways and other roadways flooded. Schools shuttered. And more than 230 flights at San Francisco International Airport were delayed, while a restaurant workers' strike left stranded travelers hungry and cranky.
Heavy rain caused the roof of a Safeway grocery store in San Jose to partially collapse. Only one person suffered minor injuries, NBC Bay Area news reported.
Pictures on social media showed a 50-square-foot portion of the store exposed.
The heaviest gusts came in early morning, with one northwest of Lake Tahoe clocking in at 107 mph, and another, at Contra Costa County's Mt. Diablo, measuring 68 mph. Meanwhile, a failure at a PG&E substation in San Francisco cut power to about 100,000 homes, hotels and other businesses along with one underground transit station near tourist-heavy Union Square.
Systemwide, about 405,000 people lost power.
PG&E later lowered the number of affected customers. About 276,000 people lost power, according to utility spokesman Jeff Smith.
Although PG&E brought in crews from Oregon, Washington and Southern California to help repair downed lines, 110,000 customers remained without electricity as of 5 p.m. Thursday, Smith said.
"We had to walk down 15 floors and I'm a bit weak in the knees," said Carol Chant, 70, who with her husband, 72-year-old Charles Chant, hoofed it out of the Sir Francis Drake Hotel for some soggy shopping.
The Chants, who wore matching complimentary rain ponchos doled out a day earlier by Big Bus Tours, hail from Australia's Gold Coast, slogan: "Beautiful one day, perfect the next." They found their California travels slightly less so. After arriving in downtown Los Angeles just in time for a massive structure fire Monday, they were forced off the Amtrak train in Oakland by restive anti-police brutality protests, then found themselves drenched on Thursday.
"But this is the third thing, so we're right now," Carol Chant said cheerfully. "Everything comes in threes."
On the top floor of the nearby J.W. Marriott, an asset management conference was underway when participants heard a "slight boom" about 8 a.m., said financial advisor Michael Daly, 52, of Albuquerque, N.M. The room went dark.
A backup generator provided only dim lighting, forcing presenters to finish with no technology props. Then the scramble began to get out of Dodge.
In matching navy blue suits and still wearing name tags, Daly and a colleague hustled with their wheeled luggage through the downpour to the Bay Area Rapid Transit station at Powell Street to catch a train to the airport. Highway 101 was flooded and one conference participant in a taxi reached by cellphone said he had already been sitting in gridlock for an hour and 45 minutes.
Rather than risk flight delays, "some people said they were trying to rent a car to drive to Seattle," an incredulous Daly said.
Though early predictions of the "storm of the decade" were perhaps overstated, the impacts were sizable. The National Weather Service by early morning had issued flash flood warnings for Marin, Napa and Sonoma counties along with parts of Alameda, Contra Costa, Santa Clara, and Santa Cruz counties.
The powerful system was being fueled by a stream of tropical moisture up to 400 miles wide and 3,000 miles long known as an "atmospheric river." It was expected to be twice as strong as last week's storm, which caused some havoc in Southern California, trapping motorists on flooded roadways. And it was headed south. Forecasters predicted Los Angeles could see 2 inches of rain early Friday, winds up to 45 mph, and possible flash floods in burned out areas of the San Gabriel Mountain foothills.
In Northern California, winds had died down and some power had been restored by noon but the rain fell steadily.
"Glad, so glad, so glad," said Habte Gebre, 32, of Eritrea, a taxi driver who jumped up and down, pumping his fists in the air as he stood near his cab awaiting passengers at San Francisco's Fourth and Market streets. "I wish we had every day like this."
Officials concurred.
State Department of Water Resources spokesman Doug Carlson said forecasters expected between 1 and 5 inches of rain to fall into Northern California's water basins, which provide runoff for reservoirs, which in turn supply the State Water Project.
The eight Northern Sierra stations where the department measures precipitation had recorded 14.5 inches as of Thursday morning, or 118% of normal. To end the drought, experts have said the state would need about 75 inches of rain by the end of the water year next Sept. 30.
National Weather Service forecasters issued a blizzard warning for parts of Northern California – the first since Jan. 4, 2008 – and said the storm overall could be the most "significant" since that year. The snowpack – which measured at 32% of normal on Thursday -- is crucial because it replenishes reservoirs come late spring.
"We're certainly encouraged that we seem to have broken the (dry) pattern at this snapshot in time, but … it's a long marathon run," Carlson said at a briefing.
"To have a significant impact on the drought, rainfall would have to duplicate what we're seeing this week and last week over and over again…We're not even really seeing the light at the end of the tunnel, yet."
Times staff writers Melanie Mason in Sacramento and Matt Stevens, Hector Becerra, and Christine Mai-Duc in Los Angeles contributed to this report.
---