L.A. plans to make plastic straws available only on request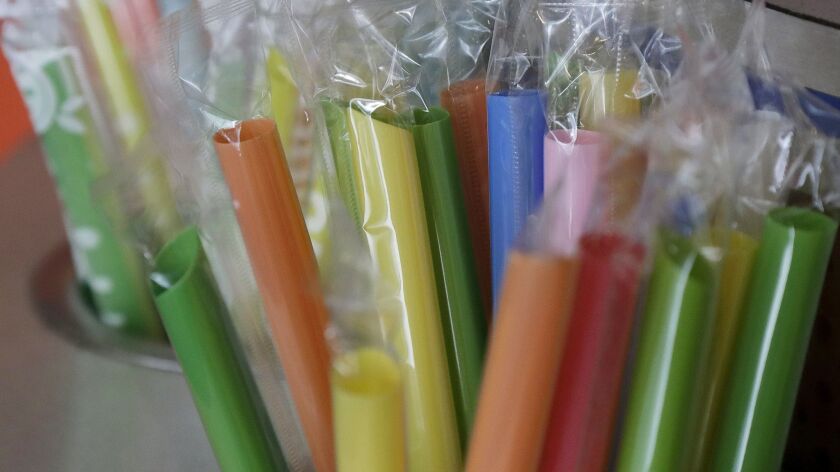 The city and county of Los Angeles both took steps Tuesday to limit the availability of single-use plastic straws in restaurants, joining the state and a slew of smaller cities that have approved similar restrictions.
By a 12-0 vote, the City Council asked for an ordinance to be drafted requiring dining establishments to give out plastic straws only by request, and laying the groundwork for a complete ban in the future.
L.A.'s proposed measure goes beyond what the state requires, but is not as strict as the outright bans in place in San Francisco and some smaller California cities.
The state prohibits full-service, dine-in restaurants from offering plastic straws to customers unless they are requested.
The city ordinance will include fast food restaurants — though it will create an exemption for those with drive-through operations. They would be allowed to tell customers in their cars that they may have a straw if they like.
Patrons in dine-in restaurants would have to ask for straws.
Councilman Mitch O'Farrell sponsored the measure, and says he expects it to be in effect at establishments with more than 26 employees by Earth Day on April 22, 2019, and at all restaurants by Oct. 1, 2019.
During Tuesday's session, he displayed a photo of a sea turtle with a plastic straw up its nose — an image that has captured the public imagination on this issue — and said he hoped this bill would change human behavior and that people would begin to stop using these items.
"We can make different choices as a society," O'Farrell said. "The evidence is in, and it's overwhelming. The aftereffects — the consequences — of widespread plastic use is choking the planet."
He said the city's ban on plastic bags in 2013 has had a huge effect on the cleanliness of the Los Angeles River, but he noted that plastic straws can still be found in the sandy river bottom.
The county Board of Supervisors, meanwhile, unanimously adopted an ordinance prohibiting as many as 1,300 restaurants and food business in unincorporated areas from automatically providing plastic straws or beverage stirrers, or making them available in self-serve dispensers.
Under the county law, restaurants in unincorporated areas must ask customers whether they want a plastic straw before giving them out. In the city, customers would need to ask.
"If you want one, you can still get one," Supervisor Sheila Kuehl said in a statement. "Restricting the use of straws is one step toward a much larger goal of raising public awareness and reducing the amount of discarded plastics that pollute the planet."
The measures are seen as the latest victories in a years-long effort to reduce the amount of plastic in the environment.
San Francisco, Malibu and Manhattan Beach have banned the plastic devices. Berkeley, Davis and Oakland have all adopted something similar to Los Angeles — asking that straws be given out only at customers' request. Companies like Starbucks have also said they will ban the items completely in the near future.
A city report said that single-use plastic straws, which were first developed in the 1960s, were the sixth-most collected item on California Coastal Cleanup days between 1988 and 2016.
In 2015, 7.3 million tons of nondurable plastics, which includes plastic straws, were trashed in the United States, and only 2% of those plastics were recycled, according to the Environmental Protection Agency.
"Even though it's symbolic, it does make a difference. It means straws won't be a top item in beach cleanups … and also makes people realize this is an unnecessary thing that has more problems associated with it than the benefit they derive from it," said Darby Hoover, a senior resource specialist at the Natural Resources Defense Council.
The City Council also asked for the Board of Sanitation to study creating an ordinance that would phase out plastic straws completely by 2021. O'Farrell said a two-year phaseout would give restaurants and bars time to get rid of their current inventory of plastic straws and gives the industry time to create more sustainable replacements for plastic straws.
In an interview after the vote, O'Farrell said that once a report was issued on the subject, he expected that an ordinance enacting a full ban would be in place by April as well.
"I would call it a plan, not a hope," he said. "This is one of those issues that we should've acted on probably 10 years ago."
Disability advocates have expressed concern about a complete ban, saying there isn't a viable alternative to plastic for people who must use a straw to drink.
"If restaurants and other establishments stopped having plastic straws available, disabled people wouldn't be able to do what we can do, which is walk into an establishment and order a drink and enjoy it," said Autumn Elliott, a senior counsel for Disability Rights California.
"Does it need to be a plastic straw in particular? Not necessarily, but the alternatives currently available don't usually work for people with disabilities," Elliott said, calling glass and paper straws inadequate.
Once the ordinance is in place, there will be "complaint-driven enforcement" of the new rules. Written notices will be issued for the first and second violations, followed by $25 fines per day for violating the rule, capped at $300 per year.
Times staff writers Matt Stiles and Emily Alpert Reyes contributed to this report.
---
UPDATES:
3:10 p.m.: This article was updated with news of the the Los Angeles County Board of Supervisors' decision and additional details about the city's plans.
This article was originally published at 12:45 p.m.
---
The stories shaping California
Get up to speed with our Essential California newsletter, sent six days a week.
You may occasionally receive promotional content from the Los Angeles Times.