Debate over Trump's NFL attacks extends into parking lot of StubHub Center in Carson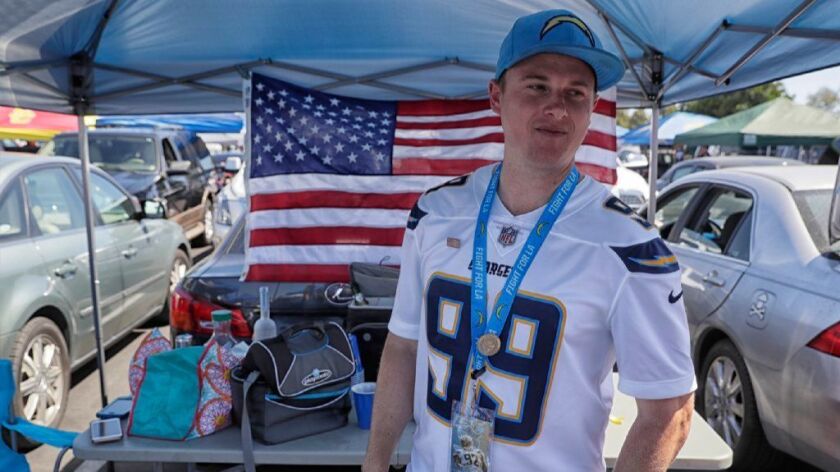 The debate over President Trump's criticism of NFL players who don't stand during the national anthem spilled over Sunday into the parking lot of the StubHub Center in Carson, where Los Angeles Chargers fans were gathered to watch the team battle the Kansas City Chiefs.
Tobin Ellis, 43, was sitting with a group of friends a few hours before the game, tailgating in the parking lot outside the stadium. They were drinking beers and grilling carne asada on a small charcoal grill.
Ellis said he heard Trump's comments and has been following the response.
"Our president should be spending his time on more important things," he said from a lawn chair seated in front of a black SUV with a giant TV propped in its tailgate tuned to football. "He's basically politicized the game. I'm here to watch football, not worry about manufactured rhetoric."
His friend, Greg Gilmer, 43, grinned.
"I second that!" he said.
But their friend Ryan Higgins, 41, disagreed. Higgins said he voted for Trump. He said he finds the president's willingness to speak his mind refreshing.
"I don't mind him saying it," Higgins said. "It's not a big deal …. This country is phenomenal because of freedom of speech," and it was Trump's right to voice his displeasure with the players' protests.
He was referring to protests that began when former San Francisco 49ers quarterback Colin Kaepernick kneeled during the national anthem last season. Kaepernick's action was in response to the large number of black men killed by police.
At a political rally on Friday, Trump challenged NFL owners to fire any player who didn't stand for the anthem. On Sunday morning, Trump continued his attack on the most successful sports league in the country.
"If NFL fans refuse to go to games until players stop disrespecting our flag and country, you would see change take place fast," Trump tweeted. "Fire or suspend!"
Craig Calentino, 55, a mortgage banker from Laguna Niguel, and his wife, Cara Calentino, 52, a first-grade teacher, sat in lawn chairs under a tree outside StubHub Center before the game.
They're season ticket holders. Craig has been a Chargers fan since he was a kid and wore a Chargers shirt. But his wife sported her sparkly New England Patriots shirt.
"If a Patriots fan and a Chargers fan can get along, why can't we all?" Cara quipped when talking about the Trump controversy before the game.
Craig said he voted for Trump but was angry about the president's comments about the NFL. He said he's been embarrassed by a lot of the things Trump has done and said and how the president seemingly has "no filter."
"Trump's done it again. He politicized it," he said of the game. "Sports bring people together, but this is just so divisive."
Craig said he thought it was ridiculous that people had a problem with players kneeling. He said Kaepernick did it to protest police violence against black people but that people had distorted the meaning to say it was disrespecting the flag and veterans.
"People interpret things in their own way," he said. "It's not about the flag. You think any of these players hate the country they live in?"
Louie Mbarkeh, 23, was playing cornhole in the parking lot before the game with his friend Justine Cruz, 24.
Mbarkeh has been following the president's comments and the reaction all weekend on Twitter. He said the players have a right to do what they want and that it was wrong for the president to tell people they're not allowed to protest.
"It's a form of free speech," he said of the players taking a knee. "Regardless of where you stand, you have to stand up for these rights. For him to attack NFL players on something as simple as free speech, while he said there were people 'on both sides' in Charlottesville, is mind-boggling to me."
Mbarkeh was heartened by seeing multiple players stand up for each other over the weekend.
"These athletes have each other's backs," he said. "It's at this time in our history that we need to have each other's backs. Regardless of how you feel, there's a sense of unity in the NFL. If they want to take a knee, take a knee. If they don't, that's their right."
Tim O'Boyle, 32, of Irvine, hung an American flag under his group's tailgating tent in the parking lot, where he and friends were cracking open beers and hanging out before the game. He was wearing a Chargers jersey and is a longtime fan.
He's a Trump voter and was happy the president weighed in. He had a photo of a quote by the Rev. Martin Luther King Jr. ready to go, saved on his phone, with a photo of King and the quote "I look to a day when people will not be judged by the color of their skin, but by the content of their character."
O'Boyle, who is white, said he thought the players' protests were inherently about race and were inappropriate and disrespectful.
"It's not a black-and-white issue. It's about the American flag and what we stand for. This is the best country in the world, and we have people kneeling at the flag, saying it's a black-and-white issue? We're all Americans."
"I'm not a racist. I'm a Trump supporter. I have a lot of friends that are black …. A lot of people don't know what older generations have gone through to protect this country. It's their right to take a knee, but I think it's disrespectful."
---
For reporting and exclusive analysis from bureau chief John Myers, get our California Politics newsletter.
You may occasionally receive promotional content from the Los Angeles Times.