Former attorneys for 'Suge' Knight plead not guilty to witness tampering charges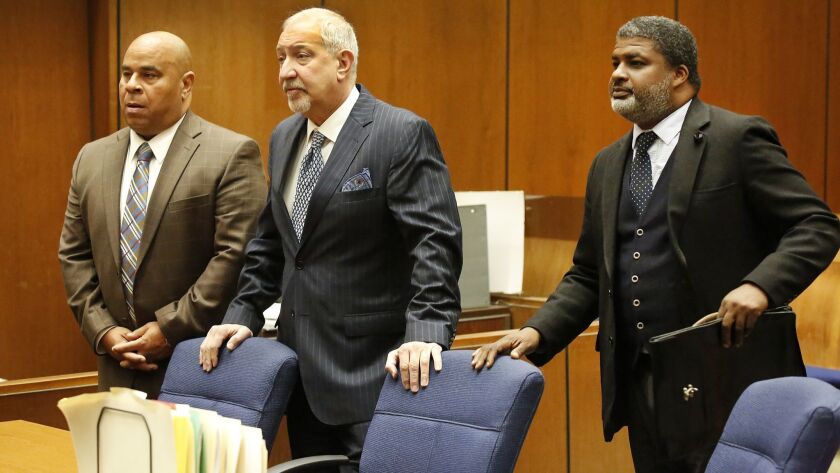 Two attorneys who formerly represented Marion "Suge" Knight pleaded not guilty Friday to charges they conspired to bribe witnesses for helpful testimony in the rap mogul's murder case.
Thaddeus Culpepper and Matthew Fletcher entered the pleas in a downtown Los Angeles courtroom, the latest proceedings in a much-publicized case that has featured a rotating cast of attorneys, disputes over surreptitious jailhouse recordings and repeated hospitalizations of Knight over health issues.
Both attorneys were indicted in January on charges of conspiracy to commit bribery, conspiracy to commit subornation of perjury, conspiracy to commit obstruction of justice and serving as accessories after the fact to the 2015 murder Knight is accused of.
Culpepper was also indicted on two additional conspiracy counts, and Fletcher faces an additional charge of perjury.
Prosecutors accused both men of conspiring with Knight, his fiancee and others to pay witnesses to say they saw men with guns at Tam's Burgers, where Knight rammed his truck into two men in the parking lot after a dispute on the set of the N.W.A biopic "Straight Outta Compton."
Terry Carter, 55, was killed. Another man, Cle "Bone" Sloan, was seriously injured. Knight has pleaded not guilty and claimed he was acting in self-defense because armed men at the Compton eatery were trying to kill him. Knight has been jailed for more than three years.
In 2016, investigators with the Los Angeles County Sheriff's Department obtained information that Knight was attempting to tamper with witnesses, according to court records. A judge then granted a series of court orders that allowed detectives to listen to Knight's jailhouse conversations with Fletcher, who was the attorney of record in the case at the time.
According to the indictment, which was unsealed this month, Fletcher told Knight he found a man who would say there were guns at the crime scene, but the witness would need to be paid. In the same conversation, according to prosecutors, Fletcher told Knight that $25,000 was a "fair investment to secure his freedom."
According to a separate court filing, an informant for the Sheriff's Department later contacted Culpepper and asked him for money in exchange for testimony. According to the court filing, Culpepper agreed to pay the man, who had previously told the attorney he was not at the crime scene on the day of Carter's death.
Culpepper had represented Knight in the murder case and an unrelated robbery case. But in a hearing this week, Knight removed Culpepper from both cases in the wake of the indictment.
Fletcher was removed from the case two years ago.
Mark Geragos, who is representing Fletcher, told reporters outside the courtroom Friday that the partial transcripts of conversations showing Culpepper and Fletcher discussing witnesses and money are out of context.
"What has been put out there into the public sphere, I think, would be substantially undercut by the new evidence that we will present," he said.
He described the decision to arrest the lawyers as a "full-frontal assault on those who practice criminal defense." In past interviews with The Times, both attorneys have denied wrongdoing.
Culpepper has said any discussions he had about money involved paying for witness expenses and nothing more.
The lawyers are scheduled to appear in court again April 13. If convicted on all counts, both men face up to three years and eight months in prison.
Knight's murder trial is set to begin April 19.
Times staff writer Marisa Gerber contributed to this report.
Twitter: @JamesQueallyLAT
---
UPDATES:
6:10 p.m.: This article was updated with additional information from the indictment and other court records.
This article was originally published at 11:55 a.m.
---
For reporting and exclusive analysis from bureau chief John Myers, get our California Politics newsletter.
You may occasionally receive promotional content from the Los Angeles Times.