Inglewood kids relish free summer meals at public library
Princess West, a precocious 8-year-old from Inglewood, stood in line in front of the Inglewood Public Library, anticipating the lunch that was almost within her grasp.
One after another, children stepped up to an orange cooler, eagerly receiving a ham sandwich, fruit and a small green milk carton.
Trina Tyson, program specialist for the Summer Food Service Program, said she expects the city of Inglewood to serve more than 50,000 meals to children this summer.
"The kids look forward to this every year," she said. "We've had the food service program in Inglewood for over 20 years."
The summer lunch program is federally funded and overseen in California by the state's Department of Education.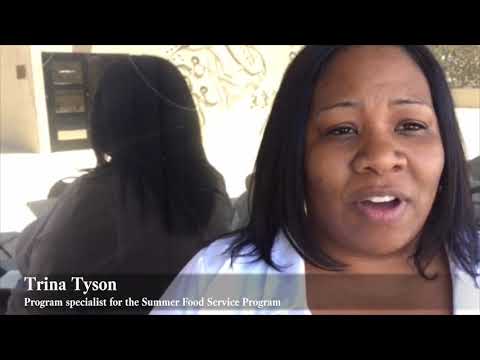 The summer lunch program at the Inglewood Public Library is federally funded and overseen in California by the state's Department of Education.
The program ensures that low-income children continue to receive nutritious meals when school is not in session. According to the U.S. Department of Agriculture, this summer it will serve more than 200 million free meals to children 18 and younger at approved sites around the country.
Inglewood has 13 locations that serve free meals to children, and the Inglewood Public Library is one the city's newest. Lunch service began there June 13 and will continue until the program ends Aug. 19.
Blanca Escobar, a recreation leader for the program, said she generally hands out between 25 and 50 meals a day at the library. Lunch is served between 12:30 p.m. and 1:30 p.m. which seems like plenty of time for the children to devour their meals.
"They have an hour for lunch," she said. "But they eat so fast, they're usually done before then."
The food program is also available to children in other summer learning programs and day care centers.
Aubrey Williams, the owner of Auntie Aubrey Family Childcare, has brought children for lunch at the Inglewood library for two years.
Her granddaughter, Princess West, said she always looks forward to lunch there because of the snacks and the friends she's made.
"I like that it's not just lunch and then you go home," Princess said. "There are other kids here, and I like getting to know them and just talk."
For other children, such as Levi Daniels, 11, the program is connected to learning more about African American culture.
"I take lessons here and learn about Barack Obama, Michelle Obama, Frederick McKinley Jones," Levi said, his fingers ticking off the names of famous African Americans. "And then we might get pizza for lunch and I get to talk to my friends about it."
When lunch was over, the children sitting at the portable tables dispersed, leaving the tables and chairs empty for the next group of kids already waiting in line for snack time.
Twitter: @alexiafedz
Sign up for Essential California for news, features and recommendations from the L.A. Times and beyond in your inbox six days a week.
You may occasionally receive promotional content from the Los Angeles Times.