Nothing can deter throngs from enjoying super bloom in Lake Elsinore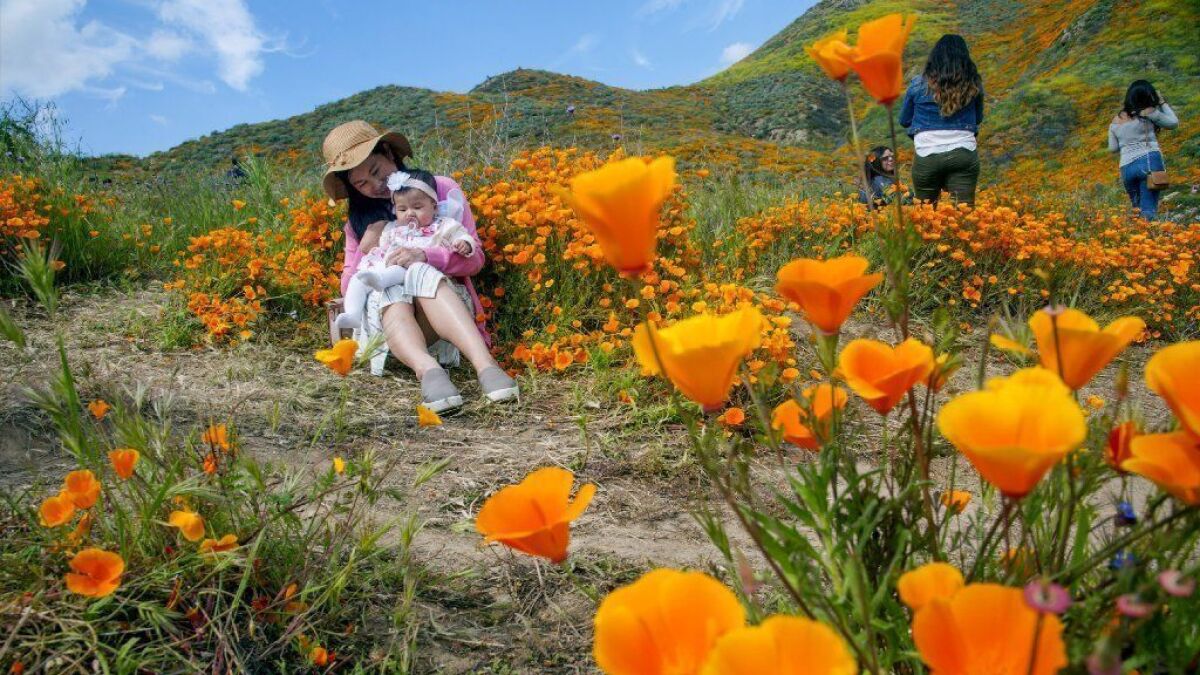 Reporting from Lake Elsinore —
Ignore the overcast skies and the $10 shuttle rides. Forget about last weekend's fistfights and traffic jams. Never mind the hourlong wait.
None of it served to dissuade more than 16,000 flower lovers — many of whom woke early Saturday for a chance to view nature's colorful magic. They were rewarded with up-close views of thousands of bright orange poppies splattered like paint along the hills on Walker Canyon Trail.
On Saturday, city and county officials imposed new rules meant to control rampant crowds reveling in a super bloom of wildflowers, the gift of an unusually wet winter.
Between 50,000 and 100,000 people invaded the canyon each day last weekend, joining the throngs who visited Riverside County and elsewhere as Californians savored the beginning of spring.
Overall, flower fanatics who arrived in Lake Elsinore early Saturday behaved themselves — at least it was an improvement over last week when the large crowds caused gridlock, traffic jams and skirmishes that overwhelmed the city.
That's when the city decided to block freeway ramps leading into Walker Canyon and shut down a shuttle that transported guests from a nearby shopping mall.
On Monday, Lake Elsinore officials reopened the area, reasoning that it wasn't feasible to keep people away.
At 5:40 a.m. Saturday — about an hour before the shuttles started running, 25 to 30 people were already waiting in line at a defunct Fallas discount store, said Sonia Salazar, a city worker who helped guide people to the ticket counter.
By 8:30 a.m., the wait was at least an hour long.
"This is the line to buy tickets?" asked a man holding a cup of coffee.
Salazar nodded.
His eyes widened. He got in line.
"Wait, is this the only place to buy tickets?" another man asked.
Salazar nodded.
His jaw dropped. He got in line.
"It's too long. It's just way too long," said a man who turned around and walked away with his wife.
Inside one of the shuttles, Jenny Yung, of East Los Angeles, said she knew the wait to see the bloom might be long. She and her partner, Robert Perez, had hoped the foggy morning would keep away Southern Californians who didn't care to rise early on the weekend.
"I guess I was wrong," she said.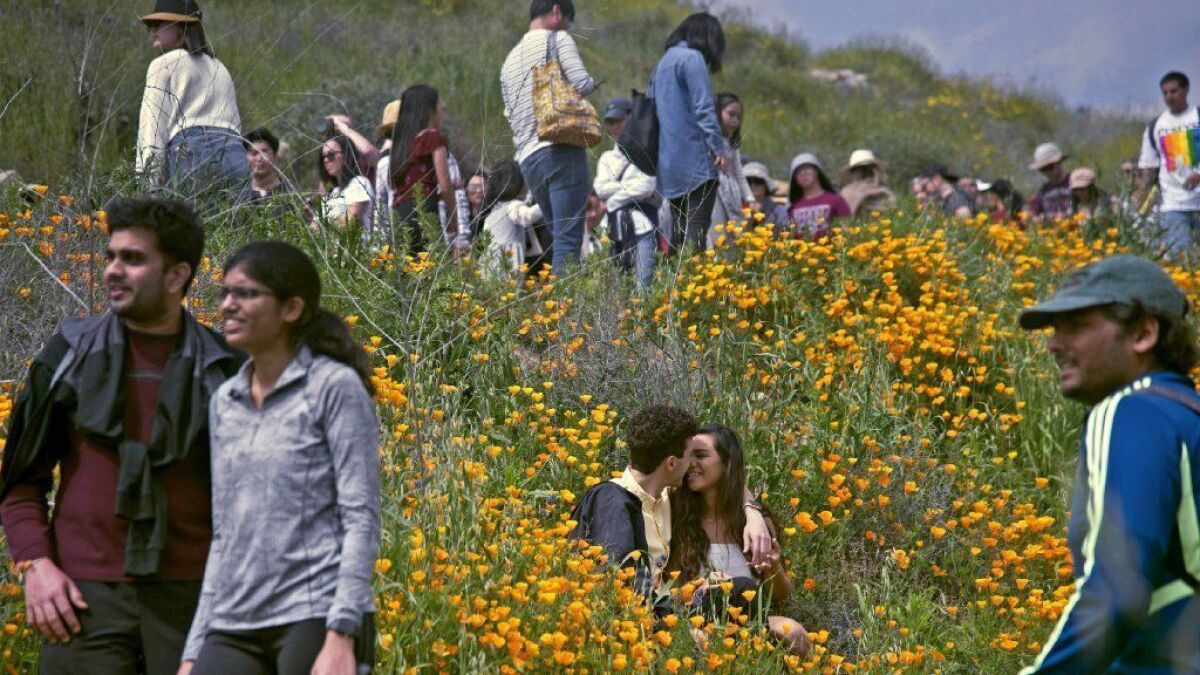 No matter, Yung said. She went to bed early the night before to ensure she'd have a "good attitude," despite the inconveniences. Everyone seemed in good spirits as they zoomed north on I-15. Couples chatted and snuggled. Tweens pointed at the hillsides exploding with yellow and purple flowers. Everyone smiled and delighted at the scenery — an appetizer before the main course.
Tupac Shakur's "California Love" blasted from the radio. "Now let me welcome everybody to the Wild, Wild West …"
By 9 a.m., hundreds were already trekking up the main trail in Walker Canyon.
"This is the place to be," Perez said, flashing a smile as he got off the shuttle.
A few feet away, a dewy-faced father pushed his sleepy toddler up the hill in a stroller.
"Now, aren't you happy you came here?" the mother asked him.
He shook his head.
"Just say 'yes,' " she snapped back.
Twentysomething women wearing flowery dresses and floppy hats carefully held on to their selfie sticks. They navigated the rocky terrain in skimpy sandals. Many meandered off the trail and into the poppies, adjusting their hats and faces for the right Instagram shot.
"Girls, keep on the trail, please," said a county park ranger who didn't want to give his name.
He was one of a handful of rangers struggling to keep order and get people to stay on the main trail. Most spectators ignored them.
Farther up the trail, Claudia Hernandez looked down at more than two dozen people deep inside the canyon, surrounded by a carpet of purple and orange flowers.
"I wonder how did they get down there," she asked her husband, Mark Ramirez.
He shook his head in disapproval.
"They shouldn't be down there in the first place," he said. "I thought they were going to enforce that — people going down there and going through the wildflowers. Plus you don't want to take pictures of them in it."
Shane Reichardt, a spokesman for the Riverside County Emergency Management Department, said it was challenging to keep visitors on the main trail in the canyon because it cut through a hodgepodge of various jurisdictions.
Some of it is private land. Other sections are federal, and a few parcels belong to the county. It's hard to know what laws apply where, he said. For instance, it's perfectly legal to pick a California poppy, as long as it's not on state property. Still, rangers ask the public not to pick the state flower.
Reichardt said officials had tried to inform the public on how best to enjoy the area while keeping safe and respecting nature. Other than that, there isn't much else they can do, he said.
As the day wore on, the crowds grew thicker. People carried tripods into the fields of wildflowers. Women and children crouched within the blooms, posing for the camera.
"No, no, no," the ranger yelled from below. "You need to stay on the trail."
"You need a bullhorn," someone called out.
Nearby, Charlene Ignacio and Bryanna Ramirez, of San Diego, shimmied their way down the hill and took turns taking photos of each other within the poppies.
"Hey, girls! You have to come up here, please," the ranger told them.
Ignacio and Ramirez did. The pair had come for "the picture opportunities."
They said they didn't know they'd have to stick to the main trail.
"What would be the point if you can't take pictures there … in the flowers?" Ramirez asked.
Ramirez took issue with being reprimanded by the ranger. So many others were doing the same nearby, she said.
She pointed to Shelly Dilks, who was standing on a hill, surrounded in opened, well-lighted poppies. Her friend Kim Ingram took her photo. The sun had played peekaboo all morning and it finally had stayed put, prompting the flowers to open. The lighting was near perfect.
Ingram, a 41-year-old mother of twin boys from Upland, said the ranger had come by and told them to stay on the main path, too.
"We'll do our own thing and take pictures," Ingram said.
A foot away, her boys picked some of the poppies.
"No more picking flowers," Ingram told them.
Moments later, Ingram and Dilks trekked farther up the main trail before going into the poppies, again, to pose for photos.
They weren't the only ones. Clusters of people ventured off the main trail to take the right shot. They zoomed in and out with their smartphone cameras. Fathers flailed their arms, coaxing their toddlers to look into the camera. Adults and children alike picked flowers, placing them on their lapels or hair. Others walked down the hill with what looked like a bouquet of poppies.
An elderly woman coached her adult son on how best to lie on the field of wildflowers. California poppies were crushed under his weight. He blinked into the sun.
"Smile. Smile," she said, "There you go. Gorgeous."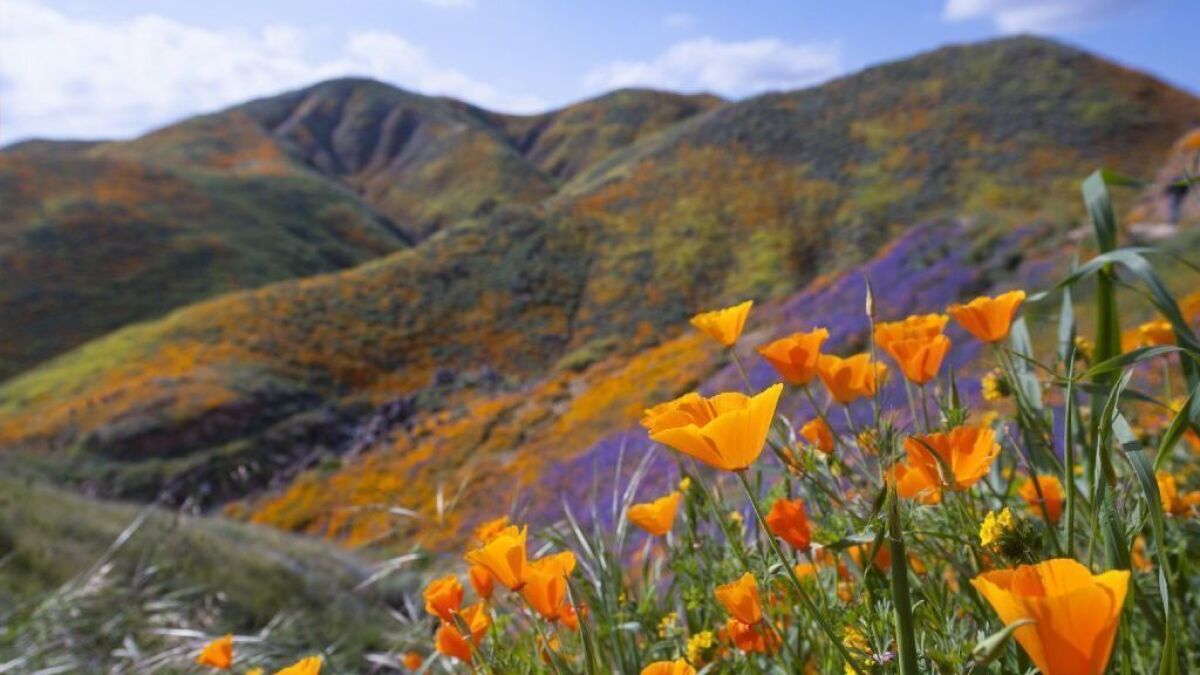 The stories shaping California
Get up to speed with our Essential California newsletter, sent six days a week.
You may occasionally receive promotional content from the Los Angeles Times.